Wales In a Day (July 17th)
by Martin Cook
Postponed from the previous year due to Covid we finally got to take part in the last Wales in a Day as the organisers had said that it was not viable to run it again in the future.
Pete Gough and I had opted for the coach from Chepstow up to the start in Caernarfon. Bikes needed to be boxed and were put in a lorry.
We departed at 1 pm and arrived at 7.30 pm – not exactly textbook preparation for an all day event but no choice really. We set up our tent at the rugby club and waited for the bikes. And waited and waited. The driver had vanished off the face of the earth. Eventually they organised some bike mechanics and offered to do the bike build when they found the lorry. Luckily for Pete and I we had our tent on the bus. Most people had their tents in their bike bags. We went to sleep more in hope than expectation.
I remember hearing some muted cheering at around 11.00 pm when the lorry finally arrived.
At about 1 am I had to nip to the loo and expected to see the mechanics at work on the bikes. All was quiet. This did not bode well.
I therefore didn't really get back to sleep and eventually got up at 3 am and went to look for my bike in the secure store. It was not there, and neither was Pete's. Upon enquiry I was told they were ready for us at the start line a mile away even though we had been told that ours would be at the camp site. Lost it just a touch and was told they would be brought back. About 10 minutes later two bikes appeared. Pete's and someone else's. I lost it a lot and was not a very nice person, especially when I was told that my bike would be brought back after the guy had finished building the start gantry. However, 10 minutes later and the bike turned up. I could now add my pedals and various other bits that I'd had on the bus.
At 3.30 am Pete emerged from the tent after his 'lie in' and whilst he did his final faffing I took the tent down.
I was now so stressed that I forgot my zero tablets. Still, it wasn't as if it was going to be hot or anything so replacing salt was surely not an issue.
We dropped our bags at the lorry for the return journey to Chepstow never expecting to see them again. I apologised to them for being such a bad-tempered nasty person which they graciously said they quite understood in the circumstances.
We got to the start line at 4.45 am. Ominously it was quite warm.
I suppose the ride can be split into 3 sections: Snowdonia and the Brecon Beacons with a slightly less lumpy bit in between them is difficult to spot. Basically up and down all day.

The ride was almost certainly the best day of cycling I've ever had. Great company with Pete with the occasional chat at feed stations with Mike Busher and Alan Howells. Due to the constant climbing and fabulous weather the views were just amazing all the way through the ride.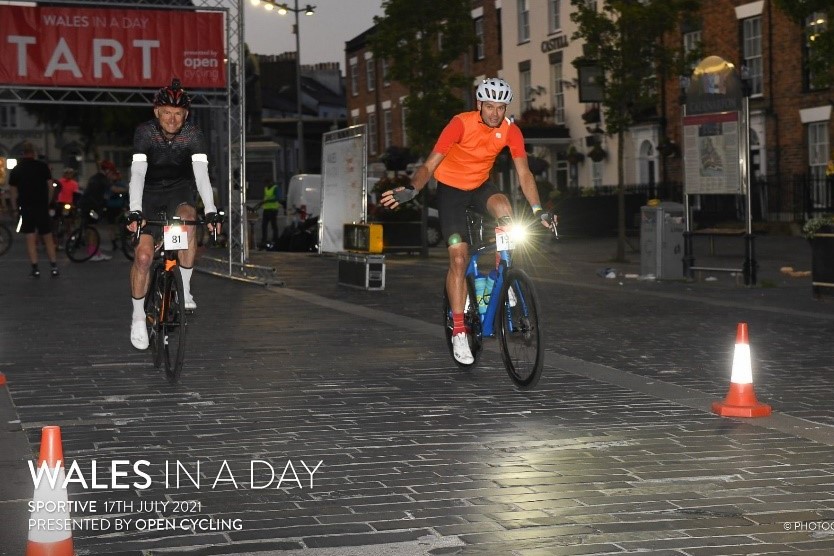 At the lunch stop Mike did inadvertently reveal that he'd failed to ensure that his bike was ready for the ordeal by asking the nearby bike mechanic if he knew why his chain kept slipping when he set off. When questioned he had no idea when the chain had last been changed or how many miles it had racked up. It might well have been stretched so far that it was catching on every other tooth of the chainring.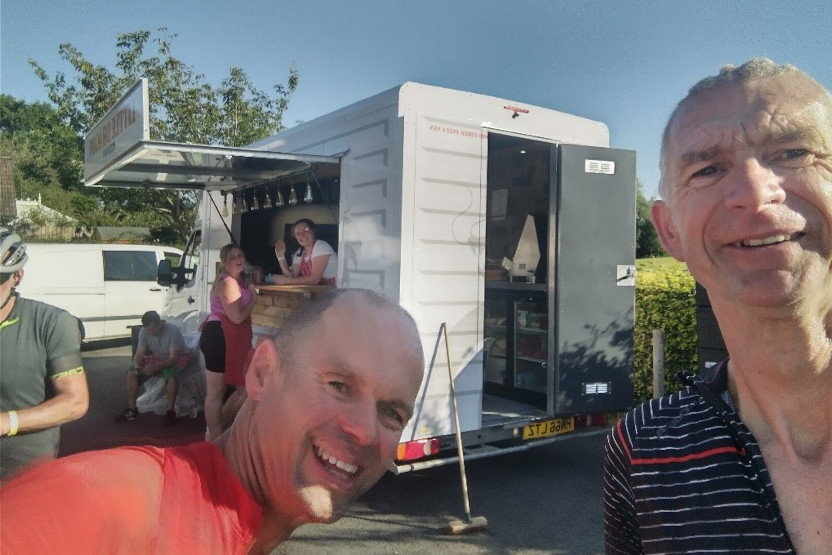 In spite of the heat and distance Pete and I kept up a decent pace throughout. My main problem was my feet which seemed to swell to the next size up. Pete suffered as well taking his shoes off at the feed stations. I applied the ski boot logic of if you take them off it'll only make matters worse when you try to get them back on.
We certainly showed the roadies how to pace an endurance event by gradually moving up the rankings at each of the feed stations – 157th at the first to 83rd at the end (not a race though, definitely not).
The feed stations were just wonderful. Lots of variety and tea at all of them. The pizza van at the last station was the highlight.
We rolled into Chepstow at just after 8 pm after just over 12 hours of cycling and 15 hrs 30 mins of elapsed time to cover 294k with 4999m of climbing. That was about what we expected for the pedalling but we did spend more time than anticipated eating, drinking and chatting but that was actually a very enjoyable part of the day.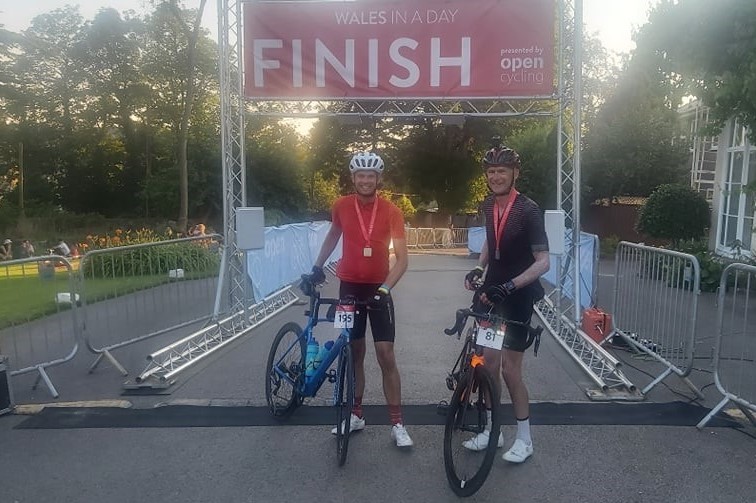 It's a terrible shame that this event will not be run again. I'm so glad we did it this year. Mainly smooth quiet roads – the photos don't really do it justice.