Roger's First Olympic at Hever Castle
by Roger Ganpatsingh
Wow… what an amazing experience! Hever Castle was my first triathlon event at the Olympic distance and it turned out to be both an unforgettable day and one of the most enjoyable events I've completed. I'm still wondering how I got this far. If that all seems a bit too dramatic, it may be worth putting some context around my journey.
I've enjoyed recreational running and cycling pretty much my whole adult life but to me triathlon always appeared to be the domain of "proper athletes". My wife, Liz, got sucked into triathlon with a bunch of running mates. Watching her amazing journey has been inspiring. I loved the idea of having a go but, as those that know me will confirm, swimming has never been something I've really felt comfortable with nor particularly able at. I completed Reading Tri a few years ago and was honestly grateful to get out of the water alive after the 750m swim. Having had several demotivating and, frankly, demoralising experiences with swimming lessons and coaches, I was very happy to put further ambitions to bed.
It took me a long time to build up the courage to try swimming lessons again but with Liz's continuous nagging encouragement I signed up for Leighton Park Sunday swim session coached by Georgia. What a difference to my previous experiences! If you've been swimming for years, I think it's probably easy to forget how daunting starting out can be. It was fantastic to be welcomed, encouraged and pushed by Georgia and the other Club members. Thank you!
I then started open water swimming at Reading Lake in May 2020 and ended up swimming through autumn, winter and into spring of this year. Swimming became as big a part of my life as running. So when Liz pushed persuaded me to enter Hever Castle triathlon, it didn't seem beyond the realms of possibility. I restarted Tri2O swim sessions and again found buckets of motivation, encouragement, and welcoming faces.
If I'm honest, my training in the weeks leading up to the event was focussed mostly on just getting through the swim. Had I realised just how hilly the bike course was going to be, I would have done some more targeted sessions on the bike. The run training was going well until I sustained a plantar fascia tear a few weeks before the event during some late night endurance cross training on a Blackpool nightclub dancefloor. With all this in mind and Hever Castle being my first at the Olympic distance, my goal was just to get round.
I entered the event with another rookie friend of mine which helped with the nerves in the days before and on D day. Before we knew what was going on, we found ourselves on the start line, positioning ourselves at the very back of our wave. I spent the entirety of the swim telling myself to slow everything down and that it was "just another day in the lake". Even so, nothing prepared me for the pitch blackness of the churned up silt and mud. I actually spent a few seconds thinking I'd lost my goggles. I kept my stroke nice and relaxed and doing a bit of catch-up (thanks Sean) whenever I felt myself rushing things. The plan worked and coming out of the swim I had a big grin on my face.
My pal overtook me on the bike within the first 5 minutes and it took every ounce of self restraint to hold myself back and focus on my own game plan. I enjoyed the bike a lot, holding my own on the hills and pacing myself well whilst keeping some juice in the tank.
I thought I'd blown it by the start of the run. My legs simply didn't seem to work so I just kept putting one foot in front of the other. By 3k, normal service had resumed and I started reeling in a few that had overcooked it on the bike. Keeping the legs going was one of the harder mental battles I've experienced but was also an enjoyable one. Joining up with another runner for the last 3k was a great boost and a lovely way to finish the race.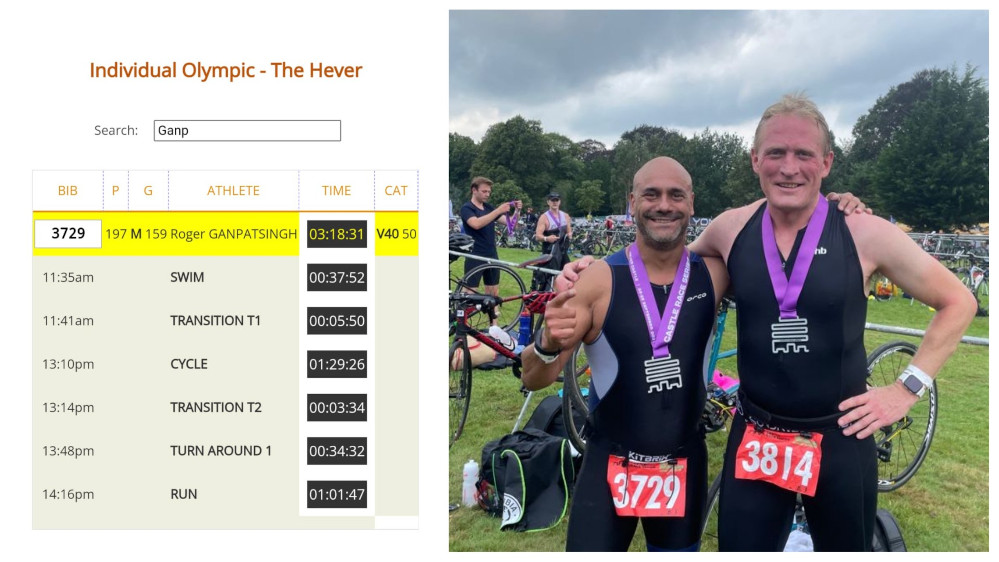 Hever was certainly one of the most challenging events I've completed and has, without question, inspired in me to do more. My goals for the next year include seeing through my second winter of open water, improving swim technique, a couple more standard distance events and perhaps even a longer one towards the end of the season.
Thank you everyone for the warm welcome, for all the encouragement and positivity and helping me better myself.