Ironman Hamburg and Ironman Weymouth 70.3
by Justin Watkins
Way back in September 2019, shortly after a successful Ironman Copenhagen I entered Ironman Hamburg and Ironman Weymouth 70.3 to be my A and B triathlons for 2020.
Preparation was going well. I was keeping a good level of fitness and maintaining weight loss through the winter of 2019 and going into 2020 and was feeling upbeat for a strong 2020 season. Then Covid-19 struck. I suffered from Covid-19 in March 2020 and it knocked me for six for a month and a half. Before I knew it, it was mid-April and I was faced with doing Ironman Hamburg 6 weeks later after losing a huge chunk of training. Thankfully Hamburg got rescheduled to September 2020, before then being rescheduled to June 2021.
By now the full effects of Covid-19 were being felt globally and the continued disruption to the triathlon calendar was also apparent too. From my point of view Hamburg was becoming a recurring nightmare as it was a big expense and it was constantly being rescheduled. Planning training and maintaining fitness to peak at the right time was so hard with the race date changing, especially as I was putting lots of time and effort into a new coaching business, which was having an impact on training.
As time ticked on, holding Ironman Hamburg in June 2021 began to look impossible due to Covid-19 and a new date of August 29 2021 was announced. I think at that point I had the chance to defer to June 2022 or go for August 2021. I decided to go for August 2021 as I thought it would be easier to train for an August Ironman than an early June 2022 Ironman, as it would be harder to get as much time in the lakes and there would be less fair-weather cycling.
Keeping an eye on travel and Covid-19 restrictions it soon looked like the new August 2021 date would not happen as at the start of July people couldn't travel to Germany from England and coming back I would have had to isolate for 10 days, which I wasn't prepared to do with my new business. As a result, I slowed down my training expecting to receive a communication from Ironman any day, postponing Hamburg once more. Then suddenly overnight in mid-July travel restrictions changed, meaning fully vaccinated people could travel to Germany and coming back from Germany had moved to being "Amber listed" and so I only needed to do a "Day 2" Covid test on my return to the UK.
Suddenly I had about 6 weeks to train for an Ironman. I'd not swam more than 1500m during the year to date, had only cycled about 200 miles, but had run lots. It went through my mind many times to just pull out and lose my money and entry, but before getting to that point I wanted to step up the training and give myself a chance.
Whilst it's great to have and follow a full training plan and being a coach, this would be easier to plan, it was looking like with race days being so unpredictable, training may need to be "quick and dirty" to tick the race box and maybe a more planned approach would need to be saved for a future race in normal times.
I started cycling 3 or 4 times a week, first 25 miles a few times, then 30 then 40 and 50 miles. Soon it was August and it was still looking like Hamburg was due to go ahead. I decided to cycle the "fish and chip ride" a couple of times which is a 110 mile trip to Hayling Island and back from Shinfield. If I could do this ride successfully, I would have belief I could cycle 112 miles in a few weeks on race day. I did the ride twice and after the 2nd trip in constant wind and rain I decided to go for it and book my flights early in August.
The next day, I booked my flights at about 11 am and, unbelievably, at 3 pm that day, I received an email from Ironman saying Covid-19 had got worse in Hamburg and the authorities had told Ironman that only vaccinated competitors could take part. Further down the email were the words I had been previously been waiting many weeks to hear, "you may defer your place to 2022".
This totally threw me, as I'd suddenly got my head together and decided to do the event, however Ironman had given me a lifeline to defer and train properly for the event the following year. I also had the opportunity to cancel my flights for 24 hours after booking.
I thought and thought all night and most of the next day and couldn't help thinking that I was now looking forward to the event and was in a good place about taking on the challenge. I'd also learnt from a few people and incidents recently about how fragile and unexpected life could be and I decided who knows what's around the corner, I may not get the chance to compete in 2022 and that I should take my chance now.
So, 24 hours after booking my flights, I'd decided to definitely race and was locked into my strategy.
It was early August, I'd done a couple of 110 mile bike rides, I'd keep that ticking over, do a long swim or two and run up to half marathon distance, with a week's taper before race day. That was about all I could do in the limited time available.
Positively, I also knew that my all-round fitness was in a good place from various life style changes and I was also 13 lbs lighter than August 2019 when I did my Ironman PB in Copenhagen, so it wasn't all bad.
The other challenge I was going have was that I'd been suffering for a few months with a tight piriformis and hamstring on my right leg and was going to be cycling my TT bike in the race for over 6 hours, when I'd only ridden it for 3 hours so far in 2021. My choice of bike really was because I knew I would be faster on my TT bike and ergonomically it's easier to run off my TT bike, than my road bike.
Another variable was that Lucy wasn't travelling with me and supporting me and I wasn't sure how it would affect me but I had the prospect of a long day at the office, without my number one supporter. On the flip side it was great I would be travelling with Club mate Cliodhna.
After a stressful time flying to Hamburg with a very unhelpful British Airways and all the hassle of the Covid documentation, finally Cliodhna and I arrived in Hamburg on Friday afternoon. After a quick visit to the Ironman tents, it was off for some beer and food and to enjoy the Friday night. I loved it, I'd forgotten how amazing foreign travel was, jumping on a plane and a couple of hours later, you're in a new country, with a different culture, things to see and learn and with new experiences to be had.
The next day started early with a metro journey to get to Alstervorland parkrun, a tradition for me the day before any Ironman. This was amazing and it was really funny as I met a couple of people who bizarrely ended up on my table in the evening for dinner, as it turned out they were friends of Aine, Cliodhna's sister who was out there supporting Cliodhna. It's a small world! The rest of the day was full of the usual registering and racking and lots of walking. So much so I walked over 25,000 steps that day, not the most ideal preparation the day before an Ironman.
When it came to finalising my race strategy it was very simple in my mind and I don't think I've ever been so clear on what I needed to do, and I had utter belief I could do it.
Separate the swim, as if it was just a swim on its own and just take it slow and steady and try and get out in 1 hr 20 mins to 1 hr 30 mins.
Treat the bike as if it was just a bike ride and enjoy it, try and get close to 6 hrs 2 mins, which was my time in Copenhagen; but don't fret too much if I was slower, as I'd not done the training.
Run the first 10 miles of the run and then run-walk the rest of the race, to get home.
Try for a PB to have a target, but see where I was at after the bike and if there was a chance go for it, but if it was unlikely; don't ruin the run and race by setting off too fast chasing a PB and risk injury or not finishing.
The ultimate goal was to finish and nothing less.
So, race day arrived and I think I'd slept OK for about 5 hours. I met Cliodhna for breakfast at 4:30 am and she was in good spirits. We then made our way separately down to transition and went through our own pre-race preparation before meeting up in our wetsuits and queuing up for the swim start. I remember feeling confident and trying to be strong for Cliodhna and telling her she could do it. Then about a minute to go, I had a wobble and had a few tears as I was overcome with emotion, before getting my head together again. Then a quick hug with Cliodhna and we were off running down the ramp, into a freezing cold lake.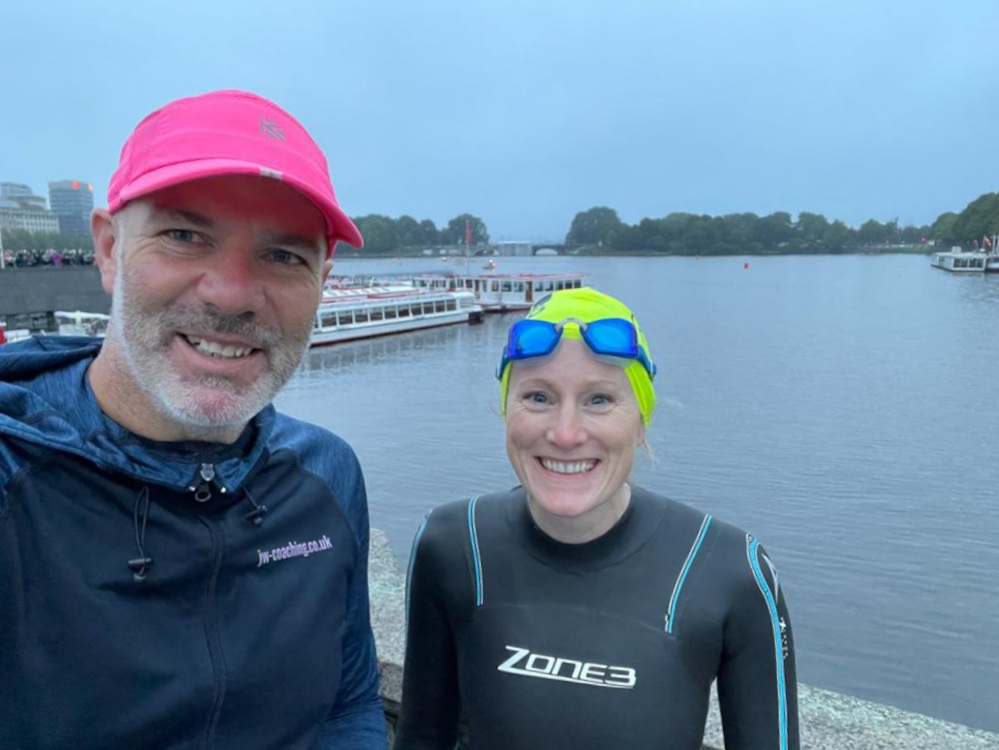 I soon got into a relaxed rhythm before a moment of panic, swimming through the first of three tunnels. I didn't like them one little bit. After what seemed a long time we turned the corner of buoys to head for the exit. I found myself really disorientated and lost, not believing the buoys as they seemed to be in the wrong place! In the end I just followed the crowd and before I knew it, I was exiting the lake in 1 hr 27 mins. Job done, I was happy with that.
Next, I was sitting in transition putting my bike shoes on and I looked up and saw Cliodhna just running through transition, so I jumped up and screamed at her and I think high 5'd her.
I finished getting ready and headed out on the bike a couple of minutes in front of my Club mate. It was pouring with rain and my fingerless gloves slipped straight off the handlebars which freaked me out. I was then thinking should I throw them away or try and get some grip with them. In the end I managed to persevere with them. It was fast on the way out, on the first of three out and backs for 37 miles along a long flat dyke. The wind was behind us going out and I averaged 19 mph which I though was great and mirrored Copenhagen, then at the end of the dyke I turned at the dead turn and headed back to the city and into a tough headwind. Soon my average mph was slipping to about 16 or 17 mph.
As I arrived back to Hamburg I was elated to see Aine (Cliodhna's sister) and her friend Tanya cheering me on from the railway station tunnel. This gave me a really nice lift.
Going back out for the second lap the rain got heavier but the wind turned into a cross wind which made it slightly easier in each direction. The first lap was tricky for me as I was in pain with my piriformis and my hamstring was playing up so I consciously increased my cadence to reduce the stress on my hamstring. Thankfully this helped and my pain eased significantly.
On the third lap I was halfway to the turn point when I heard a friendly voice saying hello, before suddenly being "chicked" by my Club mate.
I initially thought just let her go and before long she was about half a mile in front of me and disappearing into the distance and then I thought, no way, this may well be just what I needed to challenge myself to get through the rest of the bike and back to transition. So, I put my foot down and about 5 minutes later I'd caught up with Cliodhna. From then on in, for the last 30 miles of the bike, it was brilliant as we took it in turns cycling in front back to transition staying approximately 12 metres apart and not drafting. The only other thing to note other than the endless rain, was the smoothness and quality of the roads, absolutely amazing!
We both arrived back to transition together and were greeted by Aine again. My time was 6 hrs 38 mins which I was happy with, but at that point I thought I'd probably have too much to do to get a PB as I'd need to make up about 35 minutes on the run.
So, I soon set off on the run, whilst Cliodhna had a picnic in transition. Run the first 10 miles I thought and see how things go after that.
The run went like clockwork and I ran the first 10 miles OK, but was now was slowing up and needing to run walk for a bit. At about the same time Cliodhna caught me up and we ran together for a little bit, before I watched her slip off into the distance once more. I was OK and just kept plodding along. The next 5 or so miles were a bit unstructured, with random amounts of walking and running. Then at about 16 miles I got a hold of this and realised what was happening and sorted myself out and started getting into a routine of running to a count of 100 and walking for a count of 30. I pretty much did this to the end of the race and ran down the red carpet to complete my 7th ironman distance triathlon, in 14 hrs 41 mins.
It was really peculiar as it's not a bad time, yet we were one of the last people to finish and there were no competitors up against the time limit either, which you normally get in an Ironman, either just making or just missing the 15 hrs 45 mins cut-off. I think it must have been that on the whole people that hadn't trained enough or properly; had taken advantage of deferring to next year, as in every other race there are always many others coming in much later.
For me it was a really strange Ironman in the end, and one that I was relieved to finally manage to start with all the delays. It just felt weird as it seemed such a formality in the end. I never feel quite satisfied when I have to walk a bit of the run. I would dearly love to swim, bike and run the whole thing one day. As it was, I believed I could do it, I knew what I needed to do, I knew how to nurse my body through it and I executed my strategy and achieved roughly what I expected on the day.
In hindsight, I like a race with a few more variables in it, more challenges, more hills and something to get me really excited.
The other thing to note about Hamburg were how fantastic the crowds were on the run, I've never run an Ironman marathon that was so well supported around the entire run course, which was fantastic. Also well done to Cliodhna, it was fantastic to compete with her and be there when she completed her first Ironman after her painful experience at Bolton in 2019. Lastly, thanks to British Airways for leaving our bikes in Hamburg for 4 days!!!!
I know this is long but I just wanted to write about Ironman Weymouth 70.3 as this was everything Ironman Hamburg wasn't and a was really satisfying event and a great challenge.
I've done Weymouth 70.3 a couple of times before and I love the event. It turned out with all the rescheduling that it was 3 weeks after Hamburg which was far from ideal but I couldn't do a lot about it – I'd entered it in 2019 pre-Covid, when it should have been 3 months after Hamburg.
I decided I'd pretty much rest the 3 weeks in between Hamburg and Weymouth and do very little. As it turned out I was so busy with work that I only managed a game of 5-a-side football and a couple of parkruns in the end, so no biking and no swimming.
This year I decided to do Weymouth on my TT bike so this would be a bit of a challenge as it's pretty hilly. It also turned out that my front brake wouldn't work. I discovered in Weymouth that the cable slipped and I couldn't reset it as the screw thread was "turning". So, this made some of the descents a bit scary!
Again, it was nice to be competing with a Club mate, Susie, and also her fiancé Phil.
So why did I love Weymouth so much?
I loved the swim, I started with Phil and Susie and then had a decent swim, a PB at Weymouth by 5 minutes, before heading out onto the bike.
The bike was strange as my legs were so tired and felt really fatigued. I don't know if this was being tired from Hamburg, or because I hadn't ridden for 3 weeks. Either way I loved the challenge of getting my bike up and down those hills on such a wonderful bike route. Again, I did a Weymouth PB, by a minute.
Then it was onto the run. I started it and soon realised it was really hot. Pretty soon I was in trouble and in the first mile I was contemplating a walk run strategy. However, what I loved about it is that I really wanted to run the whole half marathon and I told myself there was no way I was going to walk, I'd not walked on many halves before and I wasn't about to start walking today. Somehow on very tired legs I found that passion, belief, strength and pride to keep running, when all my body wanted to do was walk.
I loved the challenge of balancing the negativity in my head with having to find positivity from somewhere, to keep going. Throughout the whole day I was also challenging myself to do a Weymouth PB and I knew from about 5 miles onwards, it was going to be tight. So much so that in the last half mile I knew it may come down to seconds not minutes. I really sprinted as fast as I could for that last half mile but in the end I was 2 minutes slower than previous runs at Weymouth. But, more importantly, I'd come in a minute faster than my Weymouth 70.3 PB and so I was really happy with my 7 hrs 15 mins time. It was really nice too as I had great support from Susie on the run and Susie and Phil were both there to cheer me over the finish line.
It was just such a fabulously rewarding event for me and one that really tested my body and mental toughness. I loved it and in a weird way it felt harder than Hamburg. I think it was just that it felt like I had to overcome so many things to get to that finish line. Awesome!
One thing I know from this year is that I just love triathlon more than ever before. It was funny as after nearly 18 months of finding other things to do, I was scared I may not like triathlon any more, but I couldn't have been more wrong.
So bring on 2022. When it comes down to it, it's not about the times, it's not about the other competitors, it's all about doing it for myself, enjoying it, taking on the challenge, overcoming difficult moments, changing and adapting and crossing the finishing line, whilst being incredibly proud of yourself.