Berlin Marathon 2021… Its Been A Very Long Wait
by Sunil
Its 'been a very long wait' is not an understatement. I was marathon ready for 3 years… but just never made it to the start line!
My aim is to run ONE 'big name' marathon every year, but my recent marathon running seems to be jinxed. In 2019, I entered the Amsterdam Marathon, only to fishtail on a rainy bike ride 2 weeks before the event. My first question while being patched up at A&E was…… take a guess. That was the end of my 2019 marathon.
For 2020, I was lucky to get a ballot place for the Belin Marathon, but the world had gone into lockdown. No marathon again. So here I am! September 2021, under the shadow of the famous Brandenburg Gate… will I be 3rd time lucky?
Training for the Berlin Marathon has been stressful. The long training runs were a breeze, but the uncertainty of Berlin going ahead was weighing heavily on me. "Should I defer? or should I go?" was the question I kept asking myself. Every day brings news of new lockdown rules for international travel. Passenger Locator Form, pre-departure rapid antigen test, Day 2 PCR, Day 8 PCR, vaccine certificate, and the list for international travel goes on. Following the chatter on the Berlin Marathon Facebook group only added to the mayhem and confusion. Surely the sensible thing would be to cancel my entry and request a deferral. But will 2022 be any different? Isn't this the new normal?
Five weeks to go I had not yet booked my flight and accommodation. I was waiting to see what happened at Ironman Hamburg. I had chat with Cliodhna and Justin after their return from Ironman Hamburg. Armed with all the information from their travel experience, I finally booked my flight to Berlin with four weeks to go.
Travel to Berlin couldn't have been any nicer. Everyone wore a mask on the plane. I was greeted by a very friendly immigration officer at Berlin's Brandenburg airport who wished me luck for the marathon. So far so good.
On Saturday, I visited the Expo to get my race number. There was one queue for those with vaccine certificates and a bigger queue for the unvaccinated, who had to take a Lateral Flow Test. Once you proved you were vaccinated/Covid free you got a blue wristband ribbon which was your entry for the expo and marathon. We were given clear instructions not to lose the wristband before the end of the marathon. No wristband, No marathon.
After the expo I went to check out the start/finish area at Brandenburg Gate. While at Brandenburg Gate I got a surprise video call from Edwina, Chris, and Andy Webber wishing me luck for the marathon.
Marathon Day
I had a leisurely start time of 9:30. I made it to the start in good time, taking advantage of the free public transport available to marathon runners. The race village was massive and on the lawns of the Reichstag (German Parliament). An interesting fact is that the German elections were taking place on the same day as the Berlin Marathon. This is not an unusual occurrence as it also happened in 2017. I cannot imagine London marathon taking place on the same day as the UK Elections!
After baggage drop and a long (obligatory) toilet queue, I made my way to my starting pen. Standing alone, among the crowd of runners, I felt very emotional. I had finally made it to the start. I am actually going to run a (non-virtual) marathon.
Everything around me was a blur. I don't remember what music was being blared out or who was standing beside me. But I remember the words that echoed out from the speakers as it struck a chord with me "We've all have been waiting for this moment for 2 years! Now we're finally back together. Celebrating the joy running."
This was the biggest marathon race in the world since the beginning of the pandemic! There were 25,0000 runners ready to restart running.
I have a simple 'Plan A' for my marathon.
Get to mile 20 strong. Keep an eye on my HR, keep it in Zone 3 all the way to mile 20.
Once at mile 20, "My Happy Place" (just 2 parkruns to go). Ignore HR and run like the wind, one parkrun at a time.
'Plan A' would get me close to 3:35 time, which is what I was aiming for.
With the rising temperature, my heart rate was creeping up steadily. I was struggling to keep my HR in Z3 by mile 8. The temperatures hit 26°C; it was humid with no cooling breeze. Not good for marathon running – I would have preferred 10°C. You do have to push your limits, but it is a fine balance, as you need to be very comfortable for the first 20 miles. I could push for 3:35 but would run the risk of getting cramps by 20 miles and then struggling for the final 6 miles. From past experience, once you get into the 'cramp zone' it goes downhill very fast. I opted for 'Plan B' – aim for 3:45.
The crowds lining the streets were great. People shouting encouraging words in German from their balconies. Kids with signs looking for high-fives. Bands where sporadic and encouraging – brass, jazz, drums, DJ's. There were water stations every 5km, which gave an opportunity to grab a plastic cup, and down it over your head to cool down.
I had pretty much made it to mile 20 in good shape, keeping myself hydrated and shoving gels every half hour. At this point some runners are 'hitting the wall' or even cramping and are forced to walk. You now start to notice runners who have kept you company from the start starting to lag behind, looking fatigued. This is where all your long training runs, and strength work pays off. I check my watch and it says I've done 20 miles in 2 hrs, 50 min. Two parkruns and a bit to go in this heat. Quick calculations tell me that I need to do a 27 min parkrun (x2) to comfortably make it 3:45.
As I rounded the corner back onto Unter den Linden, I could hear lots more music, shouting, and cheering. Up in the distance I could see the Brandenburg Gate. If you didn't do your homework, you'd think this iconic building was the finish line. It isn't, do not sprint too early! The finish line is a further 200 metres after you cross through the Brandenburg Gate. Leave enough gas in the tank to sprint through the gate to the finish.
Official time 3:45:21
Splits HM1 1:51:43
Splits HM2 1:53:28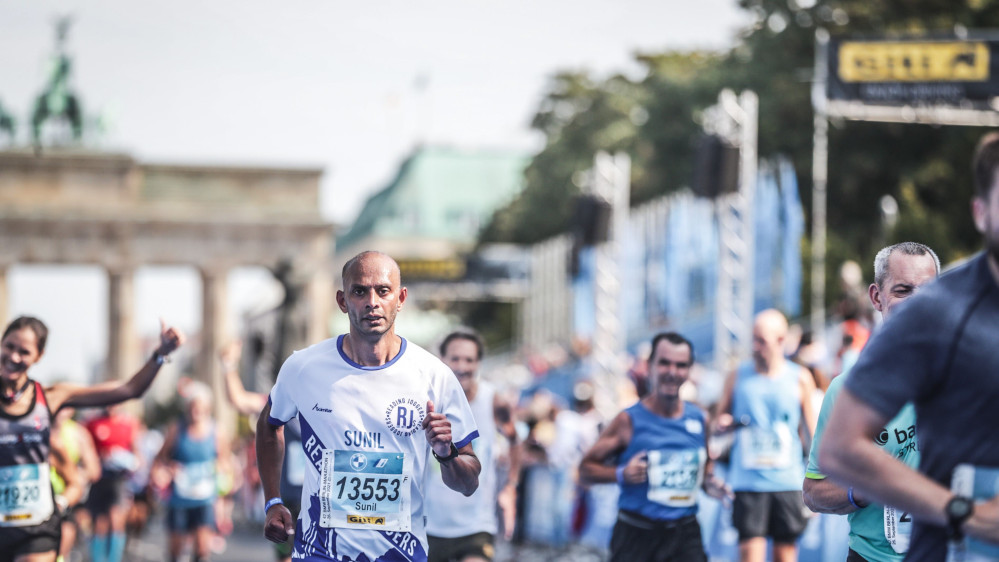 Overall, very happy with my performance. Happy to have the opportunity to run in a World Marathon Major. Happy to get back to running. Happy to break my marathon jink. #RunForJoy
One week after Berlin, I ran the "Virtual London Marathon" with Miha running along the Kennet & Avon Canal from Hungerford to Reading. I had entered it as my backup marathon in case Berlin didn't happen.
Two weeks after London I ran the "Run to the Sea Bournemouth" 50k Ultra with Stu. I had entered it as my non-virtual backup for Berlin.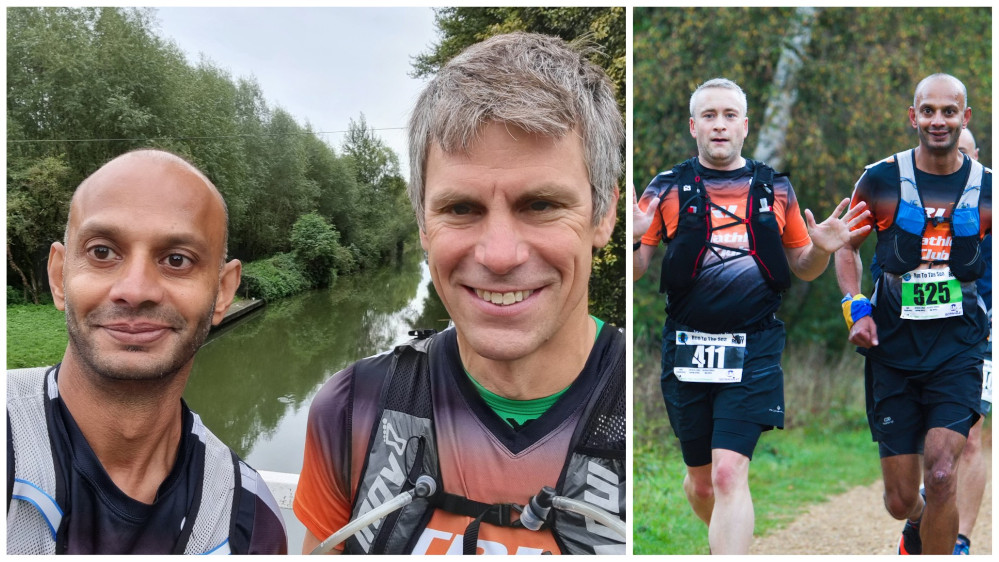 From 3 years of marathon drought, I have ended the year with 2 marathons and an Ultra in 20 days!!
I have to thank my amazing coach Georgia for being patient with me and turning into a running coach from a triathlon coach, setting up a proper training schedule and making sure I was strong enough to do this 20 days of madness.
Time for some well needed rest and recovery and then back to winter training. Entered Long Course Weekend Wales as my 'A' race for 2022 – 2.4 mile swim on Friday, 112 mile bike ride on Saturday followed by a MARATHON on Sunday.
Need to check what I can enter as backup race 😉