Juggling Training with Mummy Hood
by Susie Rees
Greetings Comrades!
I was asked by Sunil to do a write up about training for Outlaw Half at Bowood whilst juggling life as a working (single in the week) Mumma. My essay writing skills are a bit rusty, and time is precious commodity for us all, so I decided I would give thought to the nice bits and hard bits of training alongside parenthood and do a little summary…
Training for big, time-consuming events with little ones in tow….
The nice bits
We get to say cool things that make us feel strong, like 'Mummy's just got to swim around the lake before we have our ice cream'. One day they'll respect the awesomeness, after the sulking.
Endorphins help you cope. When you're stressed or tired or even bored from parenting – let's be honest, there's only so much roleplaying 'Paw Patrol' a girl can take, the thought of adding another obligation to your busy daily schedule can seem overwhelming. However, if you begin thinking of physical activity as a priority (a necessity for your mental well-being), you'll soon find ways to fit small amounts of exercise into even the busiest schedule and will feel refreshed, renewed, and raring for more 'Chase is on the Case!'
Swimming / cycling / running gives you back a sense of identity – whilst being a parent is a privilege and honour, you are more than a parent – you are a triathlete. Training gives you that vital 'you' time, a break from the routine and a chance to feel like the athlete that you are. We teach our children to have dreams and to strive towards things– it is fine for us to do the same. Of course, there is a need for balancing out your training needs with that of your family, but when you get this right, your parenting and relationships should flourish.
The love of movement starts at home – children who regularly see their parents partaking in sports and fitness activities are more likely to do it themselves – this is especially true now as screen time is increasing among young children and physical activity is decreasing. Establishing healthy habits early in life will stay with them as they grow; you are helping them on their journey to physical and mental wellbeing through your own training. They will want to wear your medals and you will want to put them on them.
Rollers / turbos / treadmills enable you to train all year, around children, either before they wake or once they're in bed. In the winter, this means you lose the time consuming faff of hunting down gloves, buff, bobble hat, tin foil, overshoes et al and can binge watch Netflix with zero shame. Sometimes it' just not possible to train at these times and you'll need to run or ride in their presence – you can *choose* not to feel guilty about this.
Once all the training is done and race day comes around, you'll get to experience the joy that is seeing your child at the finish line. Both Cotswolds 113 Events and OSB events who deliver the Outlaw series, allow you to cross the finish line with your children for a fantastic, family finish feeling!
Children and partners can be included – it takes some creativity, but it can be done.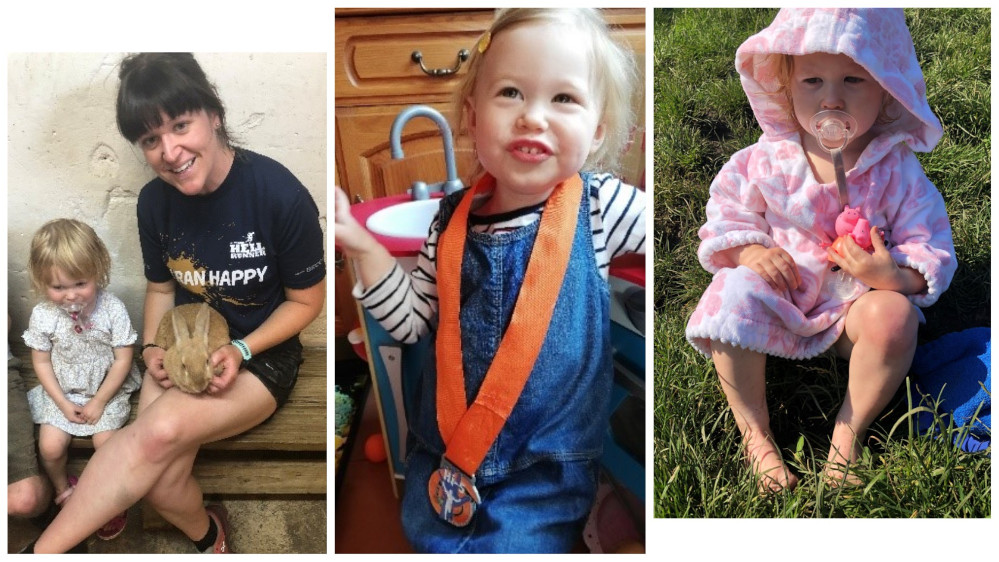 (from Left to Right) :  Bunny Day Out | Evie wants my Medal | Evie Sulking |
Here are five ways to include your children and your partner in your training:
If your children are small push them in a buggy (doesn't necessarily need to be a running specific one either). You won't run your normal pace, but you'll get a heck of a strength workout and loads of respect!
Use a bike trailer to pull your children around a quiet spot or even do hill repeats with them on board. Does anyone do this?
For long rides, you can ride to a specific spot – whether it's 30, 50 or 70 miles away. Your family gives you the appropriate head start and you get your ride in, the family meets you at set meeting point. Then you can all have a picnic or lunch together. If you can work it out, you could even run a few minutes off the bike to grab the ice creams.
Include your children in your long runs, letting them bike / run beside you, carry your water and chat with you. It's great bonding time.
Get the children and your partner volunteering at parkruns / local events. They will feel involved, included, appreciated and inspired.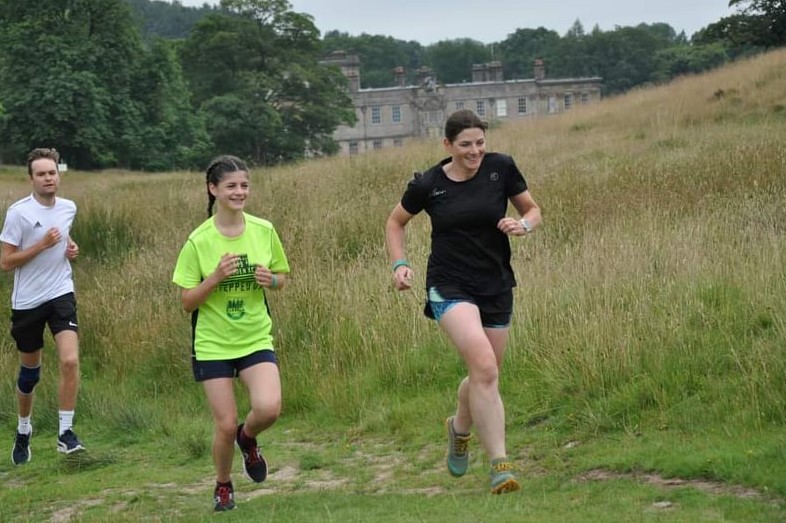 Paris Marathon competing Liz Ganpatsingh, who works and is a Mum of 4, yes 4, quotes "they train me more than the other way around now!". This summer, Liz and Cara attacked Lyme Park parkrun – commonly regarded as the 'epicentre of parkrun gloriousness' yet immensely challenging (rated 15th toughest UK course, Athletics Weekly, 2019). Talk to Liz on a Wednesday morning swim at Willink or Monday evening swim at Crosfields about just how she fits everything in. She may tell you red wine is the answer.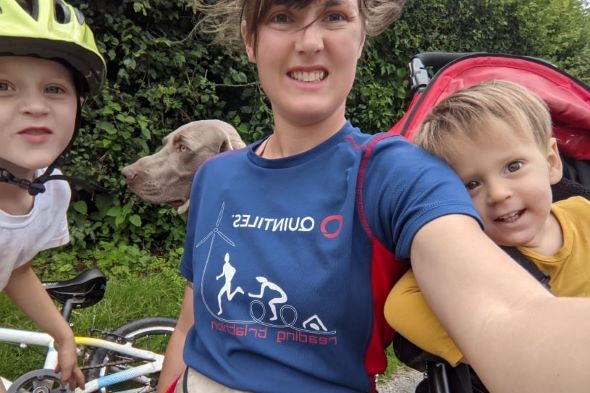 Newlywed, Elsa Hughes, is the one to ask about combining buggy running with dog walking plus eldest riding his bike! She says she 'loves exercising with my boys, I get some training in, they get to see me prioritising exercise, and best of all, I get to feel really smug about being such a great, superhero Mum.' Couldn't agree more Mrs Hughes. Elsa can be frequently found wild swimming in West Berkshire, so do chat to her if you'd like to know more or want to know where she gets her awesome tattoos done.
The hard bits
There's an African proverb that says, "It takes a village to raise a child." Training for long events means you need time away from the parenting stuff. You can't do it without being reliant on others to take charge of the reigns and we tend to not be very good at asking for help in this "independence is best" developed country we live in.
Working and training and parenting is tiring.  It has its dull moments too. The temptation to stay on the sofa is real. Don't be afraid to take a step back and re-evaluate when things get overwhelming, and you feel you can't get everything done. Surely triathlon can and should be something that enhances your quality of life and, hopefully, brings your family closer together. If it's not doing that, then step back and take a different approach.
Training for long events when your partner is also training for long events can mean you end up tag-teaming the entire weekend rather than spending it together. 'You drive the kids to the farm, and I'll run there in the rain, and then when I get there you can go do your run in the rain'. Oh the romance!
If you're partner isn't into triathlon, I imagine they might feel abandoned and possibly envious that you are having blocks of child-free time whilst they must carry on in your absence. Be a giver! Insist they take regular time out too – not to exercise if that is not how they would like to spend their time – offer them the chance to shop, meet a friend, go back to bed – whatever they would like to do to recharge in the same way as you have been able to. Communication with your partner and making sure you are looking after each other is the number one priority, without a doubt.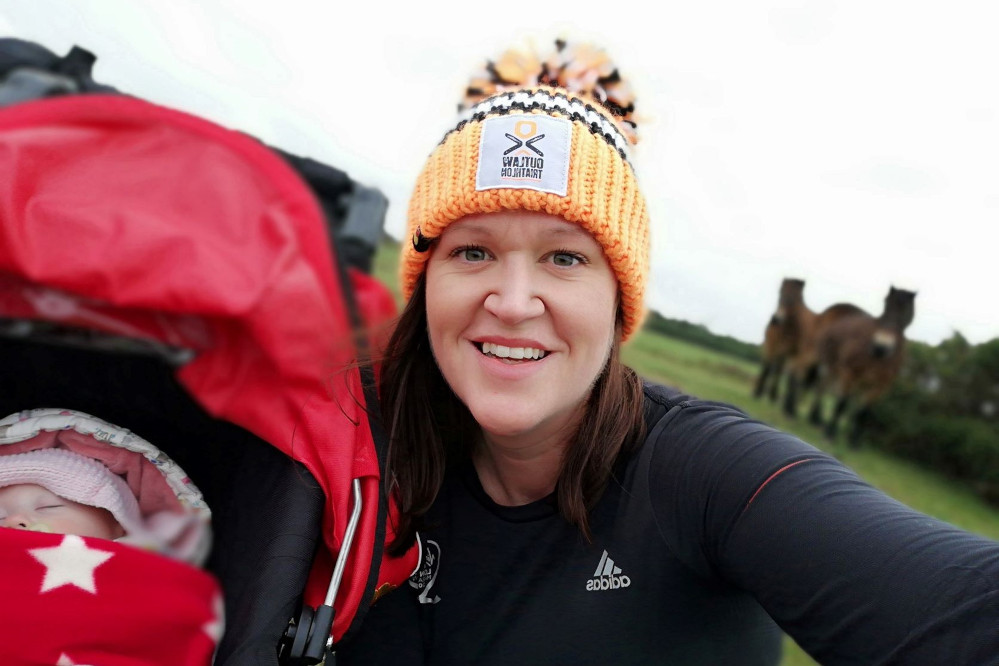 To end with, here's a little bit of advice taken from some professional triathletes, Mirinda Carfrae and Tim O'Donnell who train with their kids in tow….
"One big change I've noticed is that now I go back-to-back with some of my training sessions, instead of spreading them throughout the day," Carfrae said. "Unless there's something specific that's scheduled for later in the day, I try to get all of my training done early, so I can spend as much time as possible with the kids in the afternoon." While it might not be ideal to get a bike workout in before the sun comes up, scheduling training for later in the day almost always results in sessions being shortened or cancelled, because work ran late or the dinner bell is calling. In addition to the timing of workouts, O'Donnell believes quality over quantity is the best method for achieving success, "It's just smart to be as efficient as you can be with your training," he said. "Do your best to prioritize the sessions that are going to give you the best return on investment. Get rid of the fluff!"
Personally, I'm not so sure about ditching the fluff sessions; I hear what he is saying but who doesn't love just exercising for pleasure and not worrying about what zone we're in. But hey, he's a pro. Wishing you all a happy, healthy off-season, and if applicable, may the children be good to you!
Susie