IRONMAN Italy Emilia-Romagna
by Ed Jones
Well where do I start, just getting here has been such hard work with all the guidelines changing every five minutes due to Covid and isolating abroad, the not knowing if you are training for 'no event' is awful. Its so hard to stay focused on something that takes so much time and may not happen. Three weeks before the event I remember coming back from a long run on a Sunday and Claire was upset in the kitchen and I said "what's happened" she replied Italy ?? are changing the guidelines and dropping the 5 days isolation so this meant as long as we could stay Covid-free the race was happening I had tears of emotion as it meant game on!
Why on earth would you pick an ironman as your first triathlon event?
Turning 40 nearly 5 years ago it was a life dream/ bucket-list to complete one. Also Covid hadn't helped so booking on to other triathlons to practice with other events that had been deferred from 2020/2019 that I'd entered and family time etc… limited time for other events to be entered. I knew that being 'a swimmer' (national Welsh/ English age grouper some 30 years ago) I didn't have to put a massive amounts of time into this discipline as you don't forget the technique, dedication and commitment it takes. I had concentrated on running and had run quite a few marathons since London 2016 so felt confident and comfortable with this discipline. I just needed to look after my body and remained injury free. I sustained an ankle fracture injury in 2017 and joined GoPerform as an athlete and to go through a rehabilitation program with Luke Anthony, followed by strength & conditioning work with Tristan Baker, and still attend now! I quickly realised how important it was to manage my body due to the extra physical load of being a professional climber (Arborist) for work alongside trying to train for endurance events such as marathons, ultras and long distance swims.
My training pre-event probably wasn't 'text book' but it worked for me – I listened to friends' stories, podcasts and read blogs. Cross-training and reducing my running mileages from 60-70 mile weeks to 30-40 miles has benefited me massively, especially as I walk a lot of miles at work. I've used the bike more for cross-training. As riding a bike was completely new to me, getting a bike fit also helped me manage other injuries I picked up along the way. With the race cancelled last year it gave me an extra year to train which, in hindsight, was more time to get used to the bike and cross-train and more S&C in the gym, and also more marathons under my belt. I also ran a 50 mile ultra race in 30 degree heat with Alex Whearity (ultra running buddy) who mentored me through the event. This proved to be invaluable for ironman Italy as the heat was replicated and I had a similar nutritional strategy to keep fuelled.
Finally we made it to Cervia, Italy, full of nervous excitement and anticipation. I knew I was in great shape physically and mentally stronger after coming through so many injuries. After missing so many other events I also knew that I was psychologically very strong, but I had never exercised continuously for more than 7 hours so didn't know how my body was going react.
For me, the nicest thing about this event was that I had no expectation of a time. I just wanted to finish it and enjoy it, whereas in previous events I'd always been trying to hit targets with my swimming and running. which adds pressure.
Saturday morning on race day arrived. It was bit of a baptism of fire with all the rules and process of what to leave where, but I was ready, the sun was coming up over the ocean. I moved my way to the sub 1 hour swim pen knowing it was my strongest discipline but knew I had to cruise it and stay well inside the green! The music started pumping and the build to the start began – there were people fist pumping and crying, all emotions were on display! Then it was 'go time'. We lined up in our groups of 6 and I went for it. I felt strong all through the swim and just concentrated on my stroke length and breathing, finishing in 57.30. I jogged into transition and prepared for the bike, still feeling fresh.
The heat started to build and I knew I needed to fuel well and get my hydration and nutrition right, biked out of town saw the family on the route cheering which gave me a massive lift and then got into the zone checking my HR the time soon flew, I stopped 3 times for fuel and water. I was very focused to concentrate on my own race as so many people were coming past me on out & out TT bikes making it look easy! then it was soon the cycle back into town knowing I had another strong discipline if I'd looked after my self on the bike and stayed in the green which I was sure I had. knowing I was going to see family and friends again which would give me another lift and boost. I finished the bike leg in 5hrs34mins which I was chuffed with being my weakest discipline. Seeing Kir where my transition stop was was great and I remember asking how Barry had got on in the swim, which he was dreading and so worried about. Kir said he was fine and had nailed it. This put a massive smile on my face!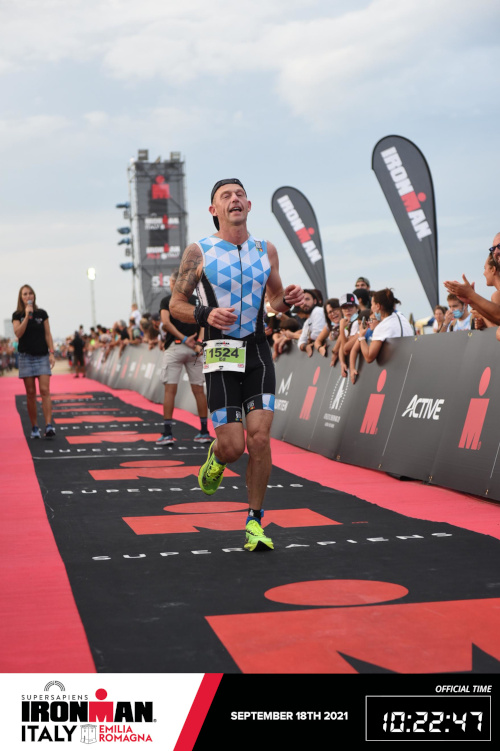 After a quick pit stop and more fuel it was the run leg. I again felt pretty good straight away and got a nice run pace going with my HR pretty bang on. I fuelled on each lap and had the occasional toilet stop. The crowds where amazing. I got to see the family more regularly as it was 4 laps. I started feeling stronger and more confident as I knew where I was with my running. I just held my pace and picked more & more people off, growing in confidence each time. I knew the 3rd lap was going to be the toughest mentally. I was relieved to come through it and my body felt strong going into the last lap. I knew the finish line was coming and that it would be emotional. Turning into the race village for the last time and seeing the sign finish line was amazing. The crowds were screaming. Just as I got into the last straight I saw the family. I was completely oblivious of my time as I'd used different devices to record the event. Claire and the kids were just as emotional as I was. I then saw the Ironman arch all lit up. It was so cool that I felt like I could just keep running! Coming under the finish and looking up at the time and hearing 'Ed You Are An Ironman' was brilliant. Crossing the line in 3 hours 32 minutes for the run and 10 hours 22 minutes in total. I was so happy.
I've learned so much about myself from this event – having the mental strength to come back from so many injuries to this sport. I will definitely be trying some shorter distance triathlons and maybe some half Ironman races. Maybe in 5 years, when I hit 50 ?, I'll try another Ironman. A massive thanks to everyone that's got me to the start line and supported me through the training and the event, it's such a collective effort by so many different people.