Weekend Warrior : Swim-Cycle-Run-REPEAT
by Amanda Gardiner
Weekend Warrior was my A race of the season. The aim of Weekend Warrior is to complete as many triathlons as possible in the time allocated. Saturday was a 8.40am start, with the last opportunity to get in the water at 2:40pm, Sunday was the same start time with a 1pm cut off. For anyone that has not completed a triathlon at Blenheim, it really is a stunning venue, but after 19 laps of the bike route and 12 laps of the run route I know it far too well!
The route around the grounds is an interesting one:
T1 has a total length of over 0.5km and most of that is uphill!
T2 is longer than normal as well – up and over a bridge just for a bit of extra punch.
The bike course is 3 laps for a total of 19.7km and is hilly – with around 350m of elevation gain. You really start to notice the climbs later in the day.
The run however is the bit that seems to get some people. It's long at 5.5km and also hilly. On top of all of that you then have close to 1 km back from the Finish to the Swim Start to do it all over again!
As a Weekend Warrior you are allowed to take someone to help you. My friend Annette's job for the whole weekend (above the normal cheering) was to get run kit back into Transition and bring swim kit out of transition to meet me back at lake, while also setting up shoes, gels, drinks bottles etc.
I went into the weekend with a super structured plan thanks to Merlin Tri Coaching. I had timings for each section along with a strategy, including nutrition; this was shared with Annette so she knew what I needed on the bike to fuel, what I need to eat before the swim etc.
The swim was enjoyable (no panic attacks and the water wasn't super cold!) I walked/jogged up the hill to T1 (my plan was all about keeping in a low heart rate zone). The bike is my strongest discipline so I really needed to hold back, control my effort and not blast the legs, but also make sure I fuelled. The run was a run walk strategy with a focus on keeping my heart rate down. I went over the finish line 10 minutes faster than my target time for the first one of the day but the day went to plan with consistent times for each triathlon. I went home on Saturday with FOUR in the bag. Slept super well and back for more triathlons on Sunday, collecting another THREE medals.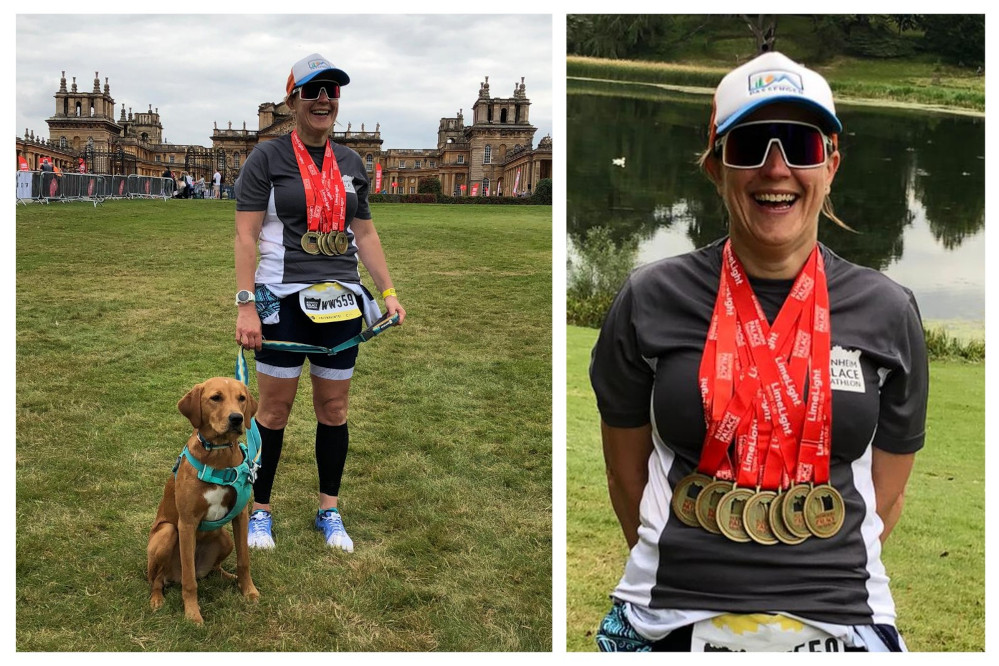 I loved it! I enjoyed the swim (this is someone that was panicking in the water this time last year), remained on plan all weekend and fuelled well, BUT most importantly, I smiled all the way round, every time!
Big thanks to the amazing coaching from Georgia, the support of folks I have met in the club in the last few months and my helper Annette. Great cheering from Sarah as well as she completed her race on Sunday and thanks to my wife for always believing in me and being there all weekend with our puppy.
I am super proud of what I have achieved this year and can't wait for next season!
Results : 162km completed, 61st out of a Group of 147, 7th lady out of 24 and 1st in AG.