Outlaw Half Bowood
by Peter Reeve
2020 was going to be the year for me to step up to the half distance. I'd booked into Bowood, a few miles from where I grew up, and the Woburner. But it wasn't to be and like many others my plans pushed to 2021. On the plus side, I'd become a member of Tri2O, taken weekly coaching from Jennie and Georgia on my (lack of) swim technique (best advice from Jennie at one session: "just focus on….. all of it"), and really maximised the time at home following a training plan for the first time.
My first half distance in 2021, The Huntsman, didn't go well. I was feeling great, but the weather was terrible. Cold, wet and windy. The swim was slow, then I had a puncture 10km into the bike. I confess to making a rookie error in only carrying an emergency repair spray, which was useless. Still, I got a lift back to transition thanks to a kind stranger with a van, and without 90k bike in my legs I took out my frustration on the run and was happy with 1hr 24min.
So… on to Bowood and my first Outlaw event. I was very impressed throughout with the organisation. Outlaw really know how to put on a professional race, and it was worth the fee. The day started well. A nice early start at the campsite, which is right next to transition, meeting up with fellow club members Tina, Heather and Martin all in our orange hoodies and a lovely clear day with no wind. Bizarrely I was stung by a wasp on my neck just after the photo was taken and had no option but to ignore the pain for the race!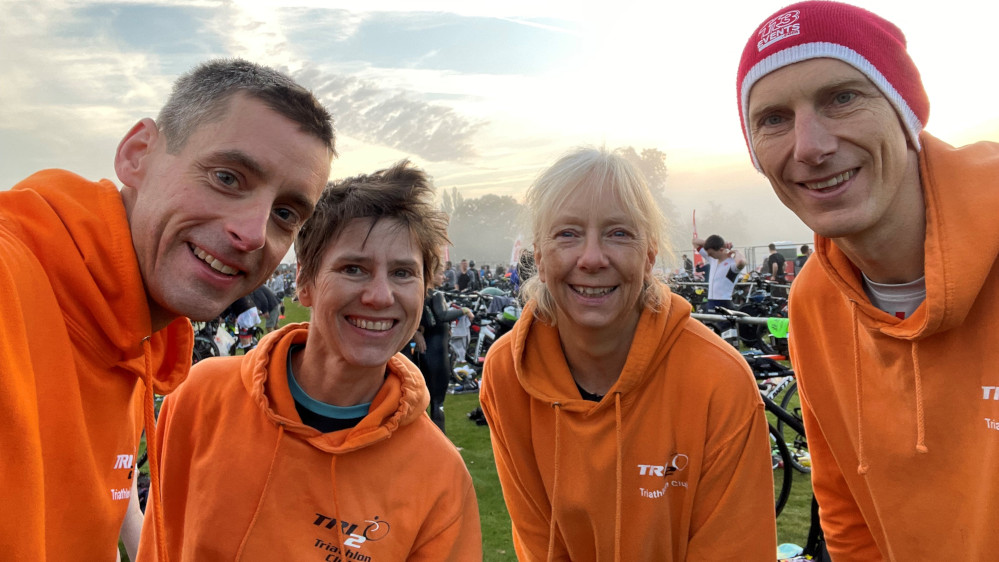 Into the water, and a lovely view back up the hill to Bowood house made the swim very enjoyable. It was a perfect temperature, if a little choppy, and I didn't quite get my rhythm. I finished in 35min. Up the steep hill to transition, handily right next to the lake and on to the bike.
The bike course is mostly fast, almost all 'A' roads in the rolling Wiltshire countryside except for three tough hills. The last of which, Derry Hill, hits you at around 85km right before the finish! I haven't yet invested in a tri bike, which I think would have been a big gain on this course, as people were flying past me on the long flat stretches. I swapped positions with a few of these as I overtook up hills, only to be caught on the flat. I was happy to finish at 2hr 55min, 30.8km average.
And then the hard bit. I had not really checked out the run course in advance, so I wasn't expecting it to be tough and it is normally my strongest discipline, but I really struggled on this course. The first km I did in about 4.45, the second in 4.21 and felt ok, so thought I might do well. But the up and down steep hills really took it out of me, and by the last lap I was struggling. There is a killer final hill before the finish, and then a run through the finish line where I was totally drained. Complete in just under 1hr 55min.
Overall, I'd targeted around 5hr 30min for my first half distance and managed 5hr 32min. So I was pleased and have a few things to improve for the next one. I recommend Outlaw events based on this, and Bowood is a stunning venue and course, but watch out for the run!