Newsletter – Aug 2020
Chairman's Update
Hello Team Tri2O
Two months goes pretty quickly and there are some exciting updates and things happening I need to share with you in my update.
Swim training is back!! Tri2O has always benefited from an excellent schedule of coached swim training delivered by passionate and experienced coaches so when we got the green light a few weeks ago to re-commence swimming an enormous amount of background work went in to ensure the club conformed to the in depth health guidelines from British Triathlon and pool operators. We wanted to make it as painless as possible for members to get back in the pool while remaining safe.
A massive Thank you goes out specifically to Sean, Georgia, Jennie and Sunil plus input from several others for making this happen, a great team effort. The positive feedback from members is great to see.
In addition to the logistics of getting swim training back on, British Triathlon advised all affiliated clubs to appoint a Covid-19 Officer before re-commencing any training. Zoe Hawkins kindly stepped forward and was appointed. Your experience in this field is very welcome Zoe, along with your eye for detail on those Risk Assessments! Thank you.
Our new Club Captain, Neil Harris, has laid down the gauntlet to us all, introducing his new Captains Challenge. – 2 Run Challenges plus 2 Bike Challenges over the next 8 weeks.
I encourage you to get involved and enjoy Neil's carefully chosen courses including his course preview videos on the Facebook Event page – nice touch Neil! (I can personally vouch for Neil's tour guide skills having chased him around Swinley Forest on several occasions!)
It is such a shame not to be hosting the Reading Triathlon this year, BUT our Social Secretary, Tasha Skidmore, is marking the day of the event, Sunday 13th September, with her own Tri2O Virtual Team Triathlon. We currently have 11 teams of 3 members each, with a virtual relay format. It will be a another fun event organised by our one and only Social Secretary. There is still space for more teams or individuals to join a team – contact Tasha at social@tri2o.club ASAP.
Tri2O usually donates some of the proceeds of the Reading Triathlon to our charity of choice, "Katie's Legacy". This fund is administered by the Triathlon Trust which has been encouraging children to become more active through the sport of triathlon since 2012. The Trust has currently suspended its activities but will resume them again in the future. It would be a real shame not to donate to Katie's Legacy this year, so we kindly ask entrants of the Virtual Team Triathlon on the 13th September, and other members who are in a position to do so, to make a £5 donation here on Katie's Legacy justgiving page.
If you have completed one of the IronMan virtual races don't forget to register your results on the Tri2O Club Championship spreadsheet – details can be found on our website here: https://www.tri2o.club/club-championships/ along with the live scoreboard.
I have really enjoyed catching up with some members face to face since the relaxation of Lockdown, whether in a river or a lake or at a local bike cafe! The Orange Army seems fit and well, keep training, keep safe and keep healthy.
If you wish to get in touch with myself or other Committee members regarding anything club related feel free to do so. In the meantime enjoy the August newsletter.
Best wishes
Mike Nash
Chairman
---
Membership Update
We would like to welcome the following new members to the club:
Mireia Garcia
Isha Little
Megan Fleming
Hope you can get along to some of our socially distanced training sessions and meet some fellow club members.
Thanks to everyone who has renewed their membership on ClubSpark. Thanks to some heroic efforts on Sunil's part, this process now seems to be a lot smoother!
Renewal invitations will be sent to everyone in the month they are due to renew, so please look out for them
Nicky
Membership Secretary
---
Captain's Report
These are the first ramblings from me as your Club Captain. I am excited to have taken on the mantle from Phil. This club has a great spirit and support at all levels, from those placing at age groups to those whose goal it is to finish! I cannot wait to hear more about your journeys and look forward to supporting you along the way, be that clapping you at the finish of a parkrun, talking you down a section of MTB you find scary or following you on the bike legs with the eye of the tiger on full blast! In my role as Club Captain I have some idea of things we can do, and I hope the Captain's Challenge will motivate you over the next few weeks as well as providing you with an opportunity to enjoy the social aspects of being part of a club that 2020 has been missing! However this is not my club, or Mike's, or the rest of the committee, plenty of the things I have been involved in before taking on this role have been born out of things I wanted to do, working with the committee to open the opportunity up to others. If there is something you would like to do, you are likely not to be the only one, so I would encourage you to reach out, and we can work out how to make it happen.
Well, what an unusual time it is to be an athlete! We can now train, but for what? I think this year provides some excellent opportunity to take stock of goals and without the regular season, try something different and have fun, and to that end, it was great to see Steve Ridley partaking in his first MTB race. It was also great to see Justin flying the flag in one of the few triathlons taking place this year. Other members have found virtual racing has kept them motivated and provide inspiration: Sally, Sean and Sunil have been stalwarts of the virtual IM racing, and Cliodhna pushing herself to do her 70.3 distance when her goal race at ETU was unsurprisingly cancelled.
Neil
Club Captain
---
Back to the Reading LauTRIv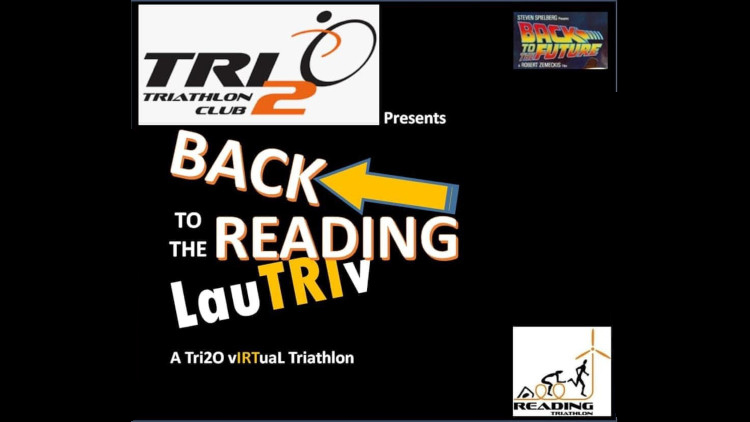 Back to the Reading LauTRIv – vIRTuaL Triathlon – 13th September
2 lap swim of Tri2O lake ?‍♀️
1 hour cycle ?‍♂️
1 hour run ?‍♂️
The Virtual Endure24 was so much fun so why not have a virtual TEAM triathlon event.
Virtual – so we can abide by all the government and governing bodies guidelines – also means everyone can have a go from home (apart from the swim) outdoors or indoors ?
Teams of three ?
Swim – Takes place at the Tri2O Lake – All swimmers start at the same time (all social distancing down at the lake), swim 2 laps of the lake and then head back to their car/bike (mode of transport) – Transition 1 dig out the phone to take the all-important selfie handover.
Cycle – Due to social distancing we cannot start from the TRi2O lake – So just the same as Virtual Endure24, it is an hour's cycle with start and finish selfies – A loop or you may wish to arrange to meet your runner for a socially distanced handover.
Run – Again, the same as Virtual Endure24, run for an hour with the start and finish handover.
It not a race but you never know we might just have some other ways for your team to earn points. Ultimately it is so we can all have a bit of fun and raise a bit of money, so we asking each person who participates to donate £5 as an entry fee to Katie's Legacy.
The team list has been posted (on Facebook) but please do me let me know if you are interested via facebook or email social@tri2o.club and I will get a team sorted ?
It really is an event for everyone!!! ?
Tasha
Social Secretary
---
Tribirdsport Coaching
Jennie Jones
I'm Coach Jennie, some of you will know me from either coaching the Wednesday club swim session at The Willink, or Friday club swim at Bradfield, or coaching at the Tri2O Lake.
I am a BTA Level 2 Diploma Triathlon Coach, this allows me to coach groups and 1:1 athletes. I have been in the fitness industry for 30 years (I shocked myself when I worked that one out!) and I have been coaching for the club for 6 years; I was in fact one of the group founders of the Tri2O Club (not many of you will know that) when it was put together by the My Sporting Times team/Tri2O Swim Centre. They needed a female for some different input and I was as passionate about triathlon then as an athlete as I am now as a coach. I started helping out at the Tri2O Lake the first year it fully opened.
I am really pleased to be back coaching the club swim sessions, I enjoy seeing your progressive stroke improvements but also the camaraderie and fun you all have. It really is a friendly group and hopefully other members that have not been to one yet will come and try it out. As a coach I will adapt and adjust the plans to make sure each session is suitable for all levels, I love that variety. I can highly recommend the Xmas specials – they are great fun.
Since Covid-19 I have been putting on a virtual dryland swim session using swim cords on a Friday and I have to say they have been invaluable! It is one of the few positive things to come out of this Covid situation. The muscle memory they have produced for the catch and pull through (propulsion part of stroke) has been amazing and the feedback from the participants once they got back in the lake has all been positive. I also noticed a massive difference when I got back in the lake. I shall be continuing to put these sessions in training plans and hope to keep the virtual classes going but on a different day. I do now record them as well so if anyone can not make the live virtual sessions I have a video library of them now available.
The other virtual sessions I have been putting on are spin classes or more like turbo sessions as they are not set to music, these have been brilliant for motivating you and getting you to work harder than you would normally, and also provide that group vibe if you do not like training alone. Each one has a specific focus, whether hills, sprints, VO2 Max, threshold etc and with the technique drills and reminders have improved participants pedalling efficiency. These are also videoed.
One thing I have found from the years of being a triathlete and now as a coach is how well structured training plans improve fitness and performance. I saw it within my own training when I used to compete and had some coaching. Now as a coach writing these training plans for athletes I see their improvements but also how easily it can go backwards if sessions are missed or done differently to what was planned. Coaching is a whole science of structured exercise plans, getting athletes to get enough recovery, the right nutrition and the timings of what and when. It includes mental health and keeping athletes motivated, talking through anxieties, discussing bio-mechanics and trying to keep athletes injury free, and educating athletes as to why they have certain sessions, why certain nutrition is best at certain times etc. As a coach I am constantly educating myself, learning from athletes and from others in the industry to keep myself the best I can be for my athletes because for me this is the best job in the world!!!
The online virtual sessions I am putting on are:
Monday 7:30am Turbo Class (Spin)

Wednesday 6:30pm Turbo Class (Spin)

Friday 7:30am Dryland Swim Cord Class
All of these classes are also available from the video library I have been compiling and for the same price as a class.
Classes are £5 and are paid via https://www.paypal.me/tribirdsport
CONTACT:
webpage : https://tribirdsportcoaching.com/
fb Virtual class : https://www.facebook.com/groups/239381683897644/
fb page https://www.facebook.com/tribirdsport
instagram : tribirdsportcoaching
---
Swapping Corporate Life for the world of Coaching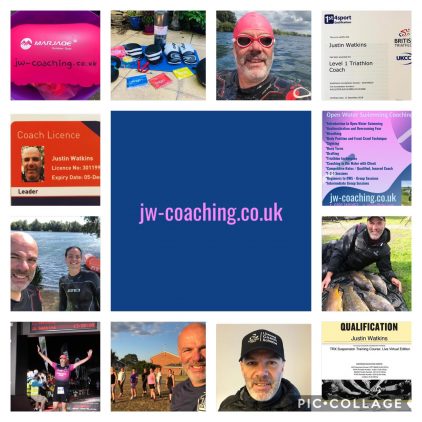 Justin Watkins
July 4th 2019, Independence Day and my American boss phoned to say my corporate role was being made redundant. Was I sad? No I was dancing on the desk and filled with excitement and a sense of adventure and up for a new challenge. After 13 years which saw me move from being an accountant to enjoying a global leadership role, it was time to dip my toe into something new. I'd always fancied having a go at contracting or something completely different but having a family and responsibilities, I always felt turning my back on a full-time well paid job would be very risky to choose.
The next day was Friday and Lucy and I were travelling to Holkham to race in the Outlaw Half. I remember one of the first things Lucy got me to do on the 3 hour journey to North Norfolk was to list all the things that I wouldn't miss about my old role. I think this was a great list and whenever times in future may get challenging, I can look at this list and it will motivate me to be more determined to succeed at coaching.
So I took some time out for a break, and had about 4 weeks to train, for Ironman Copenhagen in the August. The event went well and I knocked 40 minutes of my PB, this was followed by travelling to Mallorca for the Long Course Weekend before a couple of weeks in St Lucia.
By now it was November 2019 and it was time to start to think about the future. Between holidays I'd managed to squeeze in a weekend Level One Angling Coaching Course. This started off more as a hobby as fishing is something that I have been good at for many years and comes quite naturally. I am also lucky enough to be sponsored and have enjoyed a great relationship with Browning, my sponsors for over 20 years.
However after my angling course this sowed the seeds that maybe coaching was a direction that I would like to pursue so next on my list was my greatest passion; triathlon. I discussed with Tri2O if they would help and support me and soon afterwards, I was booking my Level One Triathlon Course.
One thing I have learned since going down the coaching route is that coaching courses can be difficult to get onto and it can be slow work getting Level One and Two passed, as you have to fit in with the courses on offer, which can be few and far between. For triathlon most of the courses tend to be in the off-season months from November to April. Also, for most sports to be able to coach on your own, and write your own session plans, you tend to need to be Level Two qualified. If I had my time again, I think I would have tried to gain some of the qualifications whilst in full time work, so you can move faster when you make your career change.
In November, I was able to pass my Level One Triathlon Course over 3 classroom days and lots of coursework. I then threw myself straight into getting some coaching in, building up some confidence and putting into practice what I had learnt. I was lucky and grateful that Georgia took me under her wing and gave me the chance to coach with her on Sunday evenings, at the club swimming sessions at Leighton Park. I also booked my Level Two Course for February, March and May 2020, so I had a clear plan and agenda to get to Level Two.
At the same time, I started to think more about building up a portfolio of coaching and I was soon registering for a Fitness Instructing Level Two Course and Personal Training Level Three Diploma. I also answered a cry for help from my running club Reading Roadrunners, who were looking for new coaches and, working with them, I was able to register for a Leadership in Running Fitness Course (LiRF) in January. Things were starting to fall into place and a clear coaching journey was being plotted, although maybe I was biting off more than I could chew to concentrate on quite so many courses at once.
Unexpectedly, the last piece of the jigsaw came about in St Lucia, when Lucy and I holidayed at the same time as former Olympic swimming couple, Keri-anne Payne and David Carry, who were running a two-week swimming camp at our hotel. We were impressed by David and Keri-anne having enjoyed swimming with them, being coached by them and attending their beach fitness bootcamps on a number of mornings. I quickly knew that Open Water Swimming was another string I really wanted to add to my bow and it saw me registering for Keri-anne's Level Two Open Water Swimming Coaching Qualification she teaches through STA (Swimming Teachers Association). I have really grown to love open water swimming and would love to help people share in the joy, in a safe and confident way.
So, the master plan for 2020 was to complete
LiRF January
Fitness Instructing February
PT April
Level Two Angling Mid-May
Level Two STA Open Water Swimming May 23rd
Level Two Triathlon May 24th
Launch JW Coaching May 25th 2020.
Then Covid-19 happened……….!!!
Like most of us we all faced some challenges, delays and postponements.
I was lucky enough to get my LiRF out of the way in January and start some running coaching for Reading Roadrunners. I have also been able to complete my Level Two in Fitness Instructing, as some of it could be adapted to be completed online and with filming at home with a person you live with. Step up guinea pig Lucy!!
However Level Two Angling got postponed with no date advised as of yet and for Level Two Triathlon, frustratingly I was able to complete 4 of the 5 classroom days in February and March, before postponement set in, leaving me with 6 sessions to coach and a final assessment day to undertake to complete the qualification. Hopefully soon, as things are starting to 'come back', I will be able to lead these 6 sessions and look for volunteers to be coached, in a similar way to Edwina recently.
As for PT, this is 90% complete via online, zoom, home filming, willing guinea pig and video assessment, but marking is slow as some of the staff are on furlough.
For Open Water Swimming, thankfully Keri-anne was able to adapt her course and we did two classroom days via Zoom and then when swimming started to open up, we completed the course with a classroom and lake day at Shepperton Lake.
So, I've now started my own business and softly launched jw-coaching.co.uk and have been doing some Open Water Swimming Coaching and some Running Coaching, however my main focus for now is completing my PT and Triathlon Courses, before I launch my venture in a bigger way and chase the dream.
So why am I doing this? What is my coaching philosophy?
I'm passionate about sport, I enjoy working and inspiring people and I love to help them on their sporting journey. The journey began for me many years ago when I went from the guy who struggled to run more than a mile, to having someone explain how to run two miles, this then led me to run 5K, which led to 5 miles, 10 miles, half a marathon and then a marathon. After that I needed a new challenge and discovered triathlon. I raced the Jenson Button Sprint Triathlon in late summer 2012, did some Olympic distance races and a 70.3 in 2013, followed by the Outlaw Full in 2014.
Since then, I have gone on to complete 6 Ironman Triathlons, 2 Long Course Weekends, 22 Half Ironman Triathlons, 25 Marathons, 44 Half Marathons and 153 5K Runs.
Along the way on my journey, I have trained with many wonderful people and lots of great coaches, all of whom have taught me a lot. I have used everything I have learned and added it to my own desire, passion and mental strength to get to many finish lines. I have also experienced difficult moments, for example injury and disqualification in IM Barcelona, missing the bike cut off on the last mountain and coming back more determined and stronger. It's this experience, passion, desire, strength, leadership and knowledge that I want to share with people on their journeys, coupled with technique, diet and training plans to help them be the best version of themselves they can be. I am a good listener and a good motivator. It's lovely giving something back and seeing people improve and change positively. I feel because I am not an athlete with much natural ability and have never had it easy I can relate to athletes of many abilities and stages in their journey, as I have had experience at many levels.
So, what's next? I want to complete my PT and Level Two Triathlon Coaching and then prioritise my coaching activities. I have a number of possibilities that I am currently working on. It will be interesting with a diverse portfolio of coaching to draw on, but it would be lovely to have the chance to keep it varied. An ideal week may look like coaching for Tri2O, a few bootcamps, some open water swimming coaching, PT client 1-2-1's, a day angling coaching, some bike training and some filming for my angling sponsors!!!
Whatever my week looks like, I will be successful and I will make it happen. Some things will work and some things won't, but I am really looking forward to working with many people and helping them on their sporting journeys through my new coaching life. Perhaps I can help you as well, feel free to contact me through the web site https://jw-coaching.co.uk/ or by email jcmw@sky.com
Justin
---
Results & Achievements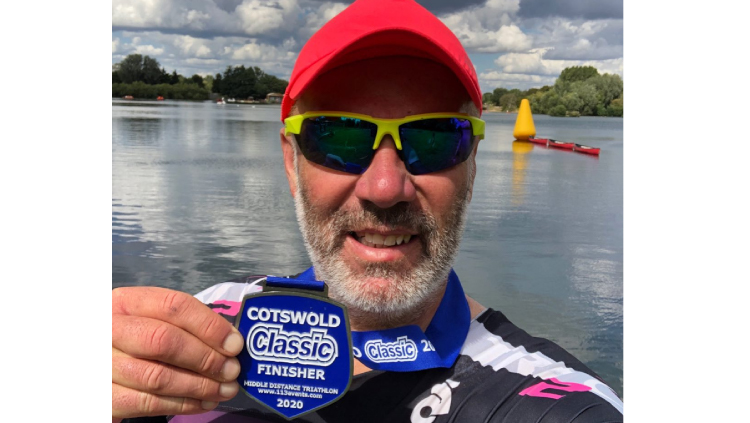 While most of us have been returning to training, Justin Watkins has returned to racing. Well done to Justin on completing Cotswold Classic Middle Distance Triathlon on 2nd August, the first triathlon event to be hosted in UK post Covid-19 period.
---
COVID-19 Club Documents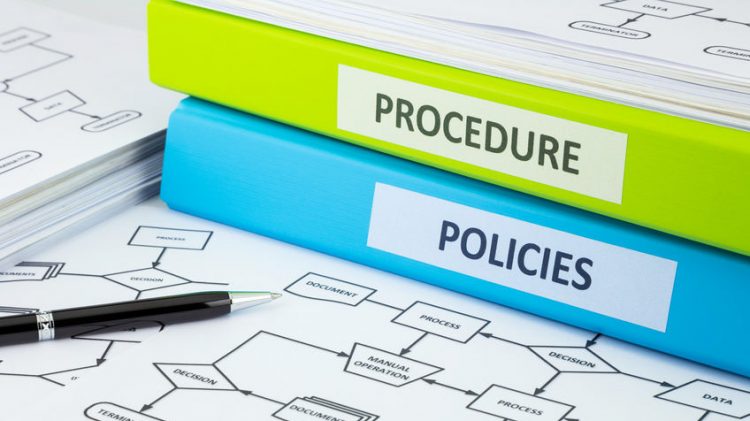 As you may know, Tri2O Triathlon Club is affiliated to British Triathlon (via Triathlon England). In addition to requesting that all clubs appoint a COVID-19 Officer, the BTF also asked for all club documents to be reviewed and updated to add in COVID-19 specific measures. This was a significant ask of clubs that are run by volunteers, most of whom also have day job! Tri2o was probably one of the first clubs to complete the task with all documents updated and uploaded to the club's website within a couple of weeks.
Two new documents were also added, these are the Swim Session Administrative procedures that those who have already attended a swim session will be aware of, and a BTF health screening questionnaire which is designed to make anyone returning to training aware of the COVID-19 related risks. The questions are those asked when you sign up to TeamApp to book a swim session but are not swim-specific so if you have had a break from training and are planning to resume, it's something that the BTF recommend you read.
Note that the privacy policy has been updated (and renamed the Data Protection Policy) to cover the storage and dissemination of information about your health, as we are required to do for track and trace purposes if you attend a training session or other club event. You will be asked to consent to the club using your personal data for this and the other purposes listed in the policy when you renew your membership. If you want to know what we use your personal data for the policy is here https://www.tri2o.club/wp-content/uploads/doc/Tri2O-Tri-Club-Data-Protection-Policy-V2.0.pdf
List of updated documents
---
Dates for your diary
15-Aug to 28-Aug : Tri2O Captains Challenge Round 1
29-Aug to 11-Sep : Tri2O Captains Challenge Round 2
13-Sep : Reading Virtual Team Tri – LauTRIv
14-Sep to 27-Sep : Tri2O Captains Challenge Round 3
28-Sep to 11-Oct : Tri2O Captains Challenge Round 4
---
Your contribution…
We would love to hear from you, particularly if you have taken on a new challenge or are new to triathlon.
The next newsletter will be in October 2020, please send your contribution to info@tri2o.club before 15th October 2020.