Newsletter – Oct 2020
Chairman's Update
Dear Tri2O'ers
Hello from a sunny but chilly South Devon, I am writing this update while away with my partner Wendy who has amazingly nearly finished a multi-year journey of hiking the South West Coast path from Minehead to Poole, just over 1000 km. As a "Tri"athlete I have however advised Wendy I can only walk on alternate days as I really need to Swim, Bike & Run on the others!! Anyway, enough of that…….and a very warm welcome to the Tri2O Bi-Monthly Newsletter.
This Autumn edition is another wonderful creation from our Editor-In-Chief and Communications Officer Sunil Fernandes.
For what has been a race season OFF for many, including myself, it's great to read in this newsletter some brilliant, inspiring, motivational, and humorous multi-sport race reports from our intrepid members, thank you so much for sharing your adventures with us.
You will also find some really helpful winter bike riding tips from Captain Neil, plus lots of other interesting content and updates.
A very warm welcome to the new members of the "Orange Army" listed below, I sincerely hope that whatever your expectations are for joining a Triathlon Club that they are met or exceeded; I look forward to meeting you at some point very soon. If you have ANY questions do get in touch with me or any committee member, all of our contact details can be found in your Members Handbook.
I would like to say a big thank you to all of our Coaches at Tri2O. I have said it before and will say it again, you are the lifeblood of our club and have helped so many of us in different ways, especially over these last few months; you are all greatly valued.
Your committee is busy in the background, plotting ways we can safely engage member in activities. Our ever popular Winter Running Competition will be announced soon, as will our awards for 2020, plus a virtual annual AGM – so keep an eye out on the Facebook Group and in your inbox.
Thanks to all who have provided input into this edition. We are really looking forward to putting together our 10th Anniversary Newsletter in December. If you can support Sunil with any relevant content, as requested below, we can all enjoy a really bumper, entertaining read over the festive period!
Stay safe and enjoy your newsletter……
Best wishes
Mike Nash
Chairman
---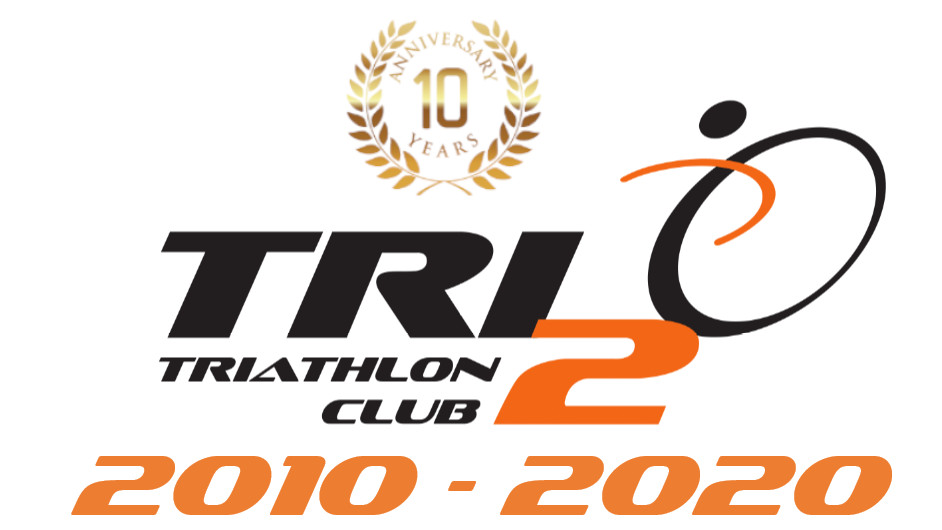 Tri2O Triathlon Club is in its 10th year and to celebrate the occasion the December newsletter will be a special anniversary edition.
If you have any early photos, funny anecdotes about club members, or memorable moments you would like to share, please send them to info@tri2o.club by the end of November.
---
Back to future – Or into the future on hover boards –
No it's a virtual triathlons!?! LauTRIv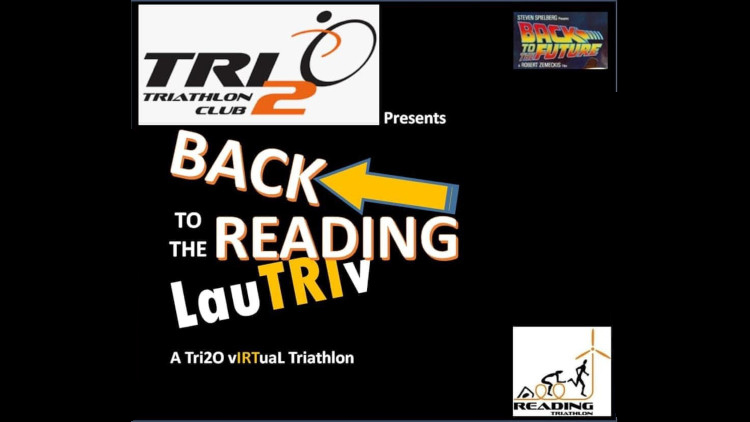 What a strange year this has been??? Technology is changing fast but I still never thought I'd get to experience a virtual triathlon in my lifetime!!
I was heartbroken that we could not run our own Reading Triathlon this year but thanks to the wonderful Orange Army we still managed to have a triathlon, albeit in a very different way. The idea of having a triathlon using the Facebook page for our handover came to me straight after the success of Endure24.
The main aim of the event was to get as many members as possible participating in the race and lighting up our Facebook page with the all-important handover selfies with supporters commenting on posts as they followed the virtual race. Plus, we wanted to raise a bit of money for Katie's Legacy.
Once my magic tub had revealed the teams there was no looking back and as the banter started to pick up on the Facebook page, I for one was very excited at actually being part of an event this year. There were a few last minute team changes, which always happens – thank you to my life savers. A massive thank you to Sean Stewart – our amazing head coach – for completing the full tri for various teams which allowed me to join in and ride my orange machine :-).
Down at the lake the sun was shining, the atmosphere was buzzing and the photos started to make their way to our Facebook page and then the first competitors were off. I know I did my hour on my bike but just seeing everyone out there having fun and handing over to their teams mate was amazing!!! The added bonus of a goody bar – KIND bars won by Harriet Pepper – made it feel even more like a real event. Thank you Harriet they were lovely and have gone down very well as recovery / breakfast after the club swim sessions 🙂
I honestly cannot thank you guys, the Orange Army and the guys at Tri2O Lake, enough for your donations and just rolling with the idea and making it all happen. Just having a look back at the pictures and montage makes me want to do it all again.
My favourite comment of the day "I have missed stalking events online on a Sunday". It is so true!! I know I have missed stalking all my club mates competing. Let's just see what we can do virtually if required over the next few months 🙂
Total donation to Katie Legacy – £ 265. Thanks again everyone, take care and stay safe 🙂
Tasha
Social Secretary
---
Membership Update
We would like to welcome the following new members to the club:
Antoine Debiais
Craid Woodward
Ed Jones
Eliot Lancaster
Jodie Brinson
Oliver Powell
Sandrine Hardy
Hopefully you are enjoying the activities you are participating in and getting to know your fellow club members.
We are continuing the process of getting everyone onto ClubSpark, our new membership platform. It seems to be working better and we have October, November and December renewals to go now. Please look out for the email with the detailed instructions – let me know if you have any difficulties.
For anyone that wants to come to a swim sessions and hasn't done so yet, please ask to join the club's TeamApp to book your swims.
Nicky
Membership Secretary
---
Captain's Report
Well, it has taken a while, but the 2020 season has finally started! It has been great so see so many of you our there competing in multisport events at Dorney, TrailX, Outlaw X and others I am sure I have forgotten. This is on top of the individual discipline events, TT's, London marathon and Thames 100, in which we have had some great achievements, be that in terms of placing such of Teresa's 10 mile TT or personal achievements such as Amber Van Poppel & Sandrine Hardy completing their first marathons. I could go on to say how inspiring these people are, but I will let you read their reports in this newsletter and reach that conclusion. Not forgetting the new members who have joined us, a warm welcome to you.
On a club scale, we have much to celebrate too, with the success of the swimming sessions, the Captain's Challenge, and everyone's efforts at LauTRIv, keeping us busy and socially active as a club. As we head into 2021, I am really excited about the upcoming winter-run competition. With the level of commitment people are showing, and with so many members getting involved, I'm sure we will have plenty of achievements to celebrate next year. It has been suggested that we make the Captain's Challenge an annual event. I am aware that the locations have been more to the east of reading this year so, those of you more west, I am open to suggestions for 2021.
That's enough from me! You have plenty to read, in peoples' own words on their achievement! Do not forget to keep sharing, motivating and inspiring each other.
Neil Harris
Club Captain
---
Introducing our Coaches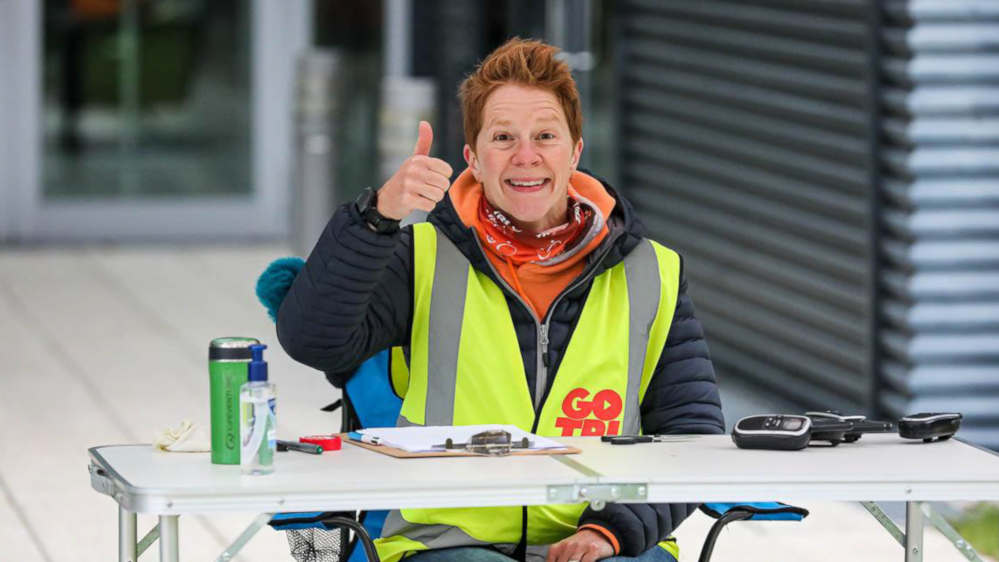 by Georgia Jackson
A bit about me
I've been involved in triathlon for more than 20 years – my first experience was as a medical student in a relay team (I was the cyclist) in the new London Triathlon in 1998, and then solo for the next two years. Although I continued to swim, cycle and run for fitness and enjoyment, I had a 10 year hiatus from "racing" due to small children and a career as a paediatrician.
Fast forward to 2012 when I joined my local club, Tri2O, to try and get back into the sport. I took on the role of Ladies Captain, then got coerced into being Chairman for a few years. In 2015 I had what could be described as burnout, or a midlife crisis, or an epiphany (take your pick), and took a career break from medicine. That was the year I fulfilled a secret dream, to represent GB at the World Triathlon Championships (Chicago), and I never went back to medicine.
I wanted a balance, and the cliché of spending more time actually raising my children, and soon I saw that coaching was something in which I could combine my love of triathlon and the skills and knowledge I'd gathered over 15 years as a doctor.
I've gone on to get my BTF Level 2 Diploma, meaning I'm fully qualified and insured to coach individual athletes with multisport goals. The learning journey continues, with endless reading of books, CPD courses in open water coaching and strength and conditioning, 5 day Swim Smooth Coach Education Course in Mallorca, and of course the invaluable sharing of knowledge and experience with my fellow coaching friends.
A bit about my ethos
Probably the easiest way for me to describe my approach as a coach is with a few key principles that I try to live and coach by.
Enjoy it.
When it gets tough, remember why you're doing it (refer back to point 1) and smile.
Your brain can be your strongest weapon or your worst enemy.
Consistency is the name of the game.
Have fun.
Make your goals YOUR goals, not what you think you SHOULD be aiming for (or what everyone else is doing).
Be kind to yourself.
Be patient – endurance sport training is a long game.
Get the basics right – eat well, sleep well, look after your amazing body. Without those foundations, you will never achieve your full potential.
Did I say enjoy it?
Learn to listen to your body.
Always write a race plan.
There's no such thing as a bad race (even if it feels like it at the time!), only lessons learned.
Probably the best race goal you can have is to do your best (thanks Dom for this one!)
Never ever say "It's 'only' a sprint" (or in fact "only" anything).
Always smile and thank the marshals.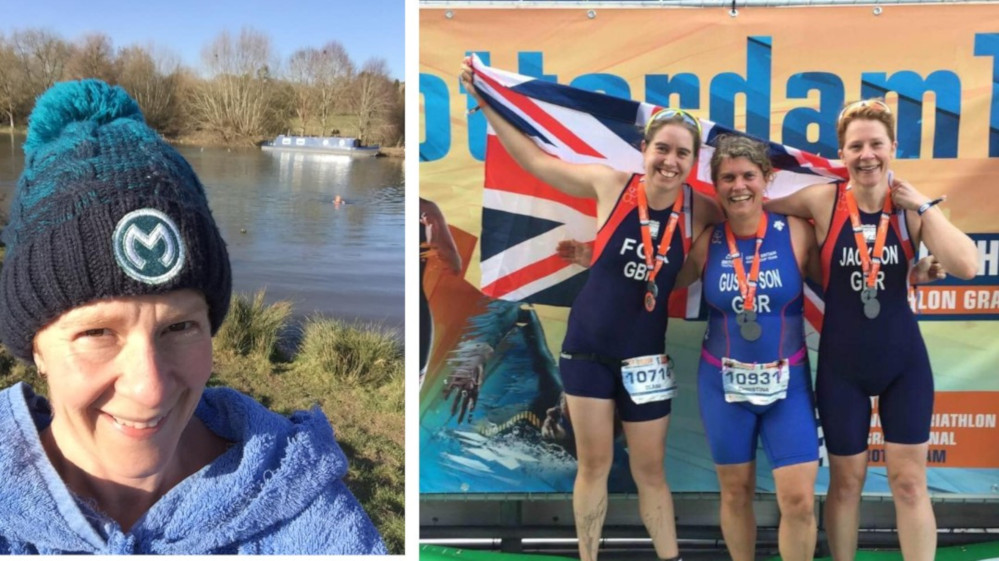 What do I offer?
Individual athlete coaching for a small number of athletes – see my website for more details merlintriathloncoaching.co.uk or Facebook https://www.facebook.com/merlintriathloncoaching.
Club coaching for Tri2O swim sessions – usually regular Leighton Park session on a Sunday but while the pool is closed for maintenance, I'm coaching alongside Jennie at the Friday morning Bradfield session.
Tuesday morning small group swim technique sessions at Bradfield, with Jennie.
Swim video analysis on Tuesday mornings.
One-to-one open water swim coaching at the Tri2O lake.
I co-organise GO TRI (affiliated with Tri2O) beginner duathlons with fellow coach Dom Dos Remedios at Green Park in Reading – if you're interested in taking part or volunteering, take a look at our website gotrigreenparkreading.info or Facebook page https://www.facebook.com/gotrireadingatgreenpark.
If you have any questions, don't hesitate to grab me at a club session, hit "contact me" through my website or drop me a message. I'm Merlin Jackson on Facebook!
---
#giveKINDatry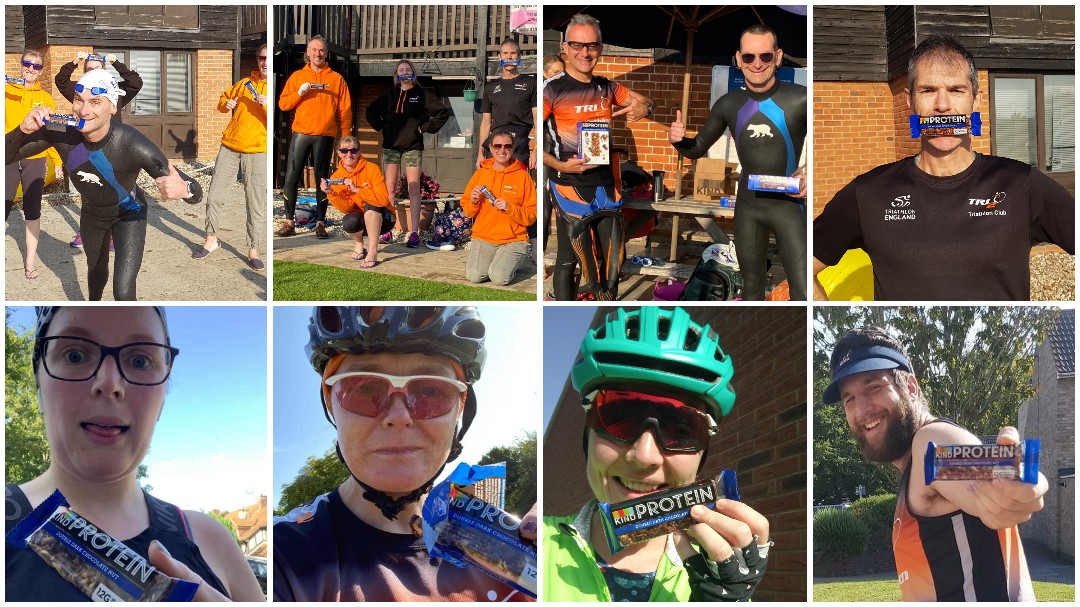 by Harriet Pepper
I entered a competition with Virgin Sport, the competition was to win some KIND Protein Bars for our sports club and in order to be in with the chance, I also had to say what makes our club kind. For me, as a fairly new member and non-triathlete, I've been nothing but welcomed during run sessions, rides I've led, and at the one swim session I attended I received what felt like one to one coaching. The coaches have been extremely kind, likewise the other members, even during running sessions when I've slowed them down tremendously.
However, the kind story I chose to share was the Endure24 run. I recounted how Tasha had organised this event as a way of bringing people together over lockdown and she was very successful in doing so. Feeling like you are part of a team, even if from afar, is why many of us are members of Tri2O.
Having just completed the bike leg of the LauTRIv, I can verify that I probably would have stayed in bed if I hadn't signed up to it, so being part of this group motivates you to get stuff done.
Thank you all for being so KIND. (Hope I name dropped enough). Enjoy the free bars, for those of you that got your hands on them ?.
---
Group Rides
We have had a number of questions about group rides and I'm delighted to share that we can start organising rides that comply with COVID secure guidance again. This means a maximum of 6 people, including the ride leader, and we can't allow two rides to meet at the same place at the same time, so staggered start times or different starting locations will be necessary. There are a few other requirements that you will probably be used to from pretty much every other area of life, such as providing details for contact tracing etc. I am working with the ride leaders to start getting rides going again very soon, so please keep an eye on Facebook for more details shortly. We will be running an informal sign up on Facebook to ensure we don't get more attendees than we have slots available.
Even if you are an experienced group rider please ensure you familiarise yourself with our updated Club Ride Code of Conduct which now includes COVID guidelines.
Simon
Bike Officer
---
Outlaw-X Race Report (1)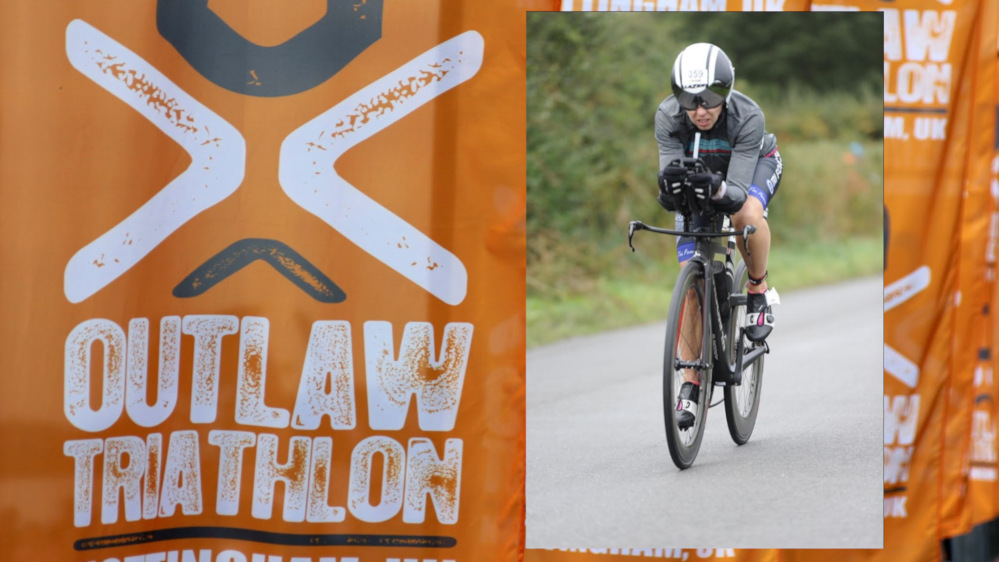 by Leanne James
Wow – what a race! Leading up to the event, it was uncertain whether it would go ahead, and I have to admit it wasn't until 3 days before the event I actually thought "this is really happening"… I was more nervous than normal (having not raced a 70.3 for over a year); but once I arrived on the Saturday the excitement kicked in. The event site was huge, and despite some of the "new normal due to COVID", the atmosphere was buzzing and everyone just seemed happy to be racing.
Race morning was absolutely freezing with strong winds. Due to safety reasons the swim was cut short (750m); but that didn't seem to dampen the spirits as everyone was getting ready for a tough day's racing alongside some of the best British professional athletes – it certainly added to the excitement of the day.
Due to COVID the swim start was slightly different with pre-determined waves making their way to water for a time trial start (one athlete every 6 seconds). The only way into the water was to either jump / dive / bomb or belly flop off the end of a pontoon which made for some brilliant entertainment while waiting to enter the water. I had convinced myself that it was going to be much warmer in the water than out but judging by the faces of the people coming out I couldn't have been more wrong. My turn arrived; I jumped off the pontoon (not brave enough to dive) and it was absolutely freezing. The cold water took my breath away and I panicked. I managed to keep moving forward and just about made it round! It was slow, but I didn't care I was just pleased to be out the water!
Transition was challenging as I couldn't feel my hands or feet, but I eventually sorted myself out and off I went on the bike! This is usually my favourite part of the day, but this particular race it was anything but… The wind was strong and blowing me sideways, it was very cold and I just didn't relax for the whole 92k. The course itself was rolling with good roads, and without the ridiculous winds it would have been fab! Oh well – it was a good lesson in bike handling skills!
T2 was pretty quick and off I went for the run. The run was beautiful and a mixture of tarmac, woodland trails and grass, and quite undulating. I felt strong on the run and managed to get in a good head space. It was 3 laps and great to share the course with so many awesome athletes, which kept me going. I finished the run in 1.32 which was a big PB off the bike so I was over the moon with that (and was so happy to have finished in a time of 4.51!!!!).
It was a tough day with brutal conditions, but just brilliant to be out racing with like minded people and fellow Tri2Oers. Well done to OSB events for managing to put together a COVID secure event – and hopefully racing will be able to continue through these unsettling times.
---
Outlaw-X Race Report (2)
by Zoe Hawkins
My first triathlon of 2020 – on the last weekend of September – it was always going to be interesting! As the weekend approached and continuous weather checking commenced, I began to question my decision to transfer my entry after Outlaw Bowood's cancellation. Why didn't that Indian summer last!?
With the bike racked the day before, snacks packed and 300 coats at the ready, I was feeling ready to go as the 9pm bedtime approached – cue the dreaded last-minute email from the organisers. Luckily, good news: swim shortened! This made me feel marginally better as I was dreading the swim (and the early start).
After possibly one of the worst night's sleep I've ever had pre-event, I woke up feeling less than inspired to drive 80 minutes to a dark, windy field in north Nottinghamshire. What's that saying – ah yes, "YOLO". Race check in was super quick with barely a queue in sight, even for the porta-loos. I was race ready in record time! A unique aspect of Outlaw X this year was the epic elite field. It was fascinating to watch them through transition and cheer them on as they set off for their 90k (or 92k to be exact) bike. Despite being frozen, I felt inspired and suddenly couldn't wait to get going (lasted until the next gust of wind, but hey it was something).
The swim included a choice of entry (what luxury!) – a jump, dive or lower yourself off the pontoon. I decided to opt for what I had imagined as a graceful, slower entry but this was thwarted by the gentlemen after me who decided to bounce and dive off the pontoon, knocking me in. Took it as a blessing in disguise as I'm not sure I would have ever got in otherwise!! It really is no exaggeration to say I spent the first 200m constantly cursing, fighting back tears and generally just hating life. After that, it got better and went rather swimmingly (pun intended), it was almost pleasant as you didn't have to battle with people swimming on top of you. My hands and feet came out like blocks of ice but the 400m run back into transition helped to thaw them slightly, I like to think I wasn't the only person to complete the whole run fully zipped up, swim cap and googles on. Toasty.
Transition was remarkably smooth, and I was over the mount line pedalling away before my brain really had chance to defrost. The bike course was lovely (minus the power station views here and there) but had one unwanted visitor: wind. As a newbie to tri bars this really wasn't ideal and made for a slightly stressful and exhausting bike leg. I didn't even get a good aero photograph, how devastating. The last 10k of rolling hills past Clumber Park was a real struggle for me and I knew I was in trouble when I began dreading my favourite discipline, the run.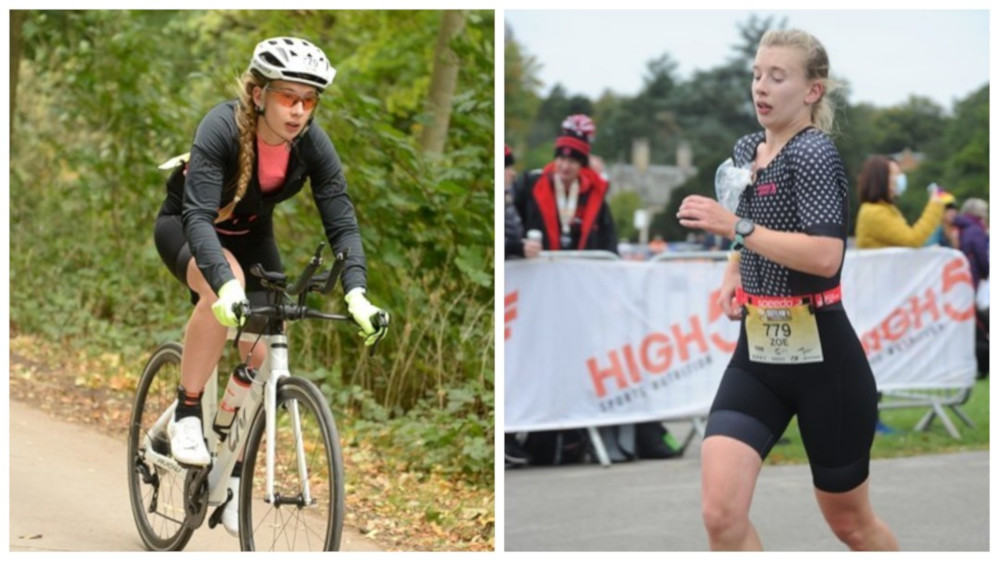 After what appeared to be a little nap (or could have been a snack party) in T2, I eventually got out on the run. I knew as soon as I started running it was going to be a massive mental game – my legs were absolutely spent. It was three soul destroying (but very pretty) laps of the Thoresby Estate, through woodland and farm tracks. My only goal for the race was not to walk the run which I'm stoked to say I achieved, minus an aid station faff. I'll give credit to my parents for that, who have barely watched me race since I was at school and did a very good job at turning up at random points on the run course. It's almost like they made me carry my phone in my tri-suit pocket instead of gels and food… I can only apologise now for what I thought was a great alternative food carrying place at the time, but the photos say otherwise.
Three painful laps down and a cheeky orange carpet sprint finish, I finally became an Outlaw, stopping the clock at 5 hours 43 minutes. Big smiles and flapjacks all round – my grit and sweet-fuelled determination paid off with new middle-distance bike and run PBs in the bag! Despite the details above suggesting otherwise, I thoroughly enjoyed my Outlaw X experience. I would even go as far as saying it was the best triathlon I've done – really can't fault the organisers and volunteers, especially in the circumstances.
And obviously the burning question that you all want to know – as the club's COVID-19 Officer, I can confirm the COVID-19 adjustments were on point and I felt safe at all times.
---
Windsor Autumn Duathlon Report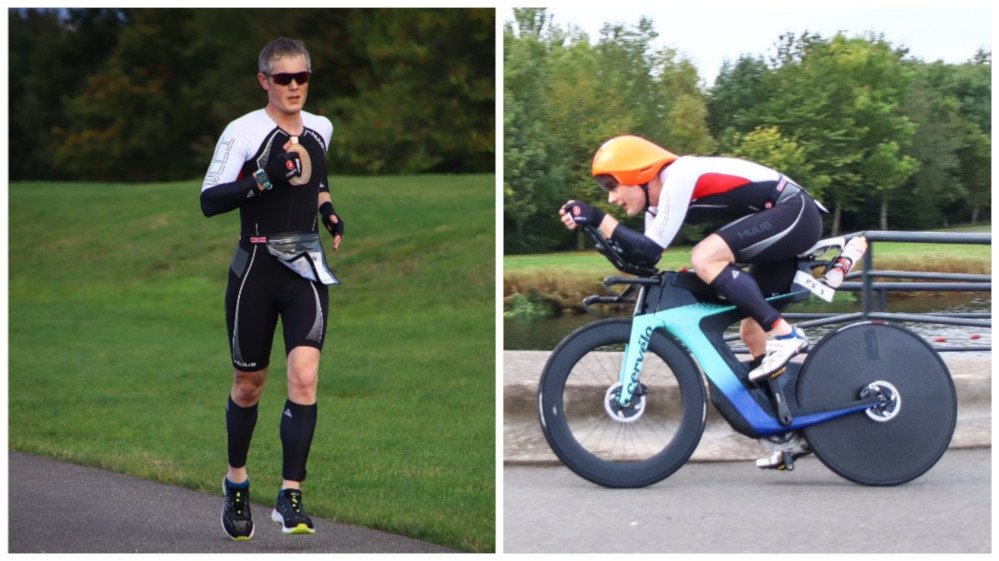 by Simon Barbour
My last multisport event was the Sprint Duathlon at Dorney lake in January. I did not expect the next time I raced to be in October, finding myself at the same location for an end of season event! Despite the world being turned upside down in the meantime I was looking forward to getting out and testing myself over the longer Olympic distance event of 10k run, 40k bike, 5k run, particularly as lockdown had given me the longest uninterrupted training block of my life, and I arrived on the start line at 79.5kg – a little below the 96kg I was when I turned up for my first Leighton Park swim in August 2019…
Now, if a scenic environment is important to you then I would give the Dorney events a wide birth! I rather like them however as you don't need to worry about getting lost and can just focus on your pacing on a consistent course. Due to COVID the event was run with a starter every 15 seconds as a time trial rather than a traditional mass start, which I thought would play to my advantage.
I'm still a complete novice really when it comes to multisport, so I had a rough plan to run at threshold pace for the 10k, hold threshold or just under for the bike, and then hope my body was still somehow functional for the final run. I went off conservatively and was about 5 seconds above my threshold pace after 5km, however I felt great so really pushed on in the second half and ended with an average pace quicker than I'd ever managed for a stand-alone threshold test, of 4:23/km. As the run course was a little long my run split was 44:41.
T1 did not go well – with it being a short run from transition to the bike start I decided not to bother trying to do the flying start with shoes clipped onto the bike (I generally lose more time from steering into the nearest ditch whilst trying to do my shoes up), so changed shoes in transition. This went fine, opening my packet of energy chews did not go so well though and after 20 seconds of furiously failing to tear it I gave up and got on the bike. Teachable moment here – open packets before the race starts!
Out on the bike is my element and after 1 lap to remember the course configuration I was able to take every corner except for the top and bottom hairpins in the aero tuck. I made really good time here and dragged myself up from 33rd to 8th overall, covering the 8 laps at just shy of 42kph in 58:24. My hopes of being the overall bike winner were dashed by a chap in the V40 category who was about a minute quicker, but I later learned he's previously won his age category at Kona so I felt I could probably let that one go… I hit my power target on the bike (285w average) and my favourite moment was overtaking a group of 3 who were displaying a very interesting interpretation of the drafting rules, whilst riding one handed and eating a gel!
T2 was very clean and I was back out on to the run which had been my big worry beforehand. In brick sessions my asthma has a nasty habit of kicking in with the change from bike to run so I had my inhaler on hand just in case the lungs chose to close up but, mercifully, they behaved, and I was able to hold a very similar split to the first run for a 22:12 split on the 5k.
I finished 9th overall from 68 starters, about ten minutes off the medal places – sadly although I'm right up there on the bike the good runners really are in a different league! I managed to negative split each leg however and was hugely proud with my effort. It's really fired me up to keep the focus on the running over the winter and see how quickly I can go next year. Now I just need to get back on that swimming too…
---
The Henley Swim Festival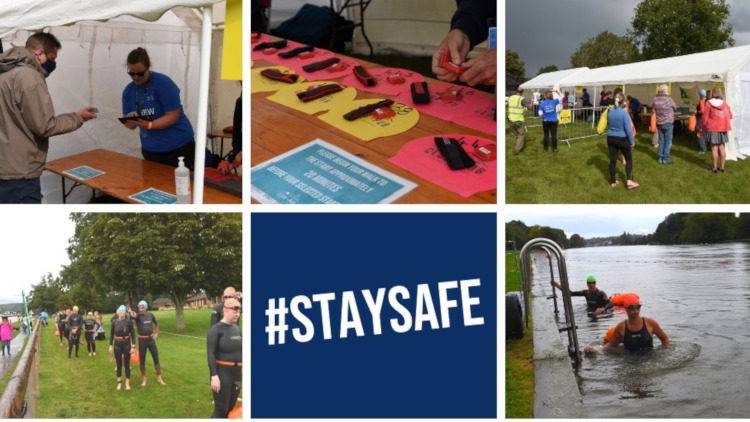 by Mark Stokes
Comparing the goals I'd set myself for 2020 against my achievements somehow seems impossible, I've not come close to any of them, but then my achievements aren't to seen anywhere on my goals either. Like most of us, a global pandemic has wiped out all of the events I had entered (or planned to enter but had been cancelled before the entries opened), but as Summer drifted along various opportunities to take part in something looked as though they might just present themselves.
In my case, I'd entered the Thames Marathon with the goals of beating my 2019 time and overall position, but the ongoing lockdown and social distancing regulations once lockdown eased made the likelihood of an event with 1000 participants, plus the many support staff, highly unlikely, if not impossible. Once the inevitable decision was made (and the unfortunate backlash at least in some part addressed) I made the decision to transfer my entry to the Suits vs Skins event at the Henley Swim Festival – it's not what I was hoping for, but my training plans had been blown apart, a well run local event needed the support, and it's at least an event and that's more than I was expecting back in May.
So training plans adjusted and plenty of river miles under my swim float I headed off to Henley on the last Saturday in August to swim 2 miles of the Thames, 1 mile in a wetsuit, 1 mile in trunks (well jammers, but you know what I mean). I didn't really have any expectations, it wasn't clear how busy it would be – social distancing restrictions would surely mean that numbers were limited, but the lack of events might mean that there would be a lot of interest… On arrival, it was clear that the former outweighed the latter. There weren't many cars parked up, the event village was small, and it was all a little bit…..disappointing if I was honest. But it was an event! The participants were all happy to be there and there was a happy buzz that it was happening, and we could compete, albeit a different kind of competition than it would be normally.
Instead of waves with swimmers all going off at the same time, we were effectively swimming under time trial conditions. This had the advantage of swimming your mile at your own pace without fear of getting caught up in the 'mad dash' from the start, but you had no idea of how you were doing relative to your competitors until you'd finished. An added complication for us 'faffers' was that the timing mats were on the river bank before you got in and after you exited the river, so you needed to get on with things straight away! Luckily the water was still warm (temperature is a relative thing… ?).
All in all, given the disruption in training and the fact I was well into a training plan for a 14km race rather than two 1 mile swims with a relatively short interval, I was reasonably happy with my times – 25:35 (suit) [11/47] & 30:12 (skins) [17/47]. But at the end of the day, it was more about taking part at an event with a bunch of like-minded fellow swimmers and enjoying the feeling of friendly competition.
As for next year, lockdown meant I tried running with my dodgy ankles, knees and artificial hip, and got out on a bike for the first time in 28 years. I'm loving it, and (assuming my body doesn't break down on me) looking forward to a few triathlons next year…
---
Winter Cycling
by Neil Harris
The age-old questions of how to ensure you can cycle safely through the winter and how best to stay warm, regularly come up. The answer to these questions is personal to you – you need to find out what works for you and is within your budget – but I'll share some of the tips I've picked up over the years to help you stay out on the bike over the winter. When talking about winter cycling there are three scenarios that spring to mind for the UK; 1) It is raining, 2) It is cold but dry, 3) It is (or is likely to be) below freezing. When it is 3), its better to stay off the bike, its just not worth the risk, a broken bone will make you miss more than the one ride! Hopefully, by considering the kit, the bike and with proper planning we can prepare you for some enjoyable rides through the winter.
There is a well known saying, "there is no such thing as bad weather, just the wrong clothes", and this is something that holds true for cycling. The extremities, hands and feet, are the common focus point as they feel the cold, but they are not the place where you can make the most difference. The most important part to keep warm is the core. This starts with a good base layer to wick away the sweat from the skin; merino wool is well worth the extra money. Personally I would avoid buying an expensive jacket for cold rides until the rest of the wardrobe is full. I have always found a layering approach to be much more versatile with the range of weather we get in the UK. I have also had the dilemma of a morning when the weather forecast is 4oC but the sun is shining and by lunchtime it's 14oC. My top piece of kit for all year round (except mid heatwave) would have to be a windproof gilet. Focus on windproof rather than waterproof due to the breathability, unless it is actually raining; otherwise, you are likely to end up being wet and sweaty inside.
Through the winter it is common for me to wear a long sleeve base layer, short sleeve jersey, warm jacket and gilet. You may remember your mother telling you to put a hat on – you lose a lot of heat through your head – there are several ways you can do this on the bike. Lining your helmet with tin foil (on the inside!) is one of the cheapest. I often use a cycling cap as the peak is helpful should you be out in the rain, Rory has a favourite Rapha winter hat which covers the ears. A headband is also a good way to keep your ears warm, as is a buff (available in club colours). A buff around the neck keeps that draft out of the top of your jersey and your neck warm.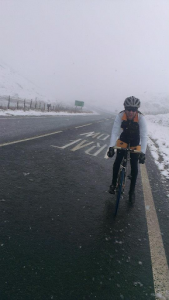 The thighs and glutes are really important and your powerhouses of cycling; good cycling leggings can keep them warm, these are often marketed as "super Roubaix". Leg warmers can be a good addition but should be avoided if you are just wearing normal shorts as they aren't thick and leave your thighs and glutes exposed to the cold. If your extremities are cold it is worth considering whether your core and limbs are warm. If they are not, the blood travelling down your arms and legs to your extremities will be cool and no matter what you do to your fingers and toes will be cold. Adding arm and leg warmers under your outer layer can be an effective way to insulate your limbs. The consideration shouldn't be whether these areas are cold, but rather whether they are warm – only when this is the case should you move on to addressing the extremities.
As well as keeping you warm, gloves, have to enable you to to hold on to the handle bars and use the brakes and gears. What types of gloves you use will depend on your circulation; I can often ride with thin gloves as long as the rest of my kit is right, but on the coldest days neoprene gloves work best for me (just do not smell them when you take them off). Many club members have made other recommendations – Georgia loves her GripGrab winter gloves.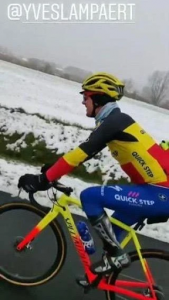 Feet are the other area that people suffer with; simple, cheap options are covering the air holes in the bottom of your shoes with tape, wrapping your toes in tin foil, or putting your feet in plastics bags. Rob Harper also suggests Seal skins socks to keep your feet warm and dry, which I can second. One thing to avoid is the second pair of socks, or extra thick socks, as these can squash your feet, limiting blood flow and making the problem worse. Overshoes are a great way to make your cycling shoes warmer and dryer. They are pricey, but I know many people who swear by spatzwear overshoes for warm, dry feet – Belgium national champion Yves Lampaert can be seen out in the snow wearing the Spatz roadman. Specific winter cycling shoes is another option you can explore, not something I would consider first but worth bearing in mind should you suffer from cold feet.
If you stop off for coffee, strip off! If you are dressed properly, you will find that a base layer is damp (or wet). Taking all your outer layers off will allow the moisture to evaporate, and by the time you leave, it should be dry. This will make a huge difference when you start riding again. If you have a cool, damp base layer when you start riding again, it will feel really, really, really cold until you raise your core temperature again by cycling.
When it is raining all of the above applies, but also the obvious thing is to keep the water out. A good waterproof and breathable jacket is key to keep the core warm and dry. Waterproof gloves are available, or neoprene is great when wet as we know from swimming. I have also seen fleece-lined black marigolds worn under mitts. Waterproof trousers do not really function well for rides so wet legs just have to be tolerated. If you want to keep your feet dry putting a plastic bag over them inside your shoes is the cheapest and quickest option, although waterproof overshoes such as Velotoze are more reliable.
It is also worth considering what you carry in case of emergency when out riding in the winter, as should the worst happen it can get a whole lot worse quickly. A foil blanket can be easily carried in a pocket or left in a saddlebag, should you have a mechanical or accident this can then keep the elements out and you (or someone else) warm whilst you wait for assistance.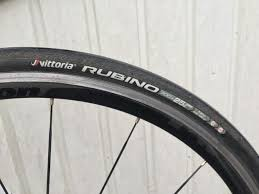 Now you are ready to go out in the winter, but what about your bike. The first thing to consider is your tyres. Lower weight and lower rolling resistance will make you go faster but at the expense of puncture protection — there is always a compromise to be made. In the summer, the balance is going to be tipped in favour of speed, but puncture resistance won't be completely forgone, in the winter this balance shifts as the chance of puncturing increases. Also, if you do puncture, fixing it on a warm sunny day is an inconvenience, in the depths of winter it can be extremely unpleasant. If your bike frame has the clearance, wider tyres can be run at lower pressures providing a bit more grip and comfort. The rubber on a tyre is just the outer coating, beneath that are the threads that make up the carcass. Some tyres use a smaller number of thicker threads, while others use a higher number of thinner threads. With a higher number of Threads Per Inch (TPI), the tyre tends to be more supple, but they are less robust and are damaged more easily; so a tyre with a moderate TPI count (about 120-150) is best suited for winter riding. I personally love Vittoria Rubino pro for all-round riding, some people swear by gator skins. It may take a bit of testing to find out what suits your size, weight, bike and riding style. Tubeless tyres can also be worth considering as they will often seal a puncture quickly, although you will need the correct wheels for a tubeless setup.
It is also worth making sure you can change a puncture quickly, a bit of practice can help. Carrying CO2 as well as a pump can save you time in getting you back on the bike – whilst you are stopped you are cooling down and not generating heat. In winter a thin pair of nitrile gloves can be great to protect your hands from the cold wet dirt that may have covered your tyre and wheels, nobody wants to get numb fingers changing a puncture.
The final addition to your winter cycling kit is mudguards. The type of bike you have will determine what you are able to install. Fixing the mudguards to eyelets is best if you have them but many do not but options exist for clip-on mudguards such as the Crud Roadracer Mk3. Mudguards are essential if you are riding with other people, nobody wants a face full of spray. Most importantly, they protect you from the spray, keeping your bum and feet dry and therefore warm. The amount of water kept off my feet by mudguards was something of a revelation. It is worth adding flaps to maximise the length (the closer to the ground the better). These can be purchased cheaply, I use a Raw Mudflaps product, or homemade – an old-style fairy liquid bottle used to be the favourite. Mudguards also protect the bike and frame, save you time cleaning, and protect the components so they last longer, saving money in the long term.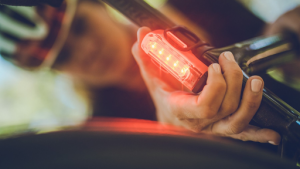 With the increased chances of reduced visibility when out in winter, it is worth considering having a rear light on all the time. Lezeyne lights can be great for this as they often have a daytime mode which flashes extremely brightly on a slightly lower frequency, great for standing out in the day. Please be considerate if cycling in a group as you may find it unpleasant to be closely following a brightly flashing light.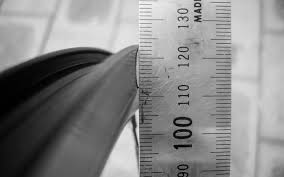 The final point on the bike is making sure it is well maintained, keep it clean and look out for wear. If you have rim brakes you will find your brake pads will wear quicker in the winter due to grit. To this point it is worth keeping an eye on the rims, they will often have a little wear indicator (small hole in the rim), but if not and you find you had a concave profile, it is worth getting them checked. Nobody wants to pull the brakes and put the pad through the rim, which I have seen happen! Keeping your bike clean and well maintained will reduce the chance of a mechanical failure whilst you are out riding, which you do not want when it is cold and wet.
The final point for winter riding is planning, get to know your local roads, and consider the weather on the day, but also in the days before the ride; if a road is liable to flooding and puddles, avoid it after the rain. Others things to consider are debris following high winds, especially under trees, and gravel washed out by heavy rain. It may not be possible to avoid all of these but if you are aware you can cycle according to the expected hazard down those roads. One big NO is cycling through puddles or floods, you do not want to hit a pothole go over the bars, land on your head and sit in a flood, you can learn from my experience of that!
When planning a route it is worth considering escape routes, a route round Reading such as this, https://www.strava.com/routes/2748154129388018288, can always be a great plan as should the condition be worse than expected you are never more than 10 miles from Reading and can easily escape home without a long unpleasant ride. Cafe stops can still happen in winter but ensure you pick warm ones, I would personally avoid The Barn at Turville Heath in winter as it can be very cold. This point is especially pertinent this year as many cafes currently only have outside seating available, which will not help you stay warm. In the rain, it is possibly advisable to forgo the cafe stop (as much as it pains me) as staying warm when you stop dripping wet can be impossible.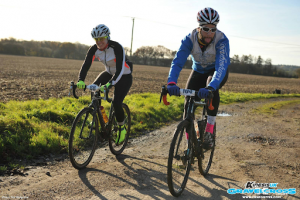 It is also worth adding that for those of you with bikes that provide the option of off-road riding that it can be a great way to get out in the winter. It doesn't have to be technical MTB, a ride down your local bridleways can be perfect. Off-road riding tends to be at much lower speeds, reducing the airflow over the body, helping to reduce the heat loss and keep you warmer.
I hope that I have given you some things to think about that will help you to enjoy some winter riding this year. I know I won't have covered all the questions and tips, so do keep the questions coming on the Facebook group to utilise the experience of our members.
---
Thames Path 100
Not Triathlon but it's a race….well run/jog/walk

?

by Stuart Jay

Hopefully this report won't be as painful for you to read as the event was for me.

The race was re-arranged from May due to Covid and as happy as I was with the thought of running 100 miles being delayed, I did want it to be done so I could enjoy the summer. The constant through lockdown was running for me, pop on your shoe's and off you go…easy. I had entered a virtual JOGLE (John O'Groats to Lands End) race, 825 miles to be completed over 3 months, which was an extra incentive to get out running. I didn't think I would make it the whole way as I watched myself moving slowly (very) down the country, but it has been fun and meant I put in some longer runs when I might not have. My weekly mileage has been up and down, I think my maximum was around 86; I then did the virtual Tour de France stage going up-hill for 2 hours in the same week!

I'm fortunate enough to live either close to the Thames & Kennet or the Grand Union canal so have enjoyed stunning scenery and it has also meant I could do big loops rather than out-and-backs. Since I completed Country-to-Capital in January (43 mile ultra) my longest training run was 27 miles. I've had weeks when the mileage has been down but in general I was feeling good ahead of the event, running felt good and I had probably lost half a stone, so less to carry. I only suffered from one injury over the summer so on the whole I felt as ready as I could be.

Covid changed a few things about the event but I was able to start – strap yourself in for my race report of the Thames Path 100-mile Centurion Running event which took place on the 4/5 September.

Piers (a colleague from work) and I had met for a socially distanced 18 miles run 2 weeks before the event, which was good. He would be running this race for the 3rd time so this was an opportunity for me to get final nuggets of information and arrange plans for the day. The start was a self-seeded with the quicker runners going off at 7.30 am and the slowest going off by the 9.30 cut-off. Piers and I opted for an 8.30 am start and arrived at Richmond Townhall at the same time. We did a quick bag-drop, then a temperature check and we were running. There was no grand mass start, which I missed but was understandable given the circumstance.

It was a beautiful day and running along the Thames was very nice, most of the public we passed seemed knowledgeable to the fact the we were running 100 miles – there were the usual jokers of "almost there" 2 miles in. It really is a run of 2 halves with the 1st half with paths and people enjoying the Thames and the 2nd with narrow sections in fields with no one around.

My plan was to run the 1st half with Piers and see how I was feeling. My main aim was to finish (I had an inspirational goal of finishing in under 24 hours). The checkpoints were made Covid safe, with three mini aid-stations rather than one big one. I think it really worked well. We sanitised our hands on the way in and could take what food we wanted, which was all individually wrapped. We had 13 to get through, here is the blow by blow account of each one.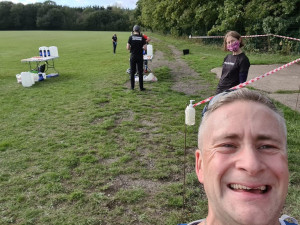 CP1 – Walton-on-Thames (10.5 miles) – 1 hour & 46 mins – Saturday 10:46
First aid station, just off the Thames – was feeling good – we were on my sub 24 schedule – support was great.
I was making sure to eat and drink on the run as it was a hot day. I was feeling strong both physically and mentally.
Piers realised that he hadn't started his watch 8 miles in and we joked about going back and starting again.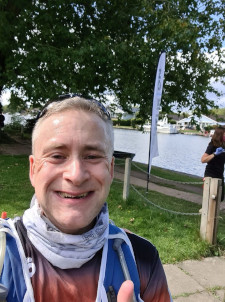 CP2 Wraybury (22 miles)
Second aid station. It was a beautiful day and there were some amazing views, both houses and some of the rolling fields.
We were making good progress and up on my predicted pacing.
We had caught and passed a few people on the route, but not many had gone past us. Conversation continued to flow which helps so much when your running for soo long.
Legs felt good and I was making sure to take in fluids and eat at the aid stations. New favourite of watermelon hitting the spot on a hot day.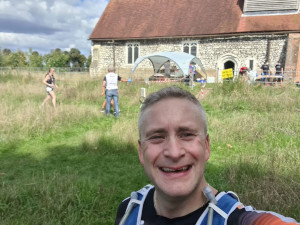 CP3 Dorney (30.4 miles) – 5 hours & 40 mins – Saturday 14:11
We had passed some beautiful sights, including Runnymede, where the Magna Carter was signed. In the field you could see The Jurors (I had to look that up). Having not run this part of the Thames before I wasn't sure exactly where I was and when I could see Windsor Castle I got a little excited.
From Windsor I knew we weren't going to be far from Maidenhead where Andi (girl friend) would be meeting us at an unofficial checkpoint. The next part would be the run from Maidenhead to Oxford, which I knew. The end was in sight ?
Still feeling good, although I was concerned that we would be exposed to the sun on what would be unprotected parts of the Thames on the way to the next aid station.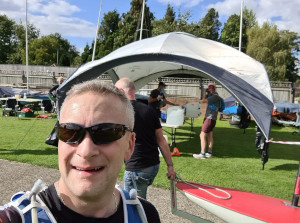 CP4 Cookham (38 miles)
After Dorney we had been through Eton and Maidenhead, on familiarish turf. We had run from Maidenhead to Henley a few years a go in the snow, which we joked about on the way.
Maidenhead was an unofficial aid station with lots of people getting support and quite a gathering. Andi had come across to support after playing hockey in the morning. She and her daughter had baked banana cake and flapjack, which went down a treat. She also took order's for the next unoffical station at Marlow.
Feeling upbeat after seeing Andi and feeling like we were on our way to the finish. We were breaking the run into a bit of walk/run but on the whole feeling good and ahead of my predicted times.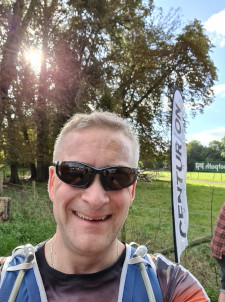 CP5 Hurley (44 miles)
We had our 2nd unofficial aid station at Marlow on the River between CP4 & CP5. Having worked in Marlow this stretch of the Thames is very familiar as I've spent many lunchtimes running up and down it.
There were lots of people around and I was surprised to see a colleague from work, as well as Andi. Andi had brought more supplies and fresh cold drinks. Sparkling water for Piers, still for me. We were there for a while as I was chatting – Piers decided to start walking and I would catch him up on the way to Hurley.
Due to the stop at Marlow I didn't use CP5, I was feeling good, strangely felt like we were running down hill. I was starting to get some chaffing (which I won't go into too much detail about), but had no other concerns. On to Henley.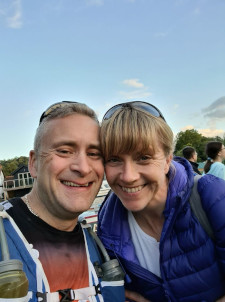 CP6 Henley (51 miles) – 10 hours & 24 mins – Saturday 18:54
HALF WAY WOO HOO
Henley is the first big aid station and significant milestone of being half way. I had a drop bag there with a base layer and took the time to get food, a cup of tea, re-apply glide and get ready for the evening session. We were approaching dusk so wanted to be ready and not need to stop to get out a head torch etc.
There was a drive in concert going on just on the way into Henley so we got a little musical entertainment along with some drunken shout-outs.
We were ready for the 2nd half, where the run really gets started. Next stop Reading, but other than the chaffing was feeling good.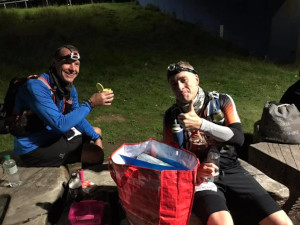 CP7 Reading (58 miles) – 12 hours & 17 mins – Saturday 20:47
As we left Henley we were on familiar track's having run from Marlow to Reading a few times. There are stretches along the path that are narrow and single track so not much opportunity for chatting. Still we continued our run/walk strategy and when we got to the home of Reading parkrun I put in a bit of a push to the boat house aid station.
Andi was waiting for us again, and we refuelled. More flapjack, tea and crisps.
We had started to slow along that part, but were still making good progress and even when walking could still make sub-24 hours. I knew Piers wasn't looking forward to the Reading section and I wasn't keen on running through the woods in the dark (after Pangbourne) on my own so decided that we would stick together.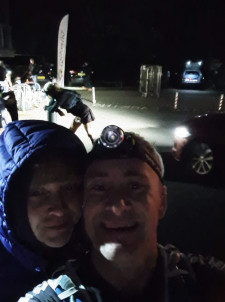 CP8 Pangbourne (67 miles)
We had slowed in the stretch through Reading and ended up walking most of it. We had the odd character's along the Thames, one guy saying he was from the 2nd earth that we could see in the sky next to the bright moon.
As we arrived Andi was waiting for what would be the last time today. I remember saying to Andi that I felt like I had a blister coming but didn't want to take my shoes off to see it, better not to know. Otherwise on the whole feeling positive, two thirds done, but knew that the last third wouldn't be as easy as the previous two.
Time wise we were a little behind my sub-24 time but this was less of a concern for me. I had started to feel re-occurrence of a leg pain I had in the summer, which I think was partly caused by walking in trail shoes. You could feel people starting to breakdown a little, efforts of the day beginning to take there toll.
I would have liked to have popped home having run so close to the house but I said goodnight to Andi, I would see her in the morning, and we got on our way.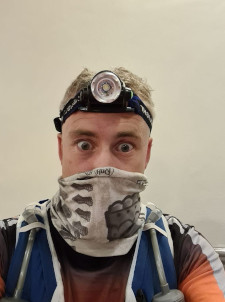 CP9 Goring (71 miles) – 15 hours & 59 mins – Sunday 00:29
We had been going almost 16 hours, but the last 10 miles had been a struggle. I didn't feel too bad and wasn't feeling tired but the body was saying something else. Leg pain was feeling worse.
Piers was great and kept positive, sharing his insights of multiple 100 mile races with me.
Legs were aching and I was feeling it a little. The constant of moving forwards with just the head torches shining a small part of light in front of you.
However I was soon to find that all wasn't well.
CP10 Wallingford (78 miles)
The fact is that no picture tells a story. I was hurting going through Wallingford and we did not stop, we carried on walking.
Legs were hurting, mind was gone, I couldn't tell you much about this segment. Just walking through the night, although I did get some messages from my girls & mum which was very much needed.
I was also making the mistake of not fuelling as we were going through the night. I wasn't eating much and had not been drinking much either. Only on reflection can you see where you went wrong.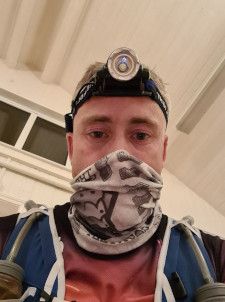 CP11 Clifton Hampden (85 miles) – 20 hours & 36 mins – Sunday 05:06
This is the result of not looking after yourself. I think this was the first time I had looked in a mirror since Henley and I could visibly see how drained I was and how tired I looked…..shouldn't have looked in the mirror!
My legs were hurting, and it did not help mentally that we had to go off course to get to the aid station. At the aid station I sat down for tea, probably for too long. There was a guy asleep in the corner, I was thinking maybe I could have a nap but Piers made me get going. Felt like my ankles had seized up when I went to get up.
Piers was great, as were the crew "Get going, the sun will be up in the next 30 mins or so and you will feel differently". The difference having positivity around you makes is huge. As we were leaving a chap came in that we had spoken to earlier. He had pacers with him but when he said how bad he felt they said the same back. As we left (slowly) I said to Piers that I don't think he would be finishing (turned out I was right). I knew Andi was getting up early to be at the next aid station so had to keep going.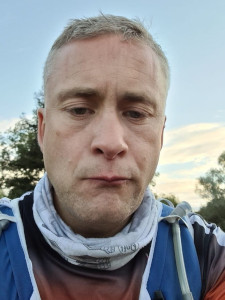 CP12 Abingdon (91 miles)
That stretch from Clifton Hampden to Abingdon was the toughest part of the whole run/walk for me. I was in pain, pace had slowed right down, and in my mind I was talking myself out of finishing the race. I was in a dark place, there is so much that goes through your mind…….
I was starting to feel a little better because I had made sure to eat and drink and that was improving my mood (but only a little).
Andi messaged to see where we were and to say that she was on her way to Abingdon.
Arriving in Abingdon I told Piers to push on without me for the last part, he was on target for his best time on the route but I was slowing him down. I said I would catch him up but that was never going to happen, I heard Piers tell Andi to make sure I carried on as was parted.
I'm not ashamed to say that after Piers had left and I sat on a bench I had a little cry as Andi gave me a hug. I said to Andi that if I talk about doing another 100 mile run again to remind me about how stupid I am and not to do it.
Still with some painkillers in the body and a change of trainers to see if that would help with the leg pain I left Abingdon for the last 9 miles…..
CP13 Lower Radley (95 miles) – 24 hours and 4 mins – Sunday 08:34
I did try to run after Abingdon but must of managed a couple of hundred meters before stopping, there was too much pain, so I settled into walking for the last part of the race.
Its amazing the difference it makes knowing that your almost there. The sun was shining the birds were singing. I had made sure to eat and drink which was making me feel a little better and gave me the energy I needed.
There weren't many people as it was very much single track walking but that would change beyond CP13 as the rest of the world woke up and the river burst back into life with people swimming & boating.
THE END OXFORD (100 MILES) – 25 hours & 20 mins – Sunday 09:50
The last 4 miles, possibly the slowest 4 miles I have ever walked. Andi joined me for a mile after CP13 and then drove to the end. As I walked under the bridge I could see the finish line on the other side of the river. There were people on the bridge cheering, I got that feeling of achievement and not for the first time shed a little tear, this time a good one though. Walking down the slope I felt like I should of jogged it in but just couldn't. I am now the proud owner of a belt buckle and new T-shirt (the only new clothes I buy come free with races).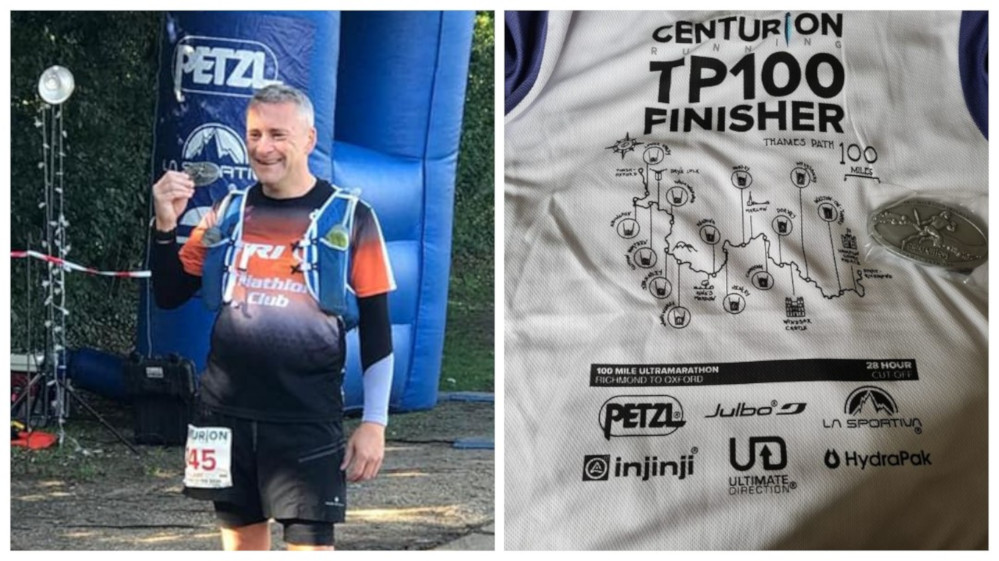 After the run we were treated to a hot dog and a drink, I didn't feel too bad. Had a pretty nice blood blister on one toe, my big toe nails seemed to have blister's under them and my feet were very sore, almost felt bruised. Just felt a little drained. I didn't sleep very well on the Sunday night and woke to find one of my ankles swollen, but with no pain; I didn't remember injuring it during the run. It went down over a couple of days and I haven't had any problems since.
I literally would not have been able to have completed this without the support I received throughout the day and night, and then the next day. The messages I received kept me going, Piers was a star when I needed it (and I like to think I played a part in pacing him to a PB). Andi was amazing over 2 days (and before) and drove round half the country, giving me a kick when I needed it. If I had been left to my own devices I might have called it a day, although I would have been kicking myself for getting so far and not finishing the job.
Would I do it again, initially I said never but increasingly I am finding myself saying if…..this was an amazing event – the Thames is a beautiful place, the support provided by the crew throughout was amazing. Support from everyone was more amazing! I loved reading through my Facebook check-ins after the event. Now I've had time to think about it, I think that if I did things differently I could break 24 hours, but I'm not going to do another one……..
As always, your body is more the capable of coping with whatever you throw at it than you think, its just that most of the time the mind stops you throwing too much in it's direction.
---
We would love to hear from you.
We would love to hear from you, particularly if you have taken on a new challenge or are new to triathlon.
The next newsletter will Tri2O 10th anniversary special, please send your contribution to info@tri2o.club before end of Nov 2020.
You can also download a pdf copy of the newsletter here.