Newsletter June 2023
Chairman's Update
Dear Tri2O'ers
Welcome to the Tri2O June 2023 newsletter and the racing season has arrived with a bang! We have a collection of wonderful race reports in this edition. A massive thank you to each Tri2O member who has taken the time to write up their report, they really are inspirational stories on many levels, please do keep sending them in to our Editor In Chief Sunil for future issues.
On a personal note I too have been racing, well more like "taking part" in my first Tri since 2019 with a Sprint race at Dorney in May, all went to plan however my run times are still WIP! Also I returned last week from my second multi day bike tour completing a Coast to Coast route from Morecambe Bay to Bridlington with my Nephew totaling 450 km with train strike challenges thrown in. It was great fun and a route which I can highly recommend if you fancy a bike tour.
The lakes have finally warmed up and what a pleasure it is to be in the open water again – do check out the excellent tips in the article from our Head Coach Georgia in "Coaches Corner" below:
Well done to those of you who joined in the fun at Reading Lake with the GTN presenters and crew, looks like a good time was had by all and really nice to get some coverage promoting our Reading Triathlon. Watch the final cut FILM below…..
Two upcoming events that need your attention are:
The annual "

Fish & Chip Ride"

this Saturday 17th, Sign Up on Team App

HERE

it's a lovely route to Hayling Island, do both ways or just train it back, sadly I cannot join in this year but I am sure it will be a wonderful day out for all.
The "

Social Triathlon

" with TVT on Thursday 22nd June, TVT have kindly invited all Tri2O members for a relaxed evening of Swim / Bike / Run / Eat or any combination of these do Sign Up on Team App

HERE
A BIG thank you to our Social Secretary Clare Hawthorn who has helped organise these and plotting further "Social" events for this summer – see below for dates – it would be great to see YOU at some or all !!
And a 2nd BIG thank you to Sunil & Sian for keeping the Club communications flowing, keeping us all posted as to what is happening within the club, words of encouragement on Pre-Weekend Facebook posts for members racing. Please do share those "MEDAL PHOTOS" they all tell a story !
Enjoy your newsletter and I look forward to catching up with as many members as I can over the summer months.
Best Wishes
Mike Nash
Chairman
---
Reading Tri 2023 – 40 years
It has been 40 years since the first-ever triathlon in Britain! Global Triathlon Network were in Reading, the site of the race on the 5th of June 1983. So, in a nod to Triathlon reaching middle age, we go back in time to recreate it. Has our kit stood the test of time? Did it change for the better? It's time for another presenter challenge! 
---
Membership Update
We would like to welcome the following new members who have joined, since the last newsletter in April:
Carly Higgs
Elizabeth Mottram
Miles Crossley
Owen Lee
Ray Norris
Stephen West
We hope you enjoy training and being part of the team.
Please don't forget to sign up to your sessions on Stack Teamapp in advance and join the club Facebook group. You will have had a welcome email with the links – please let me know if you did not receive this.
Anthony Dench
Membership Secretary
---
Coaches' Corner : Open water – making the most of it!
Now that the weather and the water have properly warmed up, many of you will have been already swimming in the open water regularly by now; some may just be starting to think about it!
Whatever your goals and intentions, there are lots of way to make the most of your lake, sea or river swims. For a more expanded detailed version of this, check out my blog (it would otherwise fill up the whole newsletter!) here:  www.merlintriathloncoaching.co.uk/triathlon-blog/open-water-making-the-most-of-it
Mental benefits
We all have different ways of relieving stress and escaping from to-do lists and deadlines. For many, being in the water is very cleansing (literally and metaphorically!) – being outdoors in the water can be even more so. You're immersed in nature, the colder temperature of the water really stimulates your senses, and you have to pay attention to where you're going! Some things you can do to make the most of this:
Focus on breathing.
Take your time & take breaks.
Enjoy a bit of wildlife spotting.
Do some floating, on your back.
Try taking your wetsuit off in the water at the end of your swim.
Try letting go of your expectations regarding pace and distance sometimes.
Open water skills
Whilst we try to practise a range of open water skills in our club pool sessions, there's no real substitute for the real thing. Even if you just do this for leisure and don't intend to race, there are lots of things you can practise to make that experience more pleasurable. Of course if you do race, then you definitely should practise these things!
Sighting!
Check out these videos for help with your sighting:
Breathing patterns.
Buoy turns.
Drafting & overtaking.
Deep water starts.
Start early in the season if you can.
Racing and fitness
It's easy to get stuck into a habit of churning out long easy continuous laps every time you hit the open water. The problem with that is, come race day and it's a shock to the system; your body is only used to swimming slow and easy in that environment and may not like the alternative! You can change things up to work on swim fitness, pacing and also just keep things interesting.
Use your warm up to focus on skills.
Add structure to your swims; pacing, distance, etc. (see my blog for many suggestions).
Try a race simulation start from "cold".
Wetsuit removal.
As always, above all, have fun and stay safe. For starting up and practising race skills, I'd definitely recommend swimming at a managed venue; there are loads in our area including the H2O Open Water Swim Centre, Bray Lake, Horseshoe Lake, Caversham Lake, Queenford, to name but a few. Jennie and I both coach at the H2O Swim Centre (Reading Lake, where the club originally started out) and also run group inductions there if you want more input in open water skills.
And why not use the club Facebook group to buddy up with other club members and swim together? Just like riding in a group, you definitely push yourself more and go further than you might on your own, and you might just have more fun.
Georgia Jackson
Head Coach
---
My journey to Six Stars!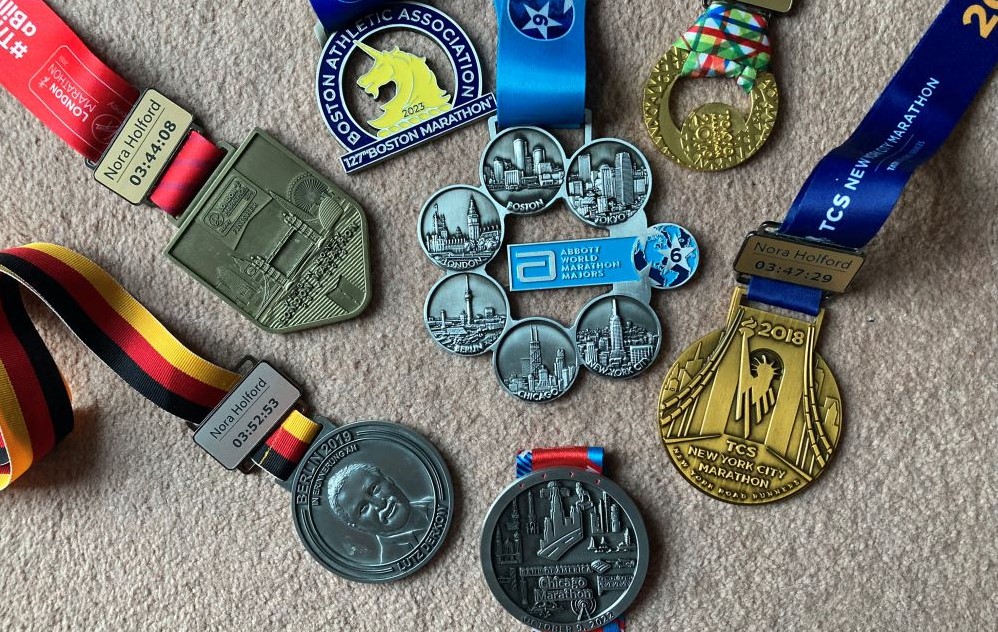 by Nora Holford
The Six Star Medal was introduced by the Abbott World Marathon Majors in 2016 to honour the runners who complete all six Major marathons.  The series comprises annual races for the cities of Tokyo, Boston, London, Berlin, Chicago and New York.  
It all started back in early 2018, when a good running friend (Katie) contacted me, having heard about the Six World Major marathons and that there was now a medal for doing all of them. Seemed like a good crack and fun to do together. We both already had London, so booked New York for that November (the only problem was that I'd already entered Abingdon marathon, scheduled 2 weeks before … hey ho, these things happen!)
We set about finding out how best to do the rest. Tokyo and Boston seemed to be the hardest to get. That summer we tried to get slots for both in the internet scrum when Tour Operators release these sought after places. Katie managed, miraculously, to get 2 Tokyo places for February 2019. Chicago and Berlin were easy to get into both via sports events tour operators and via good for age places.
So that left Boston. I realised that my current marathon PB was within striking distance of the Boston good for age time (at that point 3 hours 55 minutes for FV50-54)). I needed to run sub 3:50 to be sure as they were often over subscribed. However for Katie (F under 30) it simply wasn't an option. I decided to try to qualify, so also entered London (on Good For Age) giving myself 4 chances in 2018-9 to run a qualifying time, by Sept 2019, aiming for the April 2020 Boston Marathon.
October arrived, I ran Abingdon and got a PB as well as a qualifying time of 3:44:06. 2 weeks later I was in New York, toeing the start line. It's a great atmosphere. As we'd travelled with a good tour operator, they'd helped us get our race packs, get to the buses for ferrying out to the start and all those other key things that are hard in a city you don't know. My recovery had gone well. The only issue was that our 5k leg stretch in Central Park had become a 10k as we'd got lost and ended up at the wrong end!! Off the start, I ran well until about mile 16, an uphill stretch, when I really began to be reminded that I'd run a marathon only 2 weeks before. I decided to slow to 9 min/mile, carried on, enjoying the great party atmosphere that each borough had created for us. By mile 22 I was feeling better and finished strongly with a very credible 3:47:29.
Roll on to the following February and we were off to Tokyo. On arrival it was raining. Due to all the preparations for the 2020 Olympics, the race Expo was in a car park, in a few marques. Parts of the car park (including inside the tented areas) had flooded – the Expo itself was really lacking anything much. Having registered etc, we ended up sheltering in a coach full of Dutch runners, until our driver reappeared! Race day was no better. It was cold and wet. The course itself is through downtown Tokyo and seemed to me quite tedious, a lot of out along a road and then U turn back … not a great race for me as I had a bit of a tummy upset. Still, got the medal in a time of 3:52:08.
Two months later and I was in London – at the green start due to my good for age entry. Lovely small start (where all the celebrities are too!). It was a lovely cool, sunny day and I ran a fabulous race, completing in 3:44:08 (only 2 seconds off my PB). So nailed a great Boston Qualification time at one of the Majors (ensuring no issues about it being accepted).
In mid-September I submitted my entry for Boston and was accepted. Towards the end of the month Katie and I were off to Berlin to run the marathon there (number 4). My event planning hadn't been great in that I'd done Woburn middle distance triathlon shortly before and wasn't fully recovered … Berlin was a great city, weather was nice and cool, yet sunny. An interesting course through the old east and west Berlin areas as well as past many key sites. The start was a little chaotic though! Given that I hadn't recovered fully, I was pleased with my 3:52:53.
So 4 in the bag and, for me, both Boston and Chicago booked in for 2020. Katie would be doing Chicago with me but was still struggling to get into Boston. Bit of a shame as, if things went to plan, I alone would be getting the 6 star medal in Chicago.
My training in early 2020 went really well, I felt I was on track and for once I didn't have any other events close to the date of the Boston Marathon (mid April). Then COVID hit, first Tokyo marathon was cancelled, then the chaos in Italy, followed in March with UK going into lockdown. Boston AA fairly quickly postponed the event to September 2020. Unfortunately this clashed with Ironman Italy that I'd already booked, so I had to pull out. Both Boston AA and the tour operator gave me a full refund … even so I must admit I was gutted, I was 4 weeks away from the marathon I'd worked so hard to qualify for and now I needed to start all over again. That would be a challenge as the required times kept getting harder… Then I realised I had a birthday coming up, so would move up into FV55-59 … an extra 10 minutes (i.e. sub 4 hours), so maybe requalifying wasn't going to be that difficult! Probably the first time in a long time that I've been pleased to be a year older!!
You'll all be aware how 2020 developed. Neither Ironman Italy nor Boston marathon went ahead in September … in fact I did run the Boston marathon virtually (along the Thames path) and got the medal! However only the real events count for the 6 star medal.
Chicago was postponed as well, first to 2021 and then to 2022. Both our places and our flights/accommodation rolled over as well. I didn't try to get into Boston 2022, although some of my 2019 times might have got me in. Instead, Katie and I decided both to qualify in 2022 aiming for the 2023 race.
We looked at options and decided Manchester fitted the bill: early March, so probably we would have nice cool conditions, easy to get into, fast flat course. Most importantly in the UK, so likely to be going ahead despite COVID. So, in early 2022 we both knuckled down and trained, aiming for 5 minutes faster than the time required for Boston Qualification. Katie had also moved into an older age group so had a slightly more achievable target time. That weekend finally arrived and was forecast to be cold and sunny. Both of us were nervous as so much relied on us doing well. I set off at the front of my wave and pretty much kept to my race plan. As always, it gets tough around mile 20, by then I was really buoyed up as I knew I wound easily get sub 4 hours, probably sub 3:44 if I kept it up. In the event I managed an incredible 3:42:34, a PB!! I was over the moon and couldn't really believe it – I then spent the next 5 minutes worrying if Katie had done well too. Finally got my bag and checked my phone, she'd smashed it too – we were off to Boston!! Big steak dinner celebration that night. For me this was the one good thing that COVID caused, if all went to plan we would be getting our 6 star medals together!
So, October 2022 found us finally in Chicago. In our well-rehearsed routine, we collected race packs on our first day there, short leg stretch run and explored a bit. Pre-race day we chilled. Once again, my scheduling was causing issues, as I'd completed Ironman Italy only 3 weeks earlier – I hoped I had recovered enough … Race day arrived, our hotel was a very short walk from the start/finish so we made our own way there. It was a beautiful day, bit chilly to start with but soon warmed up. I felt fairly good and kept up my race pace until about mile 13, then my legs loudly complained that 3 weeks was not enough recovery etc etc … I slowed to 9 min/mile and managed to sort of sustain that to the finish. Pleased with my 3:56:18, anyway achieved the main aim to get the medal and our 5th star.
Entry into Boston had gone to plan. We booked with our normal tour operator for flights, accommodation and logistics. In September both our qualifying times were accepted and we were in. On to 2023, I was fairly chilled about Boston, wanted complete it (obviously!), ideally in under 4 hours but other than that the hard work had been done the year before. Amongst other things that COVID had prevented, was my annual skiing trip. Without really thinking it through, I booked one for early March … unfortunately during this trip I badly bruised my left knee. Although it fairly quickly recovered for walking and the like, running was a problem. So my training for Boston came to a grinding halt. I did a couple of treadmill 5ks the week before, testing various knee supports. They seemed to help. Once in Boston, I did a bit of walking and continued to do lots of stretching. In the run up I was very worried, would my knee take the 26.2 miles I really needed it to do?
Boston is a lovely city and the marathon arrangements were excellent. Registration went smoothly and we checked in with the 6 Star people to make sure everything was in place to get our medals – good thing too as Katie didn't have the QR code on her bib … no code no medal! With that rectified, the Expo was a relatively small affair (not as poor as Tokyo though!), so we left for a bit of sight seeing etc.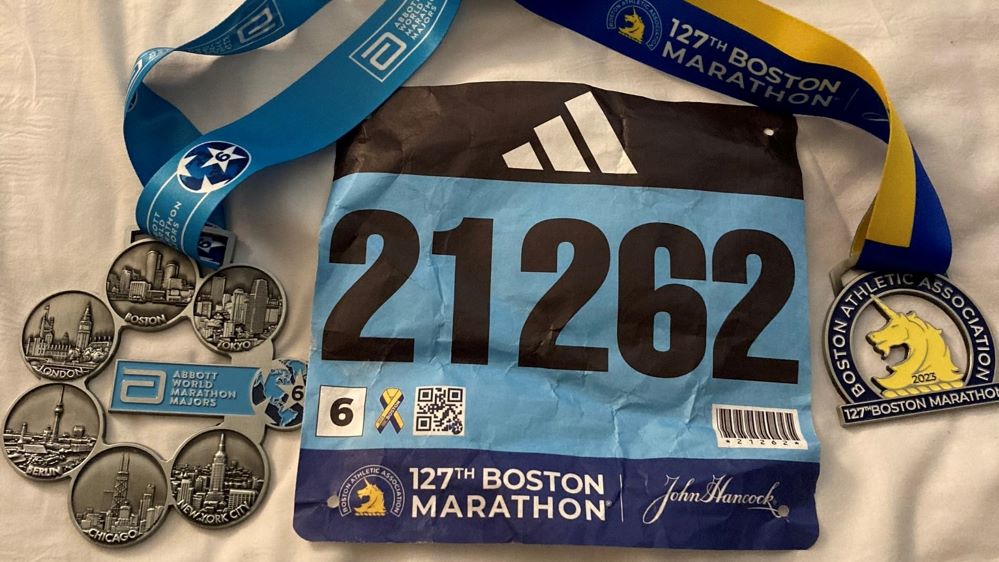 On race day the arrangements were very efficient. Everything was located close to our hotel so we walked out, dropped off our bags and caught the school bus convoy out to the start. Katie left in an earlier wave. I'd decided to try to run the first half (which is mainly flat or down hill) then run/walk the rest (including Heartbreak Hill). I had about 6½ hours to complete it. I made it to 12 miles before I had to walk to let my knee recover, reaching halfway in about 2 hours 20 mins. Knowing that I now had plenty of time, from there to the finish, I ran all downhill sections and walked up all the hills. Finally got to mile 26, I decide run the last bit and made it – 5:06:10. I'd done it! It hadn't been pretty however I'd got the 6th medal and proudly collected my 6 star medal. This had probably been the hardest of the 6 to do, both getting there in the first place and actually completing it. We regrouped back at the hotel (Katie had had a phenomenal day and smashed her PB set at Manchester the year before) … Cool down stretches and shower was followed by a well-deserved celebratory dinner that evening.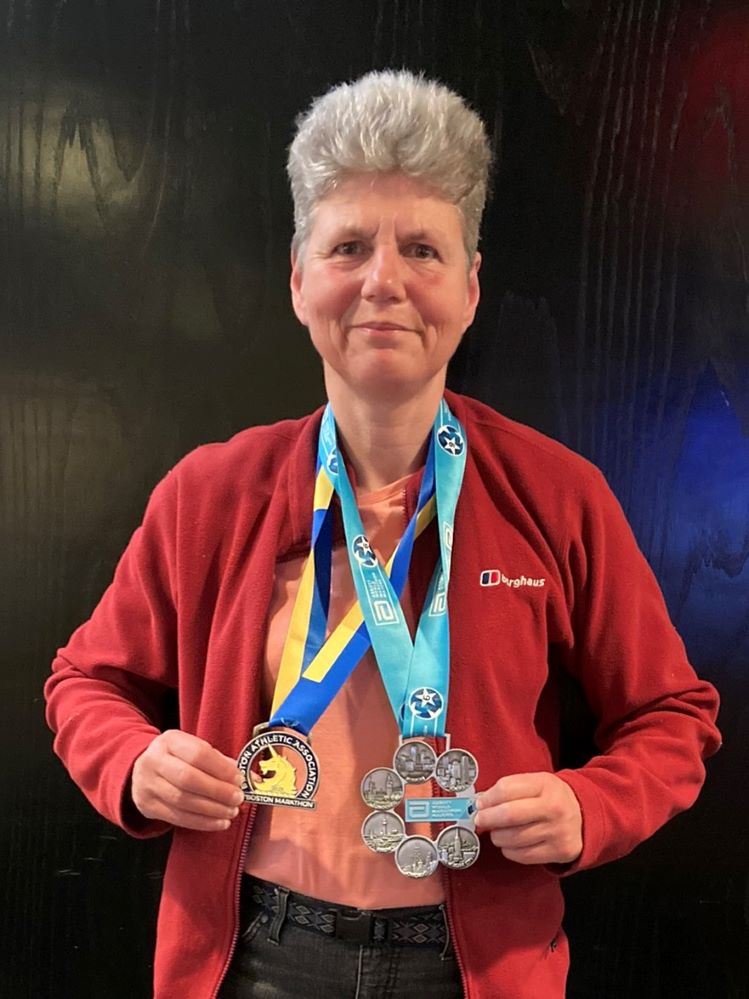 I'm incredibly proud of my 6 star medal, especially as, before I started, my marathon PB was 3:46:02 (London 2017), now it is 3:42:34 (Manchester 2022) … I'm not getting any younger, yet by training smart and focusing on form I improved. Reflecting back, I can see I need also to think more carefully about what my main aim is for each year … and not get carried away in adding in other 'nice to do' events, especially where these could significantly impact on what I really want to achieve. My 6 star journey is littered with times I just packed in too much; preparation, training and recovery/performance suffered. In the long run that isn't good at all!!
---
Party time in Ibiza – Multisport world championships, May 2023
Long Distance Aquabike race review.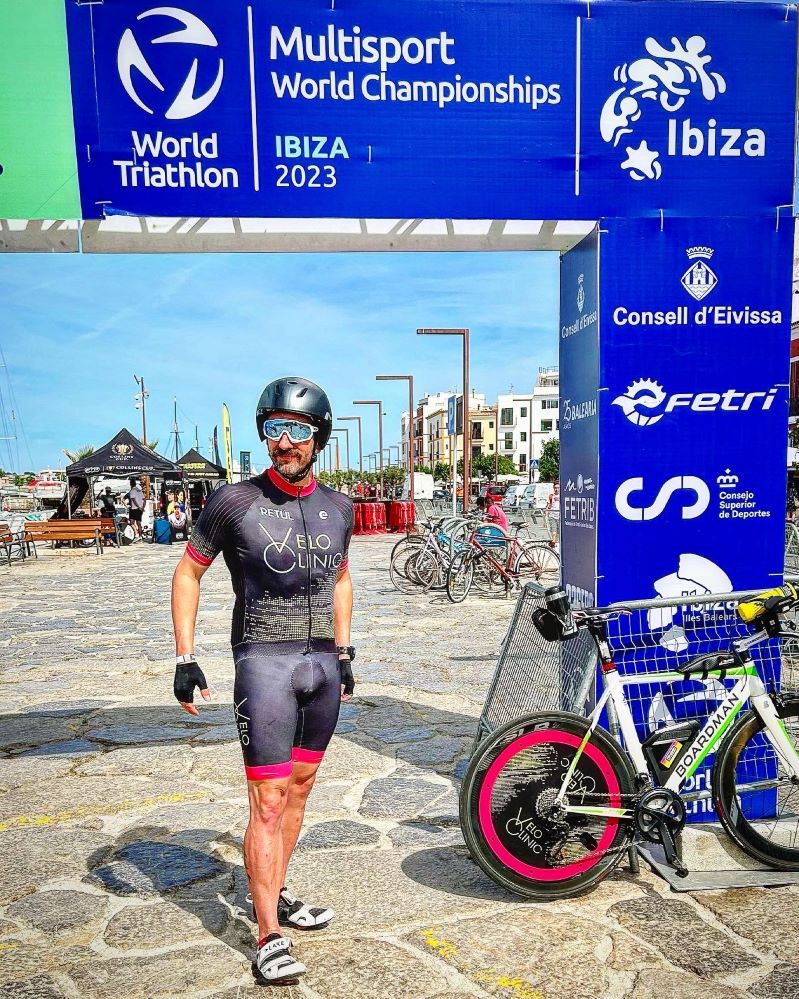 by Adam Phillips
Since a pretty catastrophic knee injury and the subsequent surgery in 2019 I've put more focus into the emerging sport of Aquabike than triathlon. I'm fortunate enough to have relatively stronger swim and bike legs for my age group and for the last few years have been lucky enough to represent my country in domestic, European and now World championship races.
Ibiza, mainly known for its nocturnal lifestyle, superclubs with banging DJs and bohemian lifestyle may not be the first place that comes to mind when thinking ideal locations for a 2 week long multisport championships. But, in May the weather is pleasant, the place is still quite quiet and there's an abundance of accommodation ready for quite reasonable prices. Throw in the PTO's decision to host their European open race on the Saturday and you've got all the ingredients for an absolute belter of a multisport festival! For the whole week I was there I was surrounded by triathletes ranging from Olympic champions through to people in their 80's who've travelled across the globe.
The route: a single 3km swim lap out from Ses Figuerretes beach, around a small island, along the chop parallel to the coast and then back to the beach. Transition, 800m of blue carpet along the promenade, then 2 laps of a 60km course heading up into the island's central hills and back (some 750m of climbing per lap) and a finish line, supposedly, 250m prior to T2.
Arriving at my hotel just a few blocks from transition I popped out for an easy run to shake the flight out of my legs (and procrastinate having to build my bike…). A quick look on Strava later in the evening showed I wasn't the only one with this idea, and a further reminder of the quality of athletes out on the island and that you're part of a world championship event.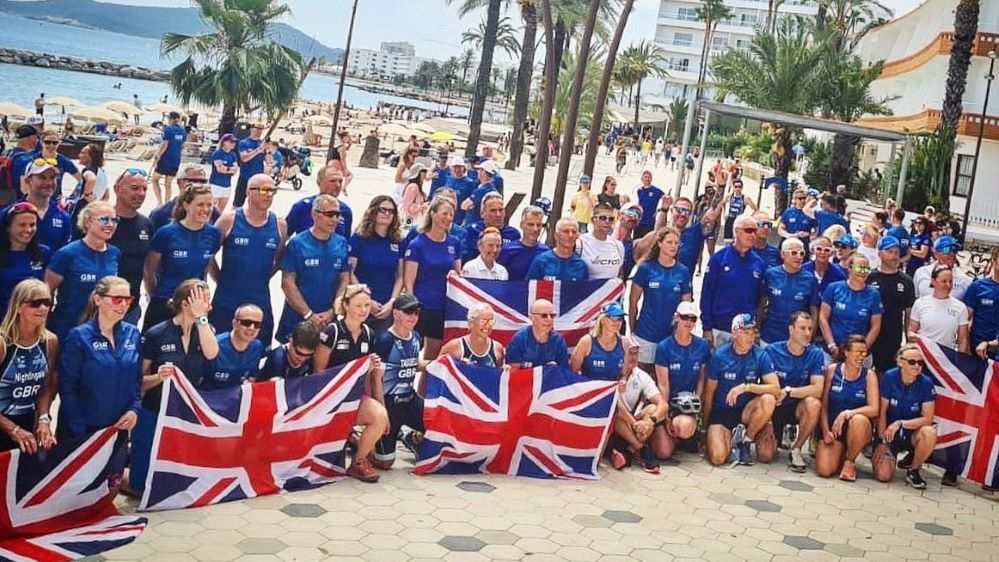 The next afternoon I rode the bike out to test my handywork on the build. I headed out into the hills then around Ibiza town and dropped in to registration at the port, this was also the location for the run finish on Sunday. A smooth, and incredibly well organised experience that included separate registration huts for the nationalities with the most athletes, Spain, Germany, France, USA, GBR. The expo was a slightly lower key affair, but I got a cowbell from Canyon (to take home to Otto, our 7 year old, honest…) and a coffee from Ryzon who make surprisingly nice tri suits!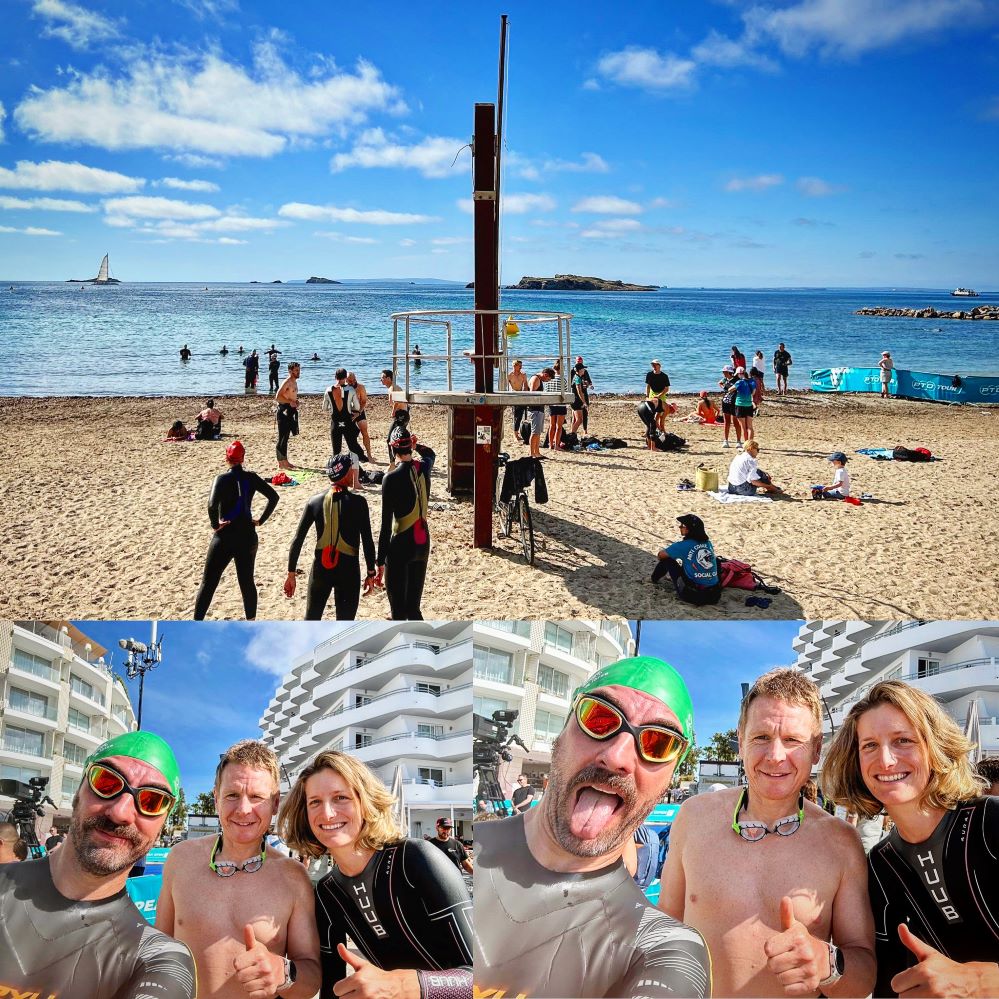 The next day, after watching the sunrise with a coffee on the beach followed by the first of the formal swim familiarisation, I swam out to the island and back, with Nick Lemin and his partner Emma, some 1500m, at a nice easy pace. The water was warm, clear and very salty.
Saturday, the day before the main event, I did a little PTO spectating at the start and up in the Ibiza old town before the team photos. Apparently, this is something of a race weekend tradition, having been to two of these now, they could probably be a little better organised. But, it's great to see so many British athletes and was good to catch up with Nick Lees of our club.
Sunday, race day
The swim: wave starts, we were off about an hour after the elite men. So, I took the time to warm up properly and get some fuel on board.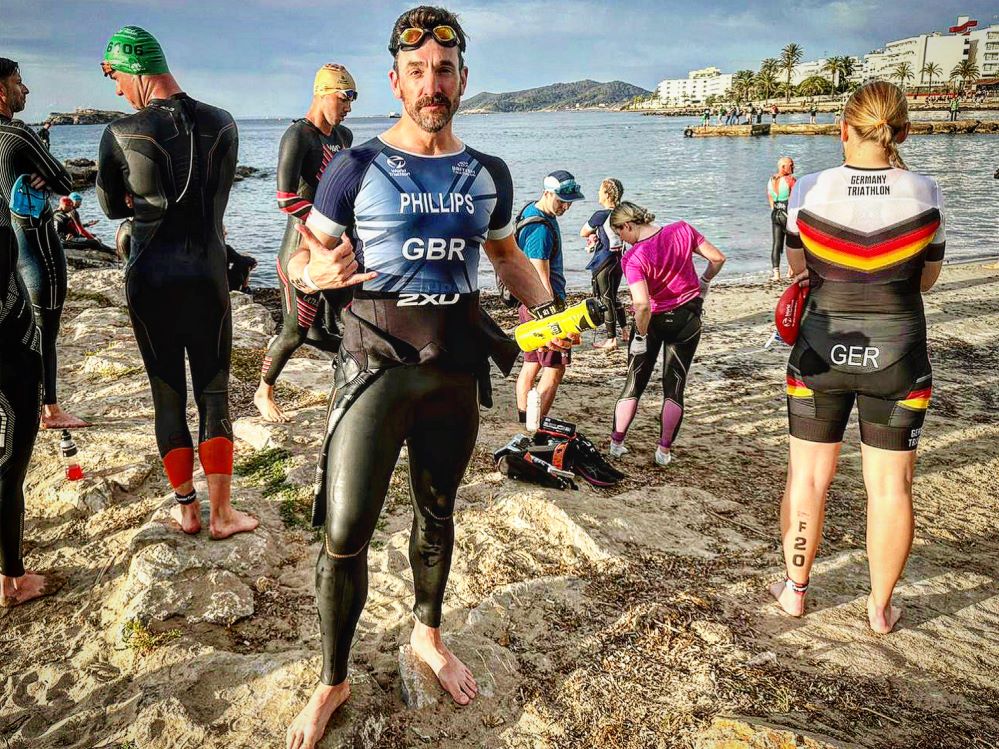 Before I knew it, I was in the call pen, then lining up on the beach, there's a shout of "on your marks", I start my Garmin, the hooter goes off and it's run as far as you can into the sea until there's enough space to dive in and under – just like I'd practiced dozens of times. The start was fast and furious, the washing machine cliché is very true. But within a few hundred metres swim packs were beginning to form. I was comfortable with the pace of the group I was in, so I stayed with them trying to avoid getting kicked in the face, but still ensuring I was close enough to other swimmers to benefit from the draft.
As we reached the first buoy it became more frantic again as everyone wanted to have the inside line. Going round the buoy the group remained very tight as we swam across the chop and the waves crashed against us. At this point, I remembered the importance of getting yourself protected, I've been caught out by poor positioning before. So, whilst I was getting squeezed between two swimmers, I dove under the man on my right and popped up protected by both of the squeezers.
We rounded the island, the stats tell me that I was averaging about 01:35/100m at this point, which is fast for me. The pace slowed slightly (the aggression did not) as we headed back towards the beach and before I knew it we were at the last buoy, a left turn then a 200m sprint to the beach.
I exited the water, pulling the neck of my wetsuit to get some water in to help get it off, and started the jog to the bags. My swim time was 52:38 and I was delighted with that.
In my bike kit bag I'd put a bottle of energy drink to help wash away the seawater from my mouth and begin to get more fuel onboard. Big swig, step out of the wetsuit, bag everything up and run to my bike – just as I had practiced time and again.
Helmet on, power up the Wahoo, take the bike from the rack and leg it to bike out. Again, just as I have practiced and raced so many times before.
This is where things took a bit of a turn. As I was running out a Spanish athlete started running towards me (running the wrong way in transition is a DSQ offence), I shouted to make sure he saw me, but instead he shoved me and my bike over, spilling my shoes and nutrition all over the floor and bending my rear mech. Whilst I appreciate that transition is a fraught environment, I don't believe there is any excuse for this behaviour at this level.
I will say at this point that I have raised a complaint with FETRI, World Triathlon and British Triathlon and at this point they still dispute anything happened, despite there being a photo showing two technical officials looking on as I offer an opinion on his move.
Going out on to the bike course I had some serious issues, I couldn't shift my rear mech and then my chain dropped on the first roundabout. This gave me 30 seconds to hop off, examine the alignment and make a little change to the angle of the mech. This fixed things enough that I could use about half the cassette when on the big ring and the other half when I the granny gear – that's enough gears for anyone.
I was now quite angry, I set out full of fire looking to find the athlete who'd done this to my bike. With hindsight, on a course like this, heading out hot wasn't the wisest move. I went up the first climb, a long dual carriageway varying between 4 and 6% (think Pishill, but with a nicer road surface), steady with a good pace and was then descending into the small villages and rural areas that would dominate the course.
I'd set an alarm on my Wahoo reminding me to eat every 20 minutes, over the past few months I've been training my gut to handle a very high carb load – up to 120 grams an hour. So I'd have a gel, or a chew (30g each) every 20 minutes and drink a bottle every hour – I had 3 on the bike. If needed, I had the aid station locations written on my bars.
By the time I got to the first feed station, I was starting to feel the heat and regretting only having thick, sickly energy drink on the bike – it turns out that what works in the UK winter, may not work in a Spanish summer, especially not with the high salt levels of the Mediterranean. I picked up a bottle of water (using my best Spanish shout of "A'gwa, A'gwa, Grascias"), necked as much as I could then placed it down the front of my tri suit.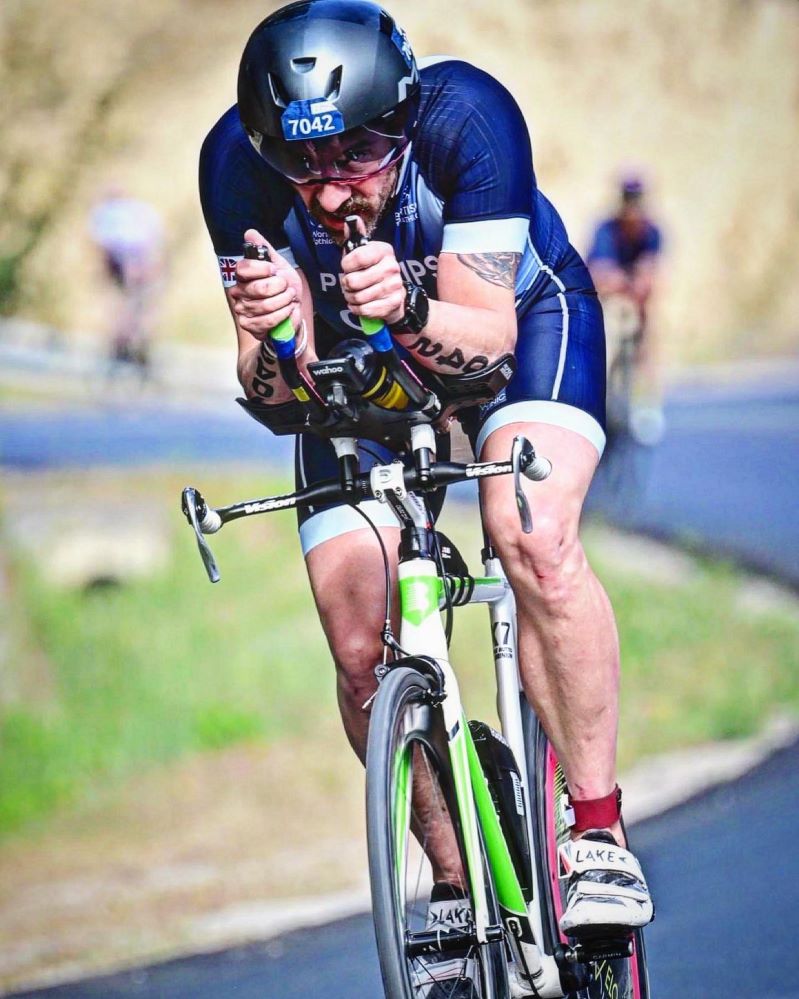 At this stage I'd settled into a good rhythm, and was passing riders with comfort and regularity. As I hit the steepest climb on the course, I saw a British tri suit in front of me so got to 12 metres and eased the power slightly. It was an athlete from my age group who I know well and have a lot of time for, and someone I'd previously beaten by 14 seconds in Bilbao (after he took 20 seconds longer than me in transition…). As the climb started to summit, I put a bit of power down, pulled up alongside him, had a quick chat to make sure everything was ok, wished him luck then set off up the road.
I was feeling good, and ready for the long road back towards Ibiza town. For these longer flatter roads pace lines were starting to form, so you could hold some good speed whilst staying 12 metres back.
About 80 minutes into the bike, I caught up with the athlete from transition. I resisted the temptation to return the favour. To this day, I'm still not sure what the Spanish word for cheat is, but I do know some that were appropriate. Passing him gave me an enormous sense of satisfaction, and an enormous sense of peace.
There was a long dual carriageway descent going back into Ibiza town, interspersed by roundabouts at high speed. At this point I was passed by the lead rider from the elite race, Clement Mignon and his entourage of film and technical official motorbikes. A few minutes later Richard Varga (who must be as old as me now) passed, closely followed by the South African Matt Trautman and a few other riders. The crowds were quite deep at this point and the noise was fantastic. They went straight on into the town, I turned at the dead turn to end lap one.
Lap 2, the same as before only a little bit harder. By now my high carb, sickly, sweet, fuelling strategy was starting to cause me a few issues. I still had plenty of energy but was getting to the point where I felt nauseous, and my stomach was tightening. I took water on at every aid station but knew this was going to be an uncomfortable remainder of the race. With hindsight, I think I'd opt for one bottle of energy drink, one bottle of electrolyte and one of water.
As I passed the 2 hour point I started to see some spots of fluid on my visor. After checking that the bottle between my bars and the rider in front of me both weren't leaking, it became apparent that it was actually raining – in Ibiza! I've watched enough racing in these conditions on TV to know the drill; the dust on the road becomes greasy and it's like an ice rink. Stay upright, avoid painted marks, dugouts, and anything shiny on the road, use cadence braking and brake early before corners…. Even armed with this knowledge, I still managed to throw the back wheel out when accelerating and almost losing it completely whilst braking early before a corner. Looking back, I think working on the mountain bike in the winter (mainly under the tutelage of Neil Harris) helped me react instinctively to righten the bike.
I carried on digging deep, working in a line with an American and Australian athlete. We made the final dead turn and headed back to Ibiza town. As we exited the tunnel and before the long descent I moved to the front of the line, wished them both luck and gave whatever I had left.
Heading down towards the finish I saw the GBR team manager who was shouting that they'd moved the race finish line to the entrance to T2. It's not ideal having one set of athletes sprinting to this line and one set slowing down, readying themselves for the run. Still, we avoided any major mishaps. I rode to the line, dismounted and stepped over – competing my first world championship.
Once I'd racked my bike, there was a short walk to the Aquabike celebration line (a fake finish line for photos). I think my face says how much I gave.
After the race we regrouped as a team in a nearby beach bar to rehydrate. Cheering every British Aquabike rider in as they joined us and cheering every runner on as they passed us by.
Later that evening, the prize giving and closing ceremony were, for reasons only known to the organisers, held in Pacha. For the uninitiated, Pacha is a club, of high repute. To my luddite eyes, it seemed like the purple turtle without the sticky floor. Still, this photo belongs in some hall of fame – evidence of me in an actual night club.
At €12 a beer, our stay in Pacha was not a long one – we watched the medal ceremonies, the flag handover, and swiftly headed to a nearby bar to close out the night.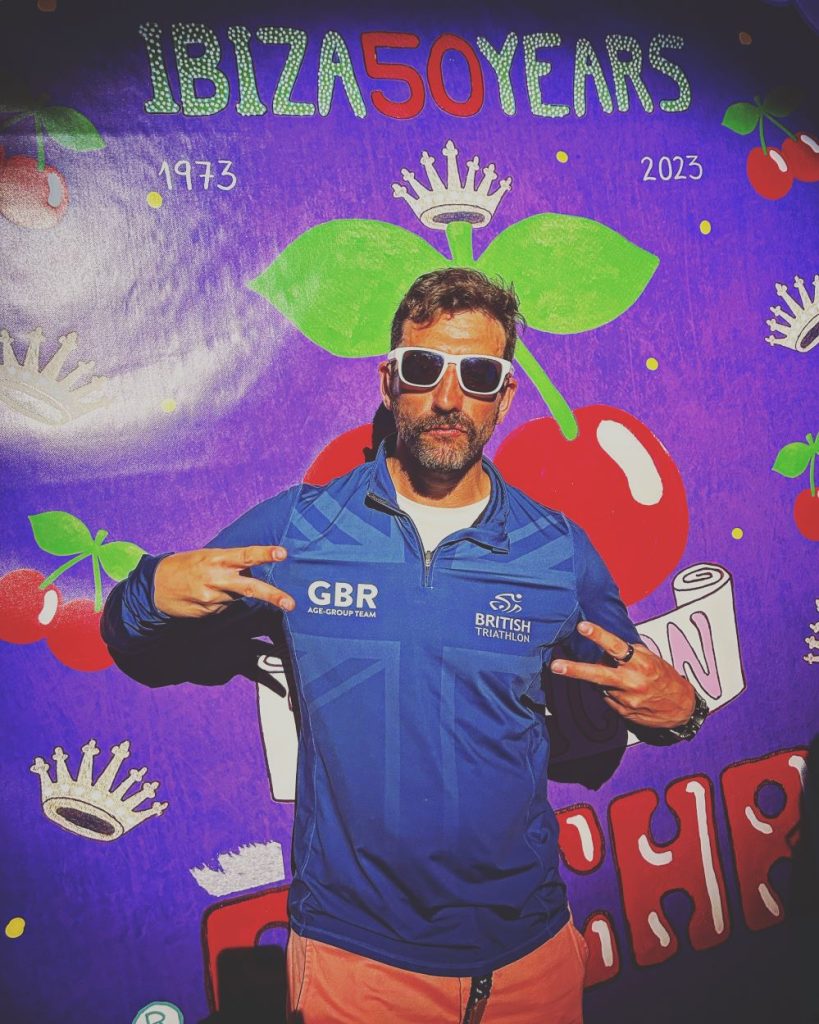 The next day I packed up my bike and kit before heading over to the beautiful island of Formentera for some reflection upon the whole experience. I'd raced well but there's definite room for improvement. I set out to complete in 04:36 (actual time 04:37), finish in the age Group top 10 (finished 9th), achieve a European championship qualifying time by being within 120% of the Age Group winner (result was 118%) and achieve a provisional qualification for next year's world championships by being in the top 3 British AG athletes (was 3rd). So, all in all, I decided it was a job well done and a step in the right direction, but we're still a long way from the final destination.
---
Stack TeamApp, one stop shop for Tri2O 
With TeamApp being used for booking events and purchasing activities we have expanded the use of TeamApp to make it a one stop shop for Tri2O.  We are exploring more feature available in the app and will enabled more features.  Here is quick guide of what you can now do via TeamApp.
If you have not joined TeamApp, please download the app and join the https://tri2o.teamapp.com/
The dashboard is your portal to all the available features, we have added a lot more icons in there for quick access.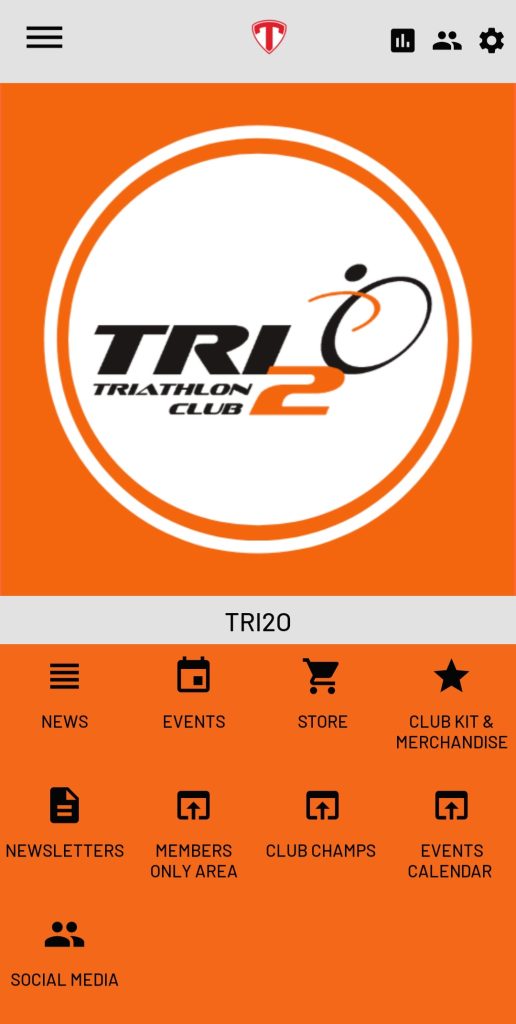 You'll are already familiar with booking Events via the Events icon. 
You can now access the Newsletter, Members Only Area, Club Championship form to submit your competition entry and update the Event Calendar all via the dashboard.   
If you have completed an event this year, please do fill in your results via Club Champs form 
Also it would be great if you can fill in the events you have signed up for via the Events Calendar, it will help other club members know what to enter and also enable us to give you a shout out for your event.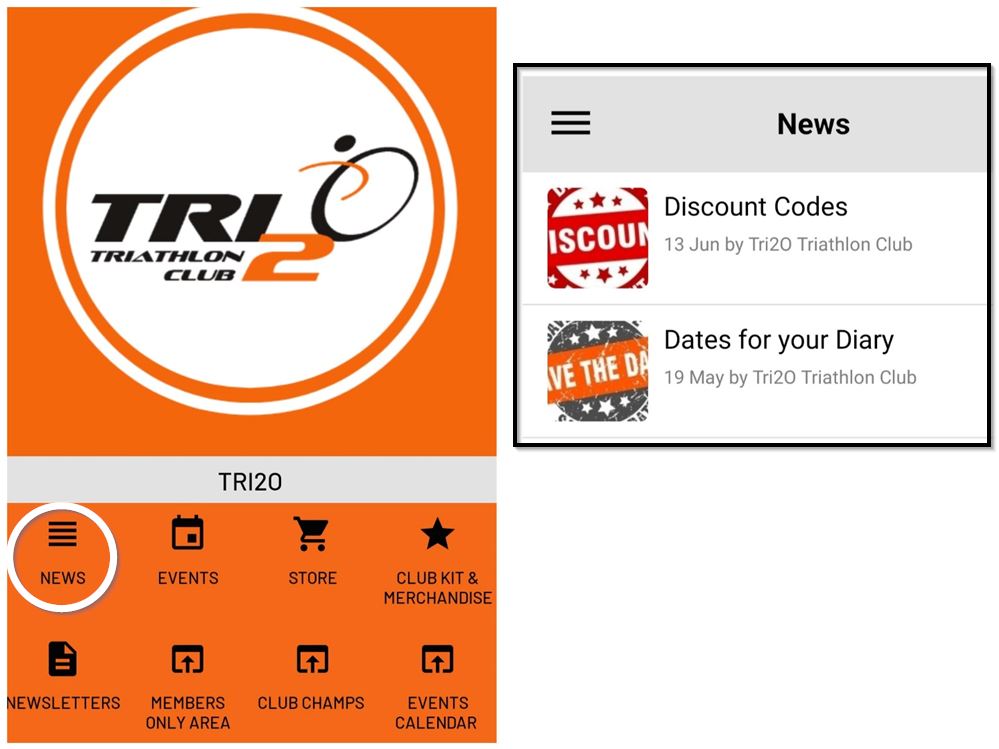 News – Featured information will be pinned here, currently we have discount codes and dates for your diary posted in this sections.  Will add 'Essential Swim Kit' here as well.  You no longer have to go hunting for missed post on facebook.  If you like anything else added please email  info@tri2o.club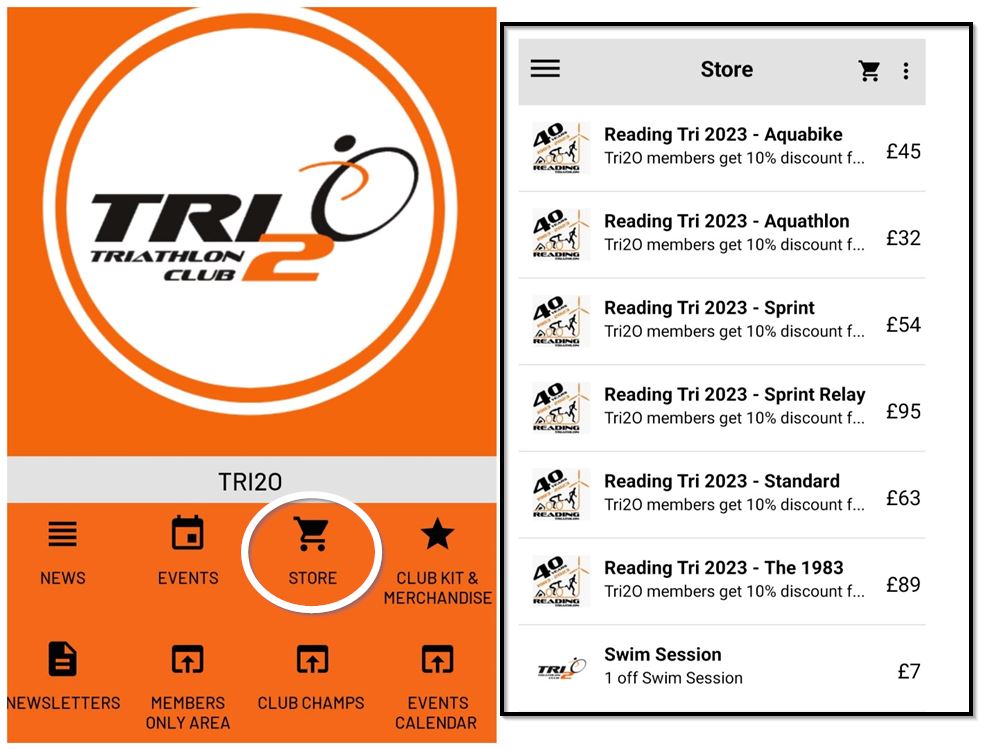 Club Store – Self explanatory. You can purchase any additional items club has to offer via this link.  Currently we have Reading Tri at discounted rates for club members.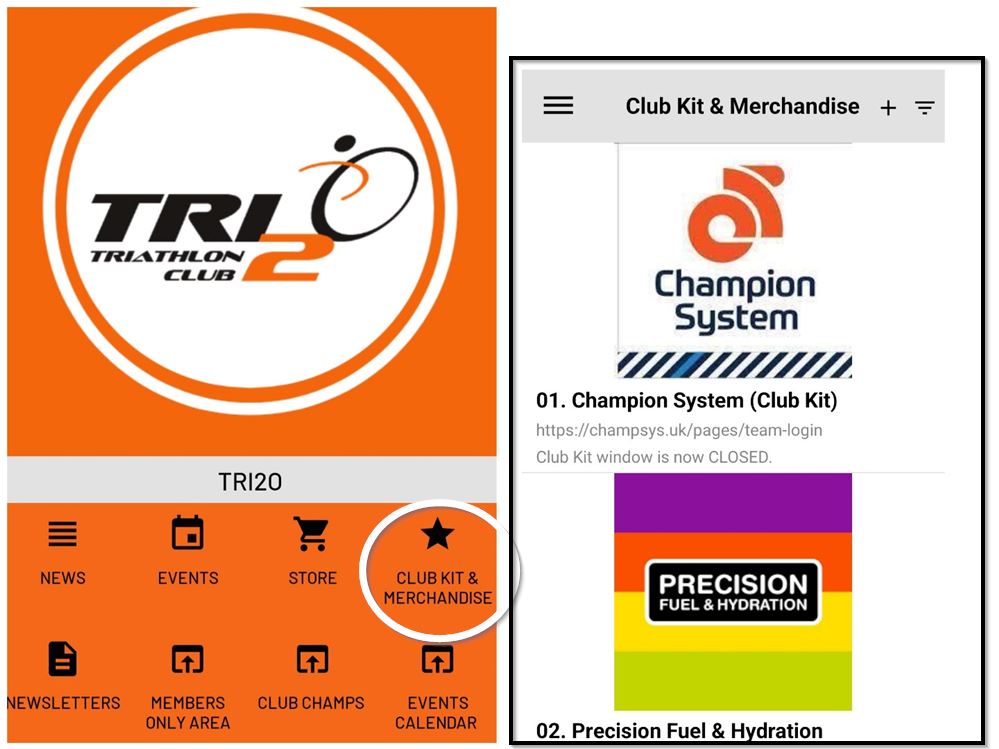 Club Kit & Merchandise – When the club kit window is open, you should be able to access the club kit via this link.  It currently has quick links to various stores who offer discount to club members.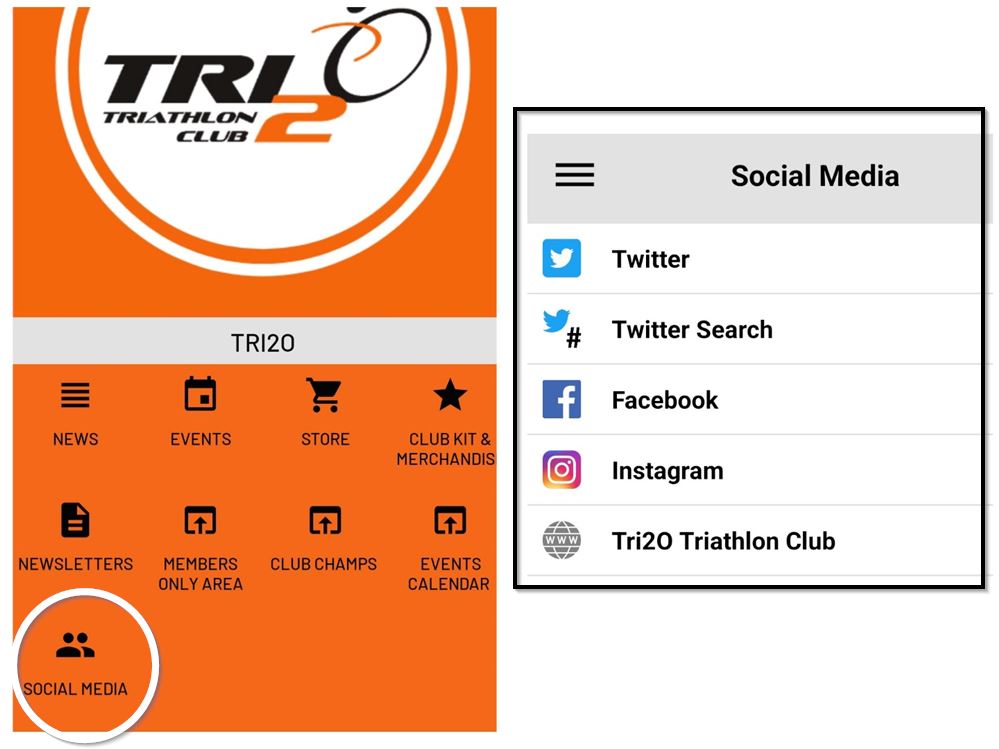 Social Media – All our social media links in one place
If you have any suggestion please feel free to email at info@tri2o.club.
---
A different view of triathlon…. being a British Triathlon Federation Official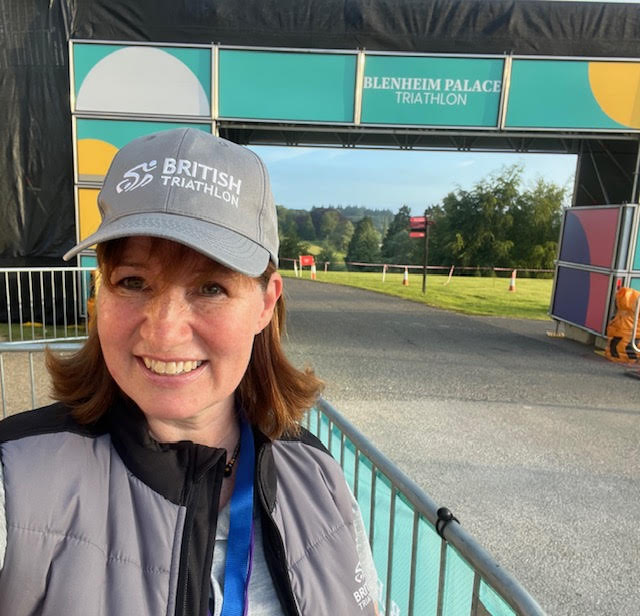 by Lucy Bolton
How did your journey with triathlon begin?
My triathlon journey started in 2016 when I was spending most weekends supporting my partner, fellow Tri2O member Justin Watkins, at various events – from sprints to full Ironman events, in the UK and abroad. As anyone who has been a supporter knows, following a competitor over what could be an 18 hour day (with often a 4am start) can be quite an achievement on its own! Marshalling several events followed before I too got the bug and joined Tri2O.
Going from being a heads-up breastroker, a non-cyclist and just a parkrunner, I did question my sanity but the training and competing went well and over the following few years I achieved a medal count of two 70.3's and numerous sprints and half marathons. Eventually the knee's decided competing was not for me (both kneecaps had previously been broken in 2013 in a horse related accident). It was then I decided perhaps being a British Triathlon referee, or Technical Official (TO) could be for me.
How did you qualify as a TO?
I attended a BTF training course in 2020 just before Covid hit and events were then cancelled so I decided to repeat the training in 2021. I passed and became an LTO (Local Technical Official) which allows me to be a Chief Technical Officer (CTO) at pool-based events or a TO as part of a team at open water events. Having refereed as an LTO during 2021 and 2022, I thought it was time to qualify as an RTO (Regional TO) which will mean I can be the CTO at open water events. RTO status is achieved via training and shadowing. All being well, I will qualify as an RTO in July this year.
What has 2023 been like so far?
Quite busy! I was CTO at several duathlons at the start of the year, covered numerous Dorney duathlons/triathlons plus I have just come back from Blenheim which is an amazing event. Next weekend is Windsor where I will be responsible for the swim section. I enjoy being a CTO where I work alone, needing to make recommendations for course changes/safety considerations or just advising on running a competitive, safe, fun event but I also enjoy working as part of a team – at Blenheim we had 6 TO's under a CTO plus 4 MOTO's (Motorcycle officials).
What does the role involve?
The role is one of ensuring safety and making sure that the BTF rules are followed. Despite what many think, penalties and DQ's are a last resort; most of our role is about education and correcting infringements before they become a problem. As CTO, there are responsibilities for taking the water temperature which can dictate if it is wetsuit swin or not, for making sure the TO team know what they are doing, and for generally working in partnership with the Event Director. The role does involve very early starts (Windsor is at 4am!!) as you are often the first one there to check everything is in place. Much of the time is spent in transition.
What don't people know?
There are a lot of rules, you get discounted BTF membership, and the uniform is provided! You have to buy your own water thermometer however.
What rules get broken the most?
Plenty of nudity in transition…. And the best "marking" in transition examples I have seen were a bright pink woolly bobble hat (in summer) placed on a bike seat and a huge (I mean 2 foot) arrow drawn in talcum powder indicating the persons bike! You would also be surprised how many try and sneak flippers through in the swim, or put on very webbed clear gloves. I also tape up many bikes in transition where bar ends are missing – often competitors don't know why we insist on bar ends on the handlebars but the resulting "apple core" injuries just have to be seen once for anyone to appreciate how a little plastic stopper can save someone from a horrible injury.
Have you DQ'd anyone?
I have just recently, for not putting a foot down on the bike section at a very dangerous junction.
The two most common reasons for DQ's are littering (following a warning) and abuse of marshals – those two things are most definitely in the hands of the competitors, so do pick up those gel wrappers and be nice to the marshals!
Best thing about being a TO?
Seeing the orange army at events! I may not be able to cheer wildly as I try to be impartial, but you all do get my support and admiration!
How can you find out more?
https://www.britishtriathlon.org/get-involved/volunteers-and-officials/officials
---
Ironman Hamburg Race Report
by Andy Tucker
Before I talk about this year's event, I want to mention that the race was darkened by a serious incident when a motorcycle rider with a media photographer on the back of the bike hit a competitor coming the other way killing the moto rider, with the photographer and competitor ending up hospitalised. I won't make any judgement about what happened or apportion blame as there is an investigation ongoing.  But safe to say when we came across this and were made to push our bikes past the scene it took 20 minutes of riding to decide whether to carry on or not.  Thoughts are with the families, friends, athletes and medical personnel involved in this tragedy.
As you can read in a previous Newsletter, last year's race went very wrong for me and broke me as an athlete and competitor both motivationally and mentally. I had a mentally tough beginning to the year and was ready to throw the towel in on this one too. I had registered only 2 days after last year's race – note to self, let the dust settle before deciding next time!
Ref : You can revisit Andy's 2022 experience in Aug 2022 newsletter
I spent a big chunk of this year not training and was struggling with weight and fitness but having been part of a 2 week charity bike ride from Liverpool to Ukraine border I had gained some decent fitness back.
Swim 1:15:03 – 94th AG
I expected about a 1.20 swim time given my lack of open water and any actual swimming, so was super happy with this, especially considering my sighting was poor and I almost went off course. I got out with no fatigue or dizziness too, win, win in my book.
Bike 4:49:13 – 15th AG
This was a handful of seconds faster than last year but I knew I was in semi-decent shape having ridden to the Ukraine and spent the previous two weeks 100% on the TT bike, even taking 2nd at the RCC 10 champs. Target was 220w so seeing 218 was nice, the drafting packs were hilarious and having teamed up with two other guys we started taking turns at legit distances, the packs didn't come with us….thankfully!
It was a 2 lap course so it was good fun working with others to help us all out, only having to put a few digs in to get back on them again after taking water at the aid station to pour water over my quads, calves and neck for cooling.
My nutrition strategy was 100% liquid based with energy, electrolytes and salt in bottles and enough for 5.5 hours, and only 4 gels meaning I got 104g per hour, fuelled this for the run really.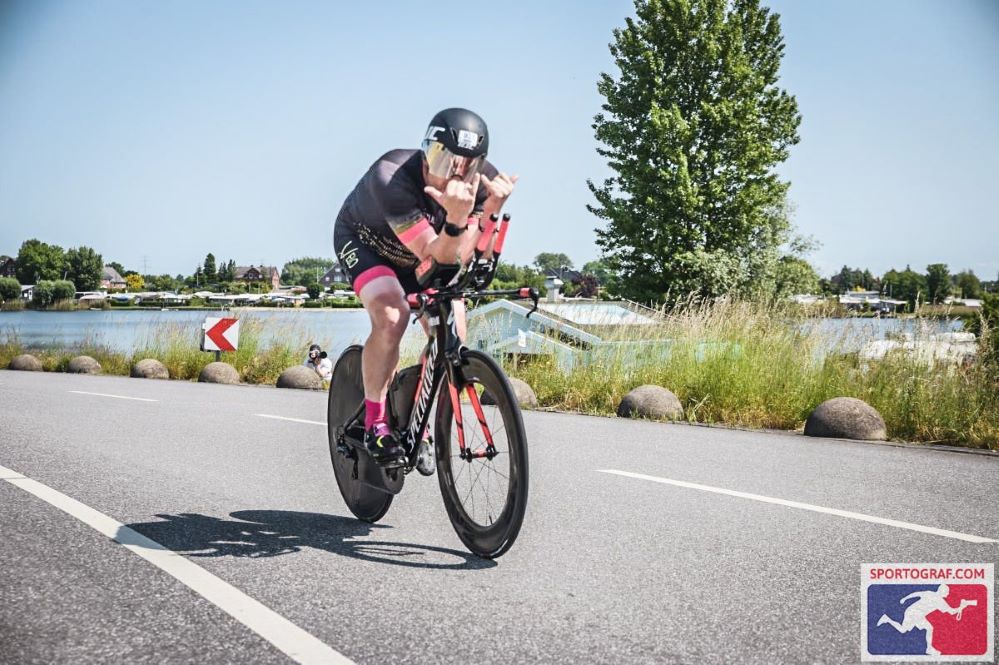 No real issues on the bike at all, except losing an empty bottle and my inner tubes going over a train crossing 10k from the end and praying that I didn't need them.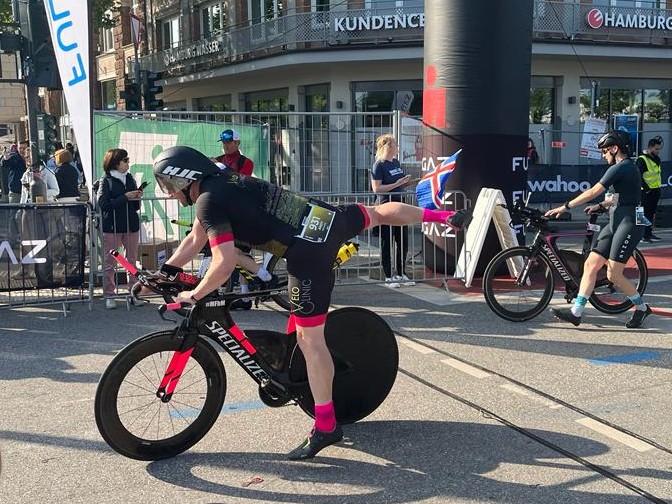 Playing to the crowds going into T2 saw another perfectly executed flying dismount and saw my legs in bloody brilliant shape running in to rack my bike. The transition in Hamburg is about 400m in length so is flipping long!
Hang the bike up and grab my run bag….after I grabbed my bike bag in error first!! DOH, that's a new one.
Run 3:56:42 – 80th AG
My legs felt utterly spectacular and even better than last year, so I was really waiting for it all to go wrong somewhere, never have I gone into any event with no niggles/pain/injury!
I have used a Stryd pod for a few years now which is a power meter for running and knew my numbers and had a target number to run too.  When I started running and saw a number at 40w over where I should be it meant I HAD to back it off or it would be an early bath, I could not walk this run again. I was utterly focused on the run this year.
It was warm but as a lot of the course is shaded off the racing line I took this opportunity not to overheat, again, nutrition was 100% liquid based and continued with 104g per hour.
Aid stations were run through with 2 cups of cooling water over my head, strategically getting my headband/visor cold and wet and avoiding just chucking water on me and getting my feet wet, this always causes me blisters (although late on volunteers were spraying people with water). At the last aid station I took water and put it over my wrists, it works a treat as a cooling aid.
Lap 1 done in 55 minutes, with a much needed toilet stop 😱, saw the specathlete team and just couldn't stop smiling how great I felt. Lap 2 was more of the same but a little faster due to NOT having to toilet stop 😜.
Lap 3 and I was still waiting for it to go wrong, and I shouted this to the team. About a mile in where there was a narrow section I made a pass on another competitor (actual run overtaking 😁) when a wheelchair competitor came bounding up, hitting me in the back of my calf hard. This caused me to twist sideways and an enormous shooting cramp in my hamstring stopped me dead in my tracks and the pain made me vomit, more new stuff….god I was in pain and saw time leaking away. I really had to stretch this out. A very kind volunteer helped me bend my foot up putting an extra stretch on the hammy….the pain became manageable and I started running again, albeit a lot slower, and now with a stitch. After a couple of k's to adjust and adapt to the incident and I found I could run again. I started to walk the aid stations, doing the same routine but with the aid of diluted red bull….totally hit the spot!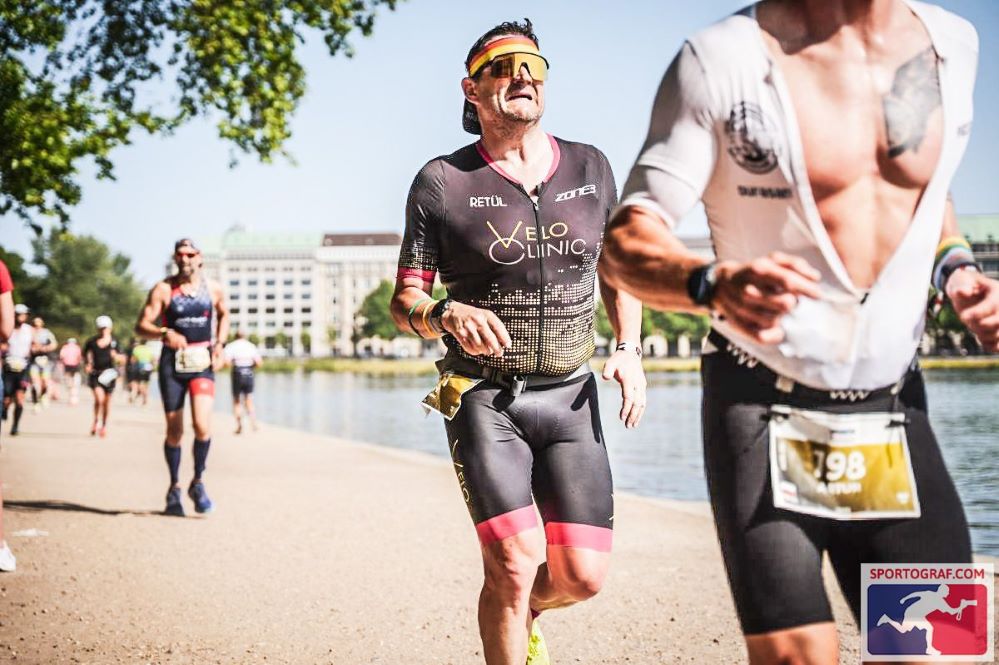 End of the 3rd lap and I had lost a big chunk of time and thought the sub 4 had gone, but pressed on, and feeling like the lights were about to go out. Some quick calculations and figured I need to run a sub 30 min for the last 5k, easy right…..my body was telling me otherwise, I went all out and tried. I can't really remember much of the last 2 miles but I was fighting the urge to just stop and accept that I can't run a semi decent Ironman run, but I got to and through the finish funnel and fell into a volunteer's arms. The volunteer took me too Teresa who told me the fantastic news….. I was convinced I had missed it…..then she told me my total time…..10.12:23😁😁 – astoundingly an all time marathon PB, which says a lot about my terrible track record of marathons 🤣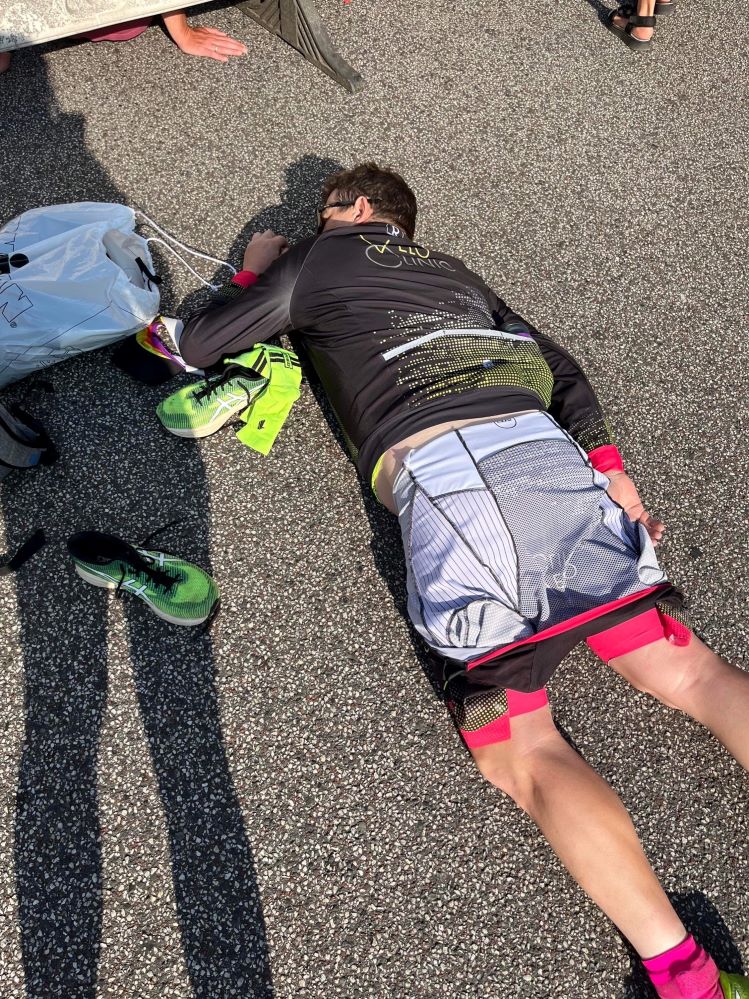 I trained for a sub/short 10 last year so was bloody elated, but imagine what I could do with training! IMHO I think I executed this as near perfect with what shape I was in, made so few mistakes and even learnt more to take forward. I should probably try and run a fast stand alone marathon too, but now my running is getting back to where it was 5 years ago it will hopefully be exciting.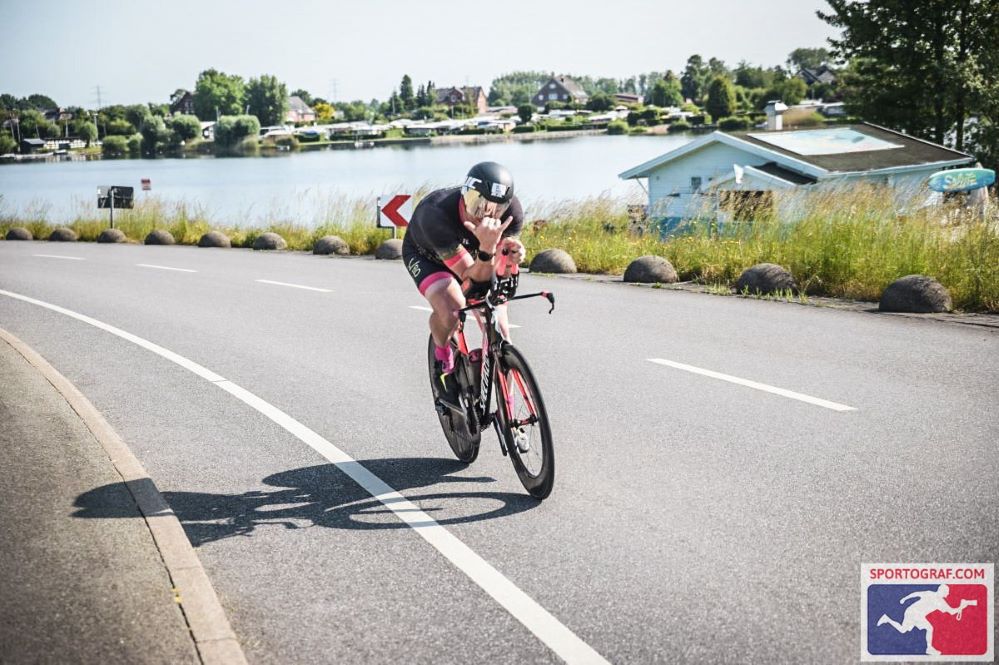 The sobering incident aside, it's a great race in a splendid location, and I would still come back if I wanted to go faster.
Next we are onto the Marmotte cycling event on the Alps and a complete contrast in elevation at the end of the month!
---
World Sprint Duathlon Championships, Santa Eulària des Riu, Ibiza (29th April)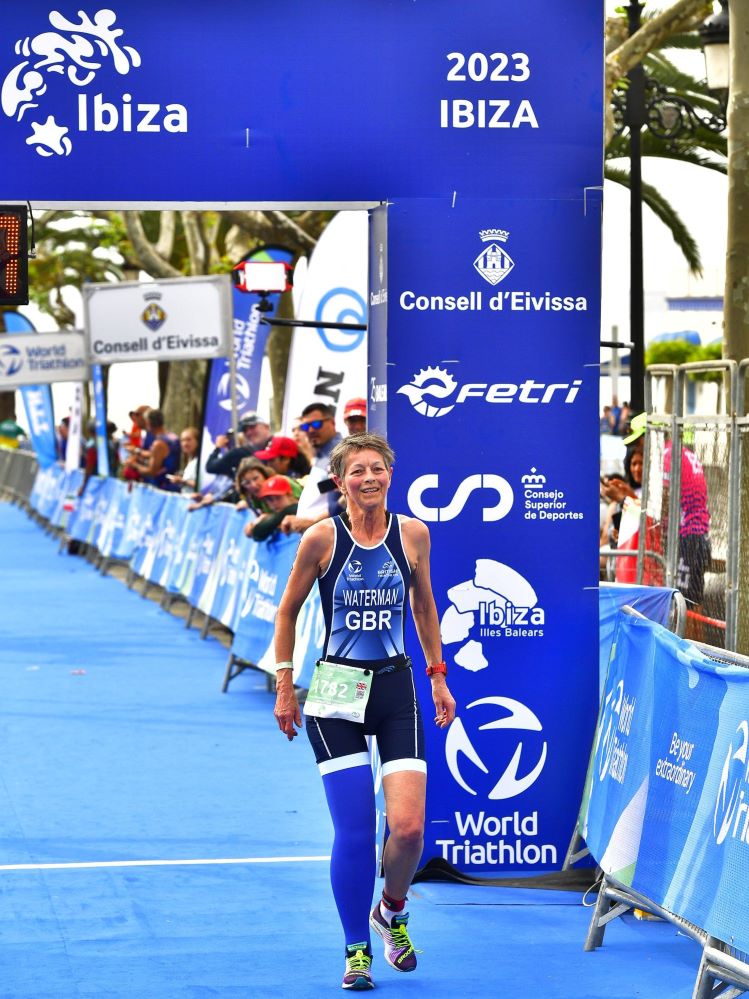 by Sally Waterman
It seemed a strangely small location for a world championship and after waiting over an hour for the bikes to appear in the baggage area we wondered how the airport would cope with thousands of athletes arriving on the island for a range of multisport events. We had, for the first time, included Apple air tags in the bike boxes so at least had the reassurance of knowing that the bikes had arrived with us.
Nirvana was at the airport to meet us and they took us on the short journey to the GB team hotel. It had a huge reception area and quirky contemporary bohemian décor – I thought it was lovely and as an additional bonus it was next to the mainly deserted sandy beach (where the aquathlon was to take place). However, our room overlooked the swimming pool which was surrounded by loudspeakers. The hotel was initially intent on keeping the Ibiza vibe blaring out until the early hours but fortunately realised before race day that as most of their guests were athletes who wanted to sleep that they should listen to their protestations and dispense with the intrusive reverberating base beat.
The roads were too busy to sensibly recce the bike course, although we tried. I decided that having watched the video and ridden the course on Strava multiple times that I didn't need the stress of lorries passing very close or to risk an accident. It's the first time I've created a course in Strava from a gpx file (it has to be done via Course Builder which only allows two routes before you have to pay) and I was glad I'd done it as my legs had a feel for what the climb on the first half of the route would be like. I did regret not having done some time trials as part of my preparation because after the turnaround point it was mainly a flat-out downhill pedal on a straight road which is hard to replicate on a Wahoo KICKR turbo trainer. I enjoyed the ride back a lot and set myself a goal of reaching a maximum speed of 50 kph, which I did. However, I should have reminded myself that I was competing in a duathlon, and I would have to run off the bike once I got back!
The transition area was virtually opposite the hotel making for a relatively stress-free race morning. I had to rack my bike the day before so all there was to do was to put the rest of my race paraphernalia with my bike. I was in the furthest row next to a wall and opposite my bike there was some graffiti – an obvious marker for race day. I was in the last wave. As I was in the starting pen it began to rain lightly but fortunately it only lasted for a minute or two, which was a relief to all of us as some of the run was on a tiled and potentially very slippy pavement when wet.
Before starting I was dismayed to hear that one of the GB competitors that we know well had her bike stolen from transition overnight. The area was fenced off but there were no security staff nor any evidence of CCTV. She was understandably distraught, especially as she is a very strong cyclist. One of the standard distance competitors lent her a bike but it was far from ideal. The thief picked the wrong bike as she had put an Apple air tag under the saddle. Whilst she was racing her husband was with the police tracking the bike. The tag was eventually found but it had been separated from the bike. I'm not sure if anyone has been arrested but it is an incident that should not have occurred. A complaint about the lack of security has been lodged. Hopefully the race organisers will have insurance cover as I can't imagine that a personal claim would be successful if you say you left your bike unattended and unlocked overnight.
The race itself was uneventful. The runs were close to the sea, out and back, and mainly flat. There were a lot of enthusiastic spectators, which was great. The bike was up, up, up and then down to a U-turn in the road and then back on the same road. The road surface was excellent. It was a draft legal race but almost no-one in my wave (which was F65+) was drafting as we were very strung out. The final run was tough on legs that had been pedalling so hard and I was relieved to get to the final turnaround and make my way to the start of the blue carpet and a final push (up an incline) to the finish. I heard my name being shouted by the distinctive voice of Jo Lewis. This motivated me to pick-up my pace – Jo has featured quite a bit in my multisport journey (and the journeys of many others), starting with her triathlon training sessions at David Lloyd in Reading about 15 years ago!
As I approached the finish arch, I heard the announcer say that four people in my age group (F65-69) had already crossed the line. I thought I had misheard as I'd researched the race results of the other 13 competitors and had not in my wildest dreams thought that I would be that high up the field! I knew I would not have beaten the three other Brits in my age group as they have all been on the podium at international races multiple times, and this was the case – the Brits were first, second, fourth and I was fifth. The announcer also said I was from the US, fortunately I had enough breath to shout a correction!
A few weeks later I competed in a sprint duathlon qualifier race at Weston Park. I pushed hard on the bike again as I loved the multilap traffic-free course, and consequently suffered a lot on the second run which was off-road and hilly, and I hadn't specifically trained for either! However, I did win my age group and I have just had my Q1 slot for the 2024 European championships confirmed by the BTF. My supportive and long-suffering in-house coach probably isn't as delighted as me as he now needs to up his game to try and get into the GB Team at the last qualifier race, which is in Devon in November, if he's not to be a spectator again.
---
Newbury Duathlon
by Martin Cook
The duathlon is located in Chievley. There's a nice village hall for registration and what I guess are volunteers running the tea / burger stall. Very low key and friendly.
It's a 5k off road undulating run followed by a hilly 25k bike then the same 5k run to finish. The run is best done in trail shoes but I've done it in road shoes and it was ok.
This was about the 5th time I've done this duathlon so clearly I like it. Easy to get to, very friendly and nicely run, cheap and an interesting course i.e. everything that Dorney, for example, is not.
As it's an off-road run and a hilly bike don't expect to score any PB's.
This year the weather was pretty good for racing, calm and cool. The 5k run was a little wet compared to previous years but people still survived in road shoes. I didn't clip my shoes into the bike as the transition is grass and this time of year it would mean mounting the bike with muddy and soggy socks. Even though it is pretty hilly I still used my TT bike. I believe that it takes an extremely technical and / or hilly course to make a road bike faster than a TT bike. The time for my second 5k run was pretty much the same as my first so very happy with the pacing strategy (but I have been practicing this for many, many years).
They have age groups for the results. 1st in the supervets which I guess is 60-69 so a good day out. Even better when I received a £30 wiggle voucher as a prize.
I'd recommend this event to everyone.
---
Dates for your diary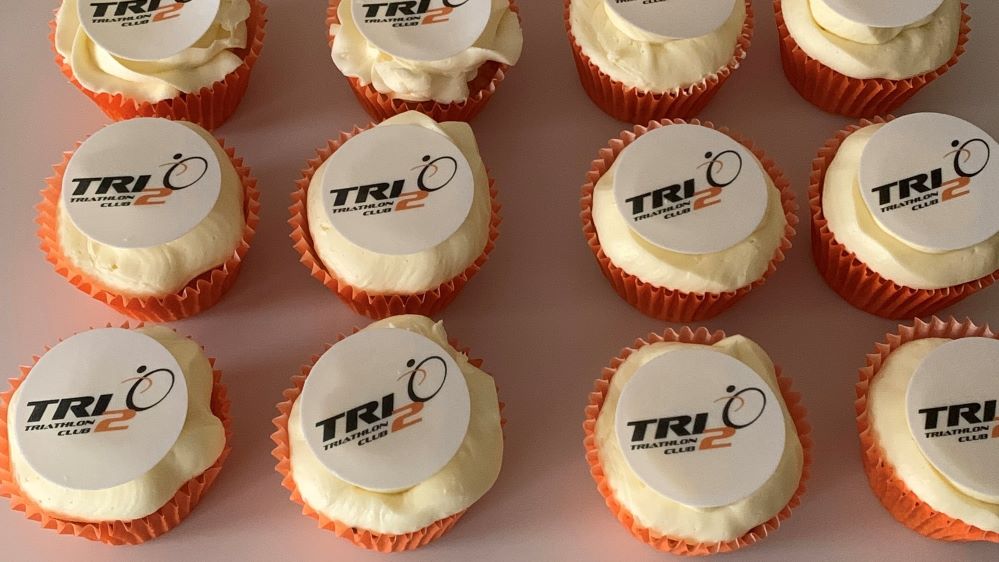 With the weather getting warmer, and as we enter peak racing season we have a number of social events lined up that it would be great to have good representation from the club at. Details of these below, and all events available on Team App to sign up too.
Saturday 17th June – Annual fish and chip ride, it is looking like we should have some great weather for it! Total distance around 180km, or 90km one way. There are 3 options available:
8.30am 13 – 14 mph (21-23 kph)
9.00am 15 – 16 mph (24-26 kph)
9.30am 17 – 18 mph (27-29 kph)
Meet point is at Shinfield View Care Home, with a coffee and cake stop in Selbourne around half way, and of course fish and chips once you arrive at Hayling Island (or I am sure ice creams will be available too!). As always, please make sure you sign up on Team App.
Thursday 22nd June – A busy day for events to get involved in!
Brownlee Foundation Event at Bracknell Leisure centre are looking for volunteers to support mini triathlon events for primary school children. A good way to use a CSR day if you have those available through work! This is not something you need to sign up to on Team App but please contact contact@thebrownleefoundation.org if you would like to volunteer.
In the evening we have a social triathlon with our friends from TVT. Plan is to meet at the lake around 6pm, kicking off with a 750m swim, followed by a 20km bike (the Reading Tri route – great practice if you are looking to sign up this year), short drive transition to the Cunning Man car park, 5km run up the Kennet Canal followed by eating, drinking and socialising back at the pub.
You can take part in as many or as few disciplines as you would like, or also just join for the social. It is a great opportunity to catch up with club mates! Please make sure you sign up on team app and also buy a ticket for this event – the sign up and ticket buying are two separate parts. Signs ups for this will close Saturday 17 June.
Saturday 22nd July – Social club BBQ! Another great opportunity to catch up with club mates, share stories from events you have completed so far this year and perhaps get some tips for those you have coming up!
The BBQ will be held at my house in Farley Hill – lots of good cycle routes around here if people fancied a cycle in the morning, and plenty of places to store bikes if you did fancy cycling over.
Kick off around 1pm – please do sign up on Team App and note any dietary requirements so that we can cater for everyone. It would also be very helpful if people could bring a chair or two / picnic blanket!
August time – dates TBC – keep an eye out for swim and trim sessions to help prep for the Reading Triathlon. This is a chance to bring along all the power tools to do some strimming / trimming back of the bushes around the lake.
Sunday 3rd September  : Reading Triathlon 2023
Thursday 7th September – The second of our socials with TVT where we will be hosting TVT. This will be a relay style event, making use of all the hard work and prep that was done for the triathlon.
It has been great to see so much activity on the facebook page sharing of events that club members have taken part in – please do share your pictures and keep us updated on how you get on (as well as contributing a full race report to the newsletter too!)
If there is anything else you would like to see social wise, or ideas you have please do drop me a note.
Look forward to seeing lots of you at the events we have coming up over the coming months.
Clare Hawthorn
Social Secretary 
---
We would love to hear from you
The next newsletter will be in Aug 2023, please send your contribution to info@tri2o.club before 10th Aug 2023.
We would love to hear from you, particularly if you have taken on a new challenge or are new to triathlon.