Newsletter Aug 2022
Chairman's Update
Dear Tri2O'ers
Welcome to your August newsletter, thanks as always to Sunil for pulling it all together and to all who have provided stories for us to share with members.
Great to see so many of the "Orange Army" making their race / event goals a reality this year. There have been some wonderful Tri2O'er performances across various multi-sport events from podium finishes to personal achievements. Do remember to enter your race results into the Club Championships spreadsheet HERE so we can celebrate your successes of 2022 at our annual awards night (date / venue TBC)
Many of our members benefit from the coaching received whether at a club or private session from our committed group of club coaches, Thank you Georgia, Jennie and Justin for your enthusiasm and commitment to all members of Tri2O.
Our club also has a massive depth of multi-sport experience across our members and answers to any question is just a simple Facebook post (in our private group) away from some nuggets of wisdom.
I have really enjoyed meeting some of our newer members over the past few weeks at various club events. A small group of us took on the annual bike ride to Hayling Island on the 2nd July. Thanks to the cycling "machine" Martin Cook for allowing me to draft most of the way to the beach into a head wind and to Lee Hinton for the enjoyable journey back on the train to Reading. All I would say is that next time I will be eating my fish and chips under a shelter as one particular seagull was getting far too keen on my chips!!
Our Wednesday evening rides have been a hit with some fun chain gangs speeding down Drift Road. Thanks to Clare our Bike Officer and Club Captain Neil for keeping us all entertained. Sunday bike rides from the Hi5 lake are also proving a success. Thanks to those who have joined our ride leader group, I have discovered many new excellent cycling roads in West Berkshire over the past few weeks.
We had a good turn out on the 21st July for our Free Social Swim "down at the lake". It was nice to catch up with nearly 20 members and we enjoyed a dip in the rather warm water and a good chat afterwards. Well done and thanks to Tasha, our Social Secretary for organising.
I hope you managed to watch Alex Yee win gold at the Commonwealth Games. It included some inspiring sportsmanship between Lee and Wilde towards the end of their race. If you missed it click HERE
Good luck to everyone racing over the coming weeks, I look forward to seeing many more pre and post race selfies on our Facebook group and to seeing many of you either racing or helping out at the Reading Triathlon.
As I am away early August on my own Father / Son cycling adventure attempting LeJog with Ed, forgive me if I have missed any recent / notable events in my update.
Enjoy your newsletter and until next time…
Best wishes
Mike Nash
Chairman
---
Reading Tri 2022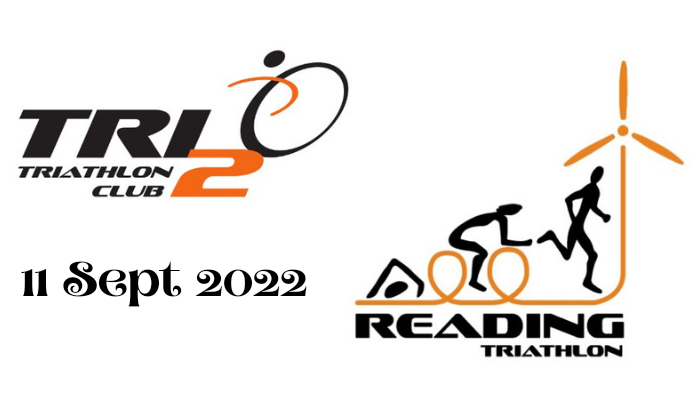 Update from Reading Tri Committee
We are only a few weeks away from the Reading Triathlon. This is our club run event that is well loved by participants and club members alike. As always we can't hold a great event without the help of all of our members.
Over the next four weeks we have over 100 volunteer slots that we need to fill to ensure we deliver a fantastic events for all those that have entered.
Thanks to those members who have already signed up. If you haven't signed up, please sign up here.
It would be great if every member could 'donate a day' Remember that the money we make from our event goes directly back in to the club to help subsidise the fantastic coached sessions that we enjoy as well as events that the club puts on for members. We also donate a healthy sum of money to charity too. If you are racing you can still help out on one of the alternative days, or maybe stay behind to help clear up after the event.
Key dates for your diary:
Saturday 20th August – Swim & Trim – Mainly gardening work around the grounds at the lake to get the course race day ready. Enjoy a free swim in the lake beforehand.
Saturday 3rd September – Swim & Trim – Mainly gardening work around the grounds at the lake to get the course race day ready. Enjoy a free swim in the lake beforehand.
Saturday 10th September – Site preparation – Help to put together the event village, transition and run course.
Sunday 11th September – Event day – Help at registration, marshal on the bike course, parking supervision at Green Park and helping to pack up after the event.
All of the days are fun (we think!), a good team day and it's great to be on the other side of the racing fence helping to deliver a great event for participants. Everyone who volunteers will be well looked after. We will make sure you are fed and watered! Volunteers over race weekend will also receive a Wiggle Voucher (amount tbc based on number of entries we have).
If you are thinking of helping please sign up sooner rather than later, this really helps us with planning… and to manage stress levels in the events team!
We look forward to seeing you soon.
Pete, Georgia & Jamie
---
EGM & Amendment to Club Constitution
Thank you to everyone who attended the EGM on 7th July 2022 and all those who voted on the proposed amendment to the Club's Constitution. The amendment was approved by 80% of those who voted (representing approximately 30% of the total membership). The updated Constitution is now available on our website https://www.tri2o.club/wp-content/uploads/doc/Tri2O-Tri-Club-Constitution-V5.4.pdf
---
Membership Update
We would like to welcome the following new members
David Cooper
Jon Mortimer
Lauren Baker
Louise Born
Tim Giles
We hope you enjoy training and being part of the team.
Nicky
Membership Secretary
---
Coaches' Corner – Summer, holidays, and training
This can be a bit of a funny time of year for triathletes, for a number of reasons. Whilst some of us are in the heat of race season and are still preparing for their main target event in August or September, for others the "A" race has been and gone in June or July. That can leave us in limbo, keen to carry over the race fitness but lacking in drive or motivation for events that may not carry big performance goals with them.
If this is the case for you, then it's important to go back to "finding your why" – something that was covered in the Mental Strength for Athletes Course recently hosted by JC Runs for Tri2O. This can really help rekindle the love of the sport, whether it be because you want to stay fit and healthy for life, still be able to pull on your own pants in your 80s, or be a positive role model for your children. It's a reminder of, quite simply, why we are doing what we're doing and that finish times aren't always the be all and end all.
Summer also comes with potential challenges; hot weather can limit opportunities to train, particularly for those of us blessed with more Northern European heritage (give me the cold, wet and rain any day!), children are off school disrupting routines and childcare, sessions are cancelled because people are away, and then there are holidays …
I thought I'd look up the definition of "holiday" because I think it's important to remember:
Either: "an extended period of leisure and recreation, especially one spent away from home or in travelling."
Or: "a time when someone does not go to work or school but is free to do what they want, such as travel or relax"
The key words that leap out at me from these definitions are free, leisure, recreation, want, and relax.
The definitions of training in the context of sport are less clear, but it's generally taken to mean specific regular exercise in preparation for an event or competition.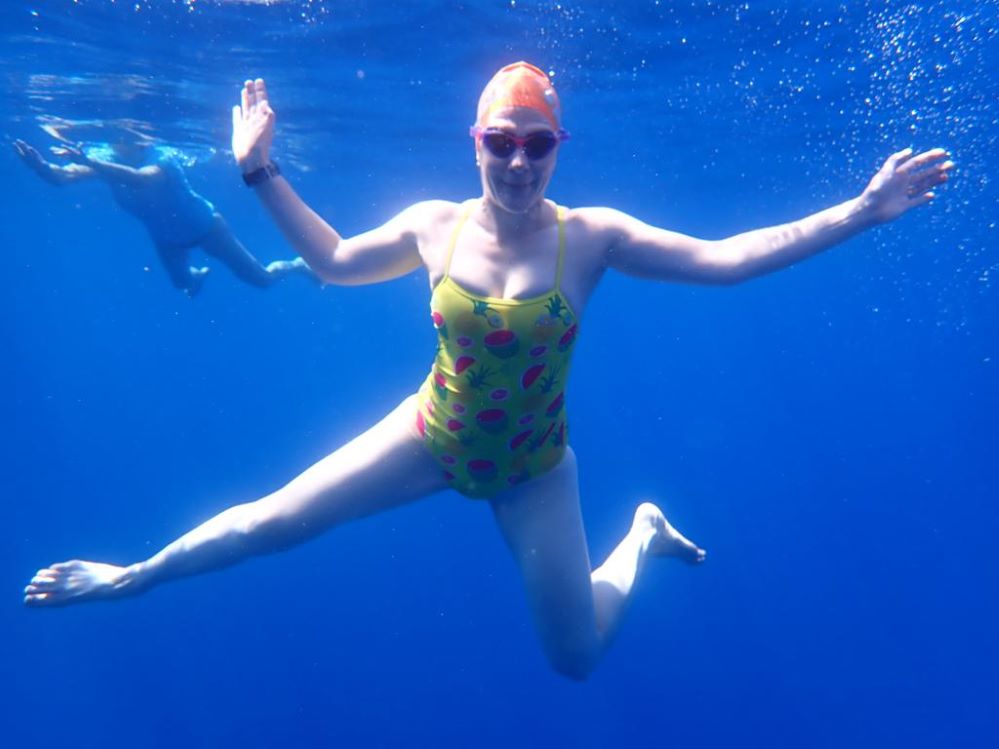 So, what should you be doing on your holidays?! Personally, I think that it's really important to take a complete break from structure and expectation, and training. That doesn't mean you have to lie by a pool all day for 2 weeks without moving further than the bar (BUT if that's what you want to do, and that constitutes rest and relaxation for you, then go ahead and make the most of it!) – it just means being free from pressure and a plan. For a few people, if a holiday falls at a really crucial time in the season in the lead up to a very important race, and you have a coach and a very specific training plan, then obviously talk to your coach about what you might want to do; but this scenario should be the exception rather than the rule.
Instead, try thinking about training in your foundations of fitness, like sleep and getting plenty of lovely fruit and veg and high quality protein! For those of us who are unbearable to live with if they haven't been physically active, then of course do exercise, stay moving, but leave the Garmin at home, keep it relaxed and purely for joy, and forget about targets and structure. Make the distinction between exercise and training. And whatever you do, let go of guilt. It's a largely unproductive emotion. Whatever the data and stats might say, you really won't lose much fitness; enjoy your holiday and come back feeling refreshed, rested, and ready to go, in a better state to absorb and benefit from training when you return.
Happy holidays!
Georgia Jackson
Head Coach
---
IM Hamburg June 2022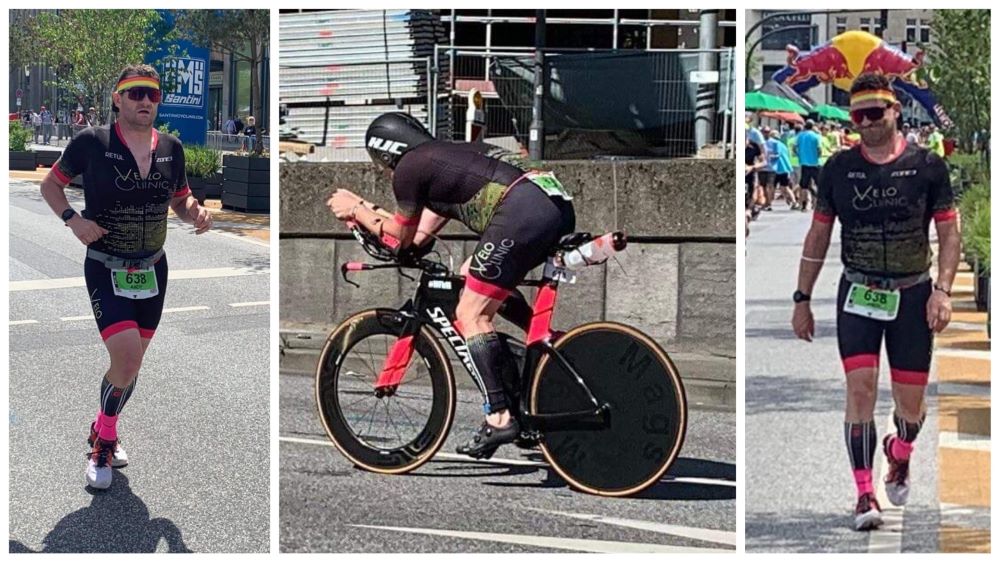 by Andy Tucker
Hey all, I had to write this down as part of my healing process as I have never really done it until now!
Sorry its so long
Normally people write about how great an event they had and its all mega, and really awesome. But I thought I would share my report from Ironman Hamburg from this year with you – I went in with huge expectations and came away pretty scarred!
I had entered IM Hamburg because it plays exactly to my strengths, its a fast bike course that requires you to spend a huge amount of time in the aero position and, given that I have done this for two 12 hour TT's, numerous 100's and 50's, I knew how to hold position and make the most of the aero gains I had.
Training had again been going great, run volume was good, cycling had dropped off a little but made very little impact to my speed, and I had mader huge gains in my swim, so much so that I had thought about achieving a 62/63 minute swim. So, my target for the event was a top 10 AG, around a 9.20-9.30 time and maybe try and squeak a Kona slot too.
At 6 weeks out I went to a trail race with my son Drew. He doesn't really do much running anymore so when he suggested we do it, I jumped at it. Its a race we had done together 6 years ago. Its only 5k and a good fun event – Harewood forest 5k/10k, look it up!
Anyway, being a dumbass I looked at the previous years results and, based on my current run form and pace, I thought I could be in with a shot of a good placing, even though I had just had a hard weekend and was pretty fatigued…….for context, I am an idiot, and should have just run the 5k with Drew for fun, but nooooooo…..male ego is a curse! Safe to say, 4 miles in something went ping in my overly fragile calves and I walked it in knowing that this felt pretty serious…..fast forward the next 6 weeks with little to no run training, and nursing and repairing the calf all the time and it feeling better everyday, I had some pretty good confidence it would hold together if I just backed off the run a bit so adjusted my target to 9.40…..you can almost feel whats coming right!
We drove over to Hamburg, yes its a long way, but road trips can be fun and a lot less hassle with bike transport and rebuild. Hamburg itself is a beautiful city, and well used to hosting a triathlon, with the very popular WTCS event held there. The locals seemed to embrace the 2,500 triathletes who descended on their city. The transport links meant you could stay slightly outside the city and still move around easily, even parking the van underground turned out to be easy…….HOWEVER…….if you do go to this race, make sure you book a restaurant on the Sunday after the race as to our cost this made getting any post race food impossible and we ended up in McDonalds…be warned!!
We had gone with Tim and his family as he was racing too and looking for his 12th race and Kona Legacy (which he smashed, PB'd and finally ran a sub 4 marathon! ?). Both Tim and I registered early and rode the southern half of the bike course. The northern half is around the city which was busy with traffic so we decided that it was a good idea not to pre-ride it. However, we determined it was flat and fast, if a little windy given the open exposure along the river, but hey, its the same for everyone right ?
The pre swim felt OK, and the water while Brown, didn't feel particularly slow….this made my feelings even more positive. We did the local parkrun on the Saturday, and I had no calf issues, so even more positives……looked good here, really good. We racked and went back for some sleep.
Race Day
The 3.30 alarm call never gets easier, but food prep nowadays makes things more efficient and a better breakfast means less toilet visits race time! I jumped on the U Bahn and it was straight out onto the swim start area, load bike with nutrition and kick the tyres, swim suit on and go time!
Swim:
Now, my plan here was to get at the front of the 1h 5 min wave and just behind the 1h wave to find some fast feet and try to hang on, however, the signs for the pens weren't overly obvious so I just got to the front of what I thought was the second wave pen…..actually it turns out it was the first, and by the time I realised this I was being herded onto the pontoon and getting in the water….crap, this was waaaaaayyyyy outside my swim comfort zone, these boys and girls can swim, so even though they were setting us off 6 at a time at 6 second intervals. I was swamped within seconds, being swum over, kicked, dunked and all sorts, totally totally did not belong here, and while I usually like a good bun fight at the swim start that was normally at my pace and I could always hold my own, this was a different story. I panicked big time, gasped for air and just tried to get out of the way. My rhythm was off, timing was all to cock and I looked like I couldn't swim and was back to my old bad technique ways. Its funny how the mind plays tricks with you. The feet I was trying to follow were just too fast so I blew myself up a bit trying to hang on, then the water beyong the bridge started to get a bit of a swell due to the increased wind. I just had to re-group and accept this was not going how I had planned. So I was soon swimming to the exit and the noise of the crowd was immense and very exciting, I exited the swim in 1.11, unsurprising, but utterly disappointed.
Transition is loooong, like an extra kilometre long so takes ages to get through it, no issues here except its really thin and people are sprinting through pushing past you then stopping dead at the mount line while I fly past them again mounting….learn to mount people, its the 4th discipline!!!!!
Bike:
Again, I had a big target here, originally I thought I could go close to 4.30, but adjusted this to 4.40 just because of some areas that were a bit crap on the surface, but its basically an individual time trial with very little technical sections, but some wind to contend with.
Having started so early in the swim I found myself further forward on the bike meaning I was with some good bikers, and we managed to form some bike trains at the legal 12 metre distance, well almost. I did remind one Danish fellow that 2 metres is NOT 12 metres, and also if you want to sit in this group of 6 then please do a turn!!
I eventually found my legs a bit more and started riding further up the road to some more packs. As it was an out and back course I saw Laura Phillip going the other way, so I clock the time and where this was and then when I came back the other way I was 'only' 25 minutes behind, pretty cool that. The front Age Groupers also can't get 12 metres right either!
I was riding to my numbers pretty well, but the wind was stronger than expected, and having a big shoulder profile meant I was suffering a little more than the smaller guys, but was doing OK. Its a 2 loop course so I was soon back into the city and to the turn point where we saw our supporters and the huge crowds lining the streets – its an event with great support.
I was expecting to be a little higher up the field but Teresa held up the split board that had me 15th in AG, ah well, get the head down and keep those legs working. Riding back out of the city I was part of another group of 6/7 guys and one of them was on a road bike with no clip ons and he was pulling monster turns and he eventually dropped us, an absolute beast and massive respect to this guy, I have forgotten his number but damn he was fast! The 2nd loop was a little warmer than this first so just took on a little more fluid and kept on top of my hydration, nothing more exciting happened, but we were coming up on the back of the race and just had to be a little more cautious on the overtakes and staying out of the draft zone.
Coming back into the city it was time to get ready for the run. The biggest unknown was how would my calves hold up. I reminded myself not be a dick and start running too hard and to get those calories in ready to run. While my target bike time of 4.40 was missed, I still rode a 4.49 which post race data analysis showed as 15 watts under race target power, so I know I can go faster!
I got to see Tim a couple of times going the other way, so I knew he was safe. I jumped off the bike into T2 and racked…..now it was time!
Run:
Ran out of T2 very cautiously, body felt great, was around 8.50 minute mile pace and comfortable, calves felt OK, saw the team and smiled with a big thumbs up. One thing I did notice was it was HOT but having done Vichy in 33 degrees heat I should have been used to it. Aid stations were great and I took on water. All my nutrition is liquid based nowadays and works really well, so I run with a bottle belt, a bit like the infamous Lionel Sanders, it works for me and just means a visit to the special needs on every lap. This is great, I'm moving really well, then 2.5 miles in, the pain comes back, not even slowly, just bam, straight pain. I knew straight away it was over, I tried to hobble run but it just got worse, so the walk happened. Its really soul destroying to hear spectators call your name saying keep going Andy, start running Andy, don't give up Andy, I knew they meant well, but sometimes I wish they wouldn't.
I got to the end of the first lap and spoke to Teresa, I wanted to step off the course, I am a racer not a walker, but she reminded me that I had pulled out of Portugal back in October (2 weeks after my world record for 12 and 24 hour 3-legged run) and I couldn't do it again…..then Tim's 14 year old daughter Emma said to me 'what sort of message does that give to me Andy, just giving up'…..I mean, what the hell do you say to that!!
So, I walked on, it takes bloody ages to walk a marathon, in fact it takes 6h 30min…..ages. I was bored, but it does give you some time to think. I actually ended up walking the last two laps with a guy called Peter, we swapped life stories, and triathlon stories, and he managed to finish strongly too. Tim passed me on the second lap and was moving really well, as I said before he finally went under 4 hours for his marathon, great stuff man. I walked over the finish line in 12h 37min, found the crew, found out about Tim, then tried to find some food.
Post race thoughts:
I have signed up again already to go back, it has everything going for it as a race, a venue and now we know the little things we can do better next time I know it will be even better (book a restaurant for Sunday night!).
It took me weeks to digest this one, I was fit, I was fast and I was in great shape, nutrition was 100% on point. I knew I could deal with most things but again my legs let me down running, things are being done to rectify this and I know the reasons, but this result broke me physically and mentally. I parked my bike, goggles and trainers for 6 weeks and became pretty miserable, work got stupid busy again (NHS worker, Covid etc) and I tried to race at Cotswold 113, where I swam then pulled out of the bike 4 miles in and bawled my eyes out. I took a week off work and had to regroup. I am back training again, but without big structure, but certainly a purpose to fix/repair the issues. We will see what happens, but writing this was part of the grieving process, yep, I do mean grieving, because I put a lot into this, I set myself big goals and I am not ashamed to put myself out there. I've never been great at anything, but I do try really hard and always give it my all.
Thanks for staying with me, and here's hoping for next year, but damn, those German 50-54 year olds are fast dudes!!
---
Castle to Coast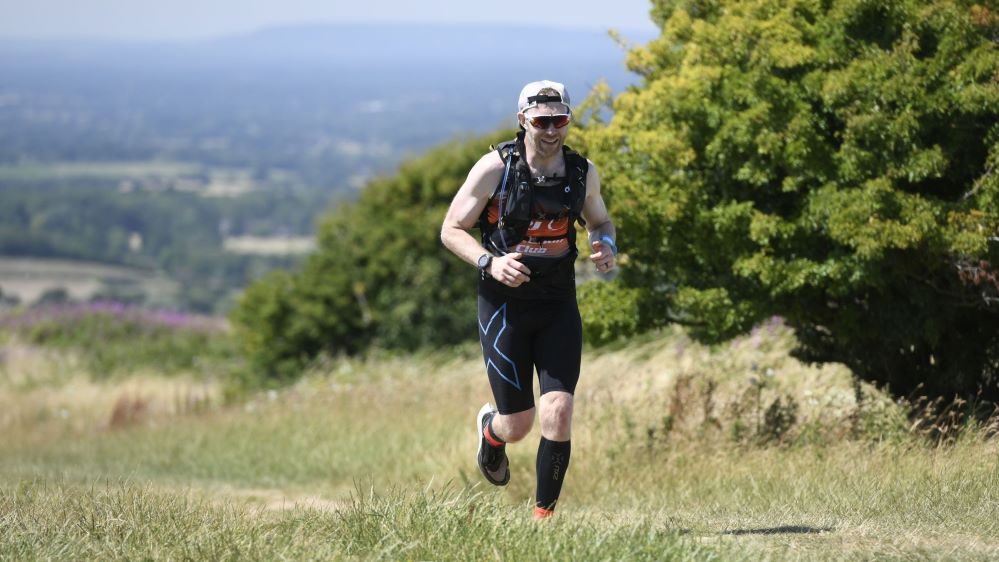 by Paul Archer
When this event popped up on my Facebook feed in the heady days of 2021, it immediately grabbed my attention – a point-to-point middle distance-ish triathlon which starts at the Olympic venue of Eton Dorney, takes in a cycle over the Surrey Hills down to Sussex and ends with a run down to Brighton. What's not to love?
Very much sold as a 'triathlon sportive' with no racing prerogative, the challenge is very much an internal and individual one with a wide range of participants – from first timers to seasoned half iron competitors, with a few groups and relay teams chucked in too. As its a point-to-point event, I had spent most of the prior week stressing about what kit for what transition and where it was going to end up (and what about the bike??), but Saturday morning came and massive excitement about my 2022 'A race' ensued.
Having never swum at Eton Dorney before, the opportunity to start a tri at an Olympic venue was pretty cool. With the water at 23C, it was quite easy to find rhythm and enjoy the splashing serenity of the 1900m course – the hours spent in the pool under the coaching of Jennie and Georgia have definitely helped my swim efficiency!
Against the majority who attacked the whole event in a tri suit, I decided on a two stop strategy. Changing into bike kit in a pop up tent at 6'2" is a tricky endeavour, but I had decided comfort was going to be my guiding principle of clothing (sacrificing a lot of time in T1).
The bike course exited Dorney and wound through Eton and the outskirts of Windsor before starting to head south over some of the less well-known Surrey Hills. Two well stocked fuel stations at well thought through intervals helped to keep energy levels high as we wended our way through a lovely rolling route down towards Hassocks for T2, about 14 miles north of Brighton.
An even slower T2 into full run gear included the recommended hydration pack – running in one for the first time was an experience, but I was glad of it. The weather had been kind and, despite the trail nature of the run, road shoes were fine. I'm not going to sugar coat the next 14 miles – it is tough, but the views over Brighton and out to sea are amazing. Three big hills before you hit the windy and busy seafront with 2 miles left – tanks start to empty quickly!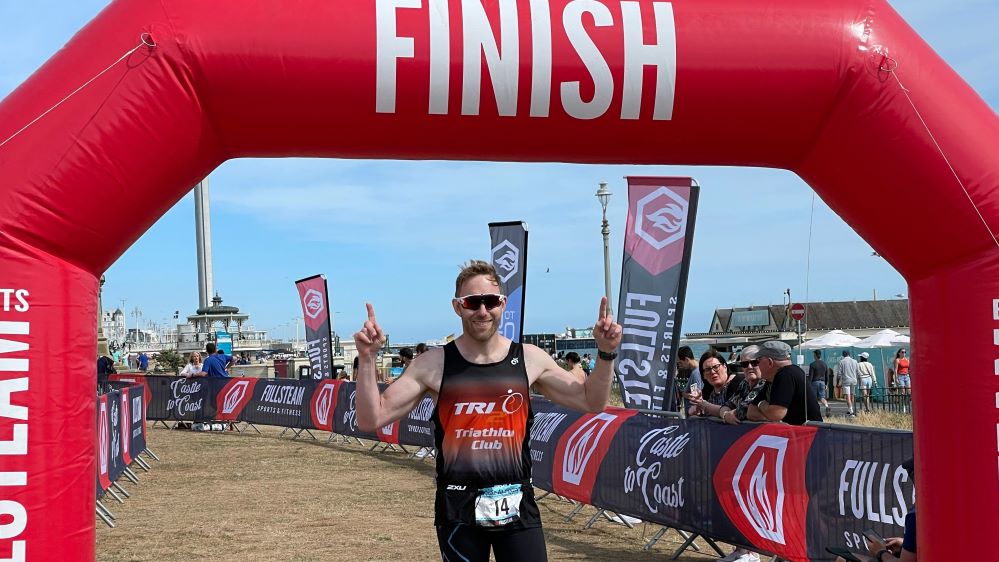 Having said that, crossing the finish line felt like the end of a real adventure and an opportunity to bask in the sunshine on the beach. After the initial nausea had settled down, the free empanadas and salad combined with an ice cream was a good start to post-race recovery and the air conditioned bus back to Eton Dorney was much appreciated. The bag drop system had worked itself out, with all kit ready for collection.
Overall, a well run event on a unique course – given the relative difficulty of the run I was surprised at the number of first timers, but everyone crossed the finish line with a big smile. I'm already looking forward to 2023, a big 'would recommend'.
---
Long Course Weekend, Wales 2022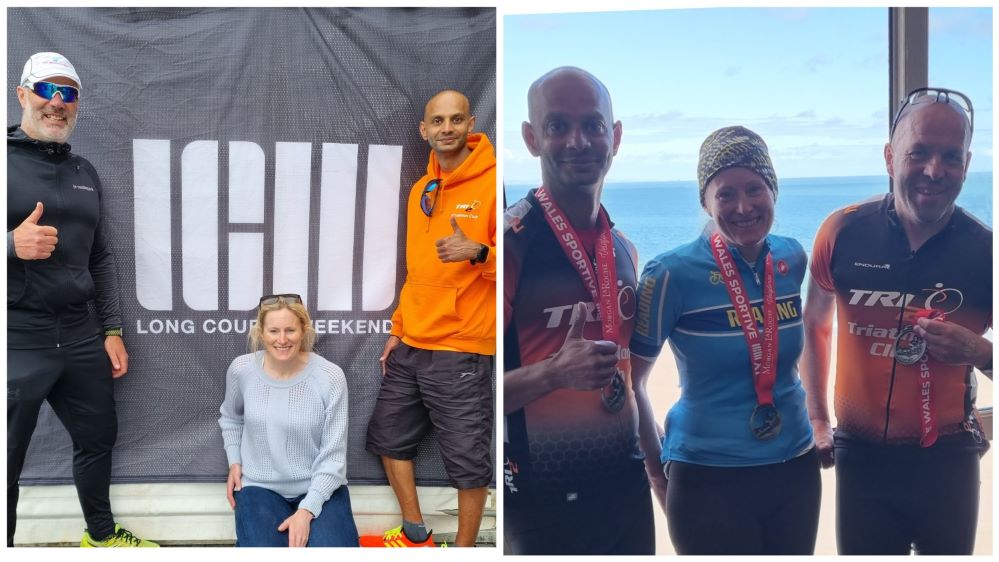 by Sunil Fernandes
What is the structure of a Long Course Weekend?
Athletes can select swimming, cycling and running events of varying distances, tailoring the course to their preferences and ability. There is the option to enter just one discipline, multiple disciplines or the entire Long Course Weekend (LCW).
For the swim, athletes can compete in either the 1.2 miles or 2.4 mile distance. The cycle features 42 miles, 70 miles or 112 miles option, while the run consists of a 10km, half-marathon and marathon distances. For those looking for even more of a challenge, each event offers a Long Course and Half-Distance option. The former involves the longest distances for all three disciplines, while the Half-Distance provides athletes with the chance to take on half of this, otherwise known as middle-distance length disciplines.
Those who finish all 3 full events within the cut-off time get a 4th medal at a red-carpet medal ceremony on Sunday evening.
I had signed up for the full and my aim was to make it to the red carpet and claim the 4th medal.
Four of us from Tri2O were doing the full – Cliodhna, Justin, David Lennon and myself. Lucy was there to support and cheer us on. After a 200-mile drive, Cliodhna & I arrived at Tenby and it was buzzing. Around 2000 athletes were taking part at various events/combination of events over the next 3 days. After registrations headed to our hotel for rest and prepare for the 7:00 pm swim.
2.4 miles sea swim
My swim events are never without drama. This time I had trained extra hard for this leg. Swam at the lake 4-5 times a week to build my confidence. Also made couple of trips to the sea side to practice sea swim, including one absolutely horrid swim at Bournemouth where the waves were so strong that it took me over 15 minutes of fighting the waves to get 200 meters into the sea.
Cliodhna and myself arrived at North Beach, Tenby for the swim which was scheduled to start at 7pm. The sea looked calm with hardly any waves, and it immediately put a big smile on our face and calmed our nerves. The swim started at 7pm with lots of fireworks… 100s of swimmers rushed out to the sea. I waited for the mad rush to calm down before gingerly walking my way into the sea. The swim started well. I had to do 2 loops of 1.2 miles in under 2 hrs to stay in contention for my 4th medal. 400 meters into the swim and I was swallowed by a huge wave… where did that come from???
Thinking it's a one off. I regained my composure and carried on, only to be swallowed by another one… I could see the safety team were no longer standing on their paddle boards, they were all lying down or kneeling on their board to stay on the board… the sea was no longer calm. It had turned choppy… Huge waves… no time to panic … don't fight the waves…
As I reached the first buoy the waves had gone worse, I was held up for quite some time at first buoy as there was a quite a large number of swimmers struggling to turn at the first buoy.
The swim from first buoy to second was like a roller coaster, I was tossed and thrown around like a rag doll. I could not see the buoy marker as it kept disappearing with the waves. Luckily the RNLI base on top of the beach had a distinct red roof and I used that to guide me second buoy. Once I made it to second buoy the third buoy was on to the beach and then a short run on the beach and repeat for second lap.
I made the first lap in just under 50 minutes which gave me 70 minutes for lap 2. As I lowered myself into the water, It took all the will power I could find to head in for the second lap. The second lap was no different. I don't think I've ever been thrown around so much! It felt like I was being dropped back into the water at times. Somehow made it in 1:48 minutes.
The swim was character building. I was cold, my fingers had gone white, shivering, feeling dizzy from being tossed around and having swallowed far too much salt water.
I saw Lucy who was volunteering at the finish, she was a bit concerned on seeing my condition, but she was already attending to few other swimmers who were far more worse off then me. I collected my medal and quickly changed into dry clothes. Met up with David and Cliodhna near the changing area and we were all glad to have survived.
Bike 112 miles
Bike was a staggered start from 7:15 am with 70 miles cut off at 13:00 and a final cut off at 17:00, which would give me around 9:30 hours to complete the ride. Leading up to LCW, I have done plenty of 100+ miles training rides to prepare myself. Cycling in Pembrokeshire is a completely different ball game – it's all hills! You're either going uphill or downhill on that course.
I woke up at 5:00 am to fuel for the day, had a one-hour power nap and cycled 5 miles to the start. I started my ride at 7:30 am and had planned to draft my way, but with the number of hills and constant ups and downs it was near impossible to get a chain gang going. The feed stations were well stocked, and I made sure I stopped at all of them to top up my water (it was hot day). I managed to get to the mile 70 cut off with 1 hour to spare. I had plenty of time to finish the rest of the ride at an easy pace and save myself for the marathon.
I caught up with Cliodhna at around mile 70, she had started as early as possible to make the 70-mile cut off time. She was riding strongly. Over the next 30 odd miles we would keep passing each other. She would pass at the feed stations and I would be passing her up the hills.
The ride was a bit windy and it rained couple of times during the ride, at one point it was quite heavy and I was regretting not getting my rain jacket. Luckily, I had my wind proof gilet to keep me warm. The ride was pretty uneventful with lots of hills and solo riding until mile 75 where I had a visit from the puncture fairy 🙁 The hissing sound from my front tyre sank my heart. I hate fixing punctures, especially in a race, so I ride with slime gel in my tube; luckily the sealant worked its magic and sealed the puncture and allowed me to carry on. A quick check of my tyre indicated that I had not lost much pressure so I could ride on. However, the wet roads and constant hills did not allow the sealant to set properly. Every now and then I could hear more hissing sounds and more air and sealant escaping. I was now counting down the miles and cycling in time trial mode to make sure I make it back before the tyre goes flat. But sadly, my luck and sealant ran out at mile 95 – 17 miles to go… I had to stop and replace my tube.
I had just about removed my tyre and out of nowhere a car stopped right beside me and out stepped a man with the biggest track pump I've every seen, and when he uttered the magic words "Do you want me to fix it" I had the biggest smile ever 🙂 He was the event support mechanic and on his last rounds picking up unlucky cyclist with mechanical issue. He swapped my tube in under 2 minutes and I was on my way again… No more dramas, I made it to the finish in just over 7 hours.
A tough ride! A hot ride! A scenic ride! The finish was all uphill. When you are have given it your all, the steep uphill finish is cruel.
Marathon
I have never been so marathon ready in my life. Running three back to back marathons in 3 weekends in Oct 2021 had given me a massive confidence boost for my marathon running. I had trained well for this event, combining lots of 100+ miles bike rides followed by 3 hrs long runs on weekends to prepare for the shock of long runs followed by long bike.
There were three different running events taking place; Marathon, half marathon and 10k. I loved the way the starts were arranged: the marathon starts at 09:00 am from Tudor Square, Tenby, the half-marathon starts at 11:00 am from the marathon's half way mark, and the 10k starts at 1:30 pm from the marathon's 30k mark. We all start at different times from different locations but finish at Tenby at almost the same time.
When I arrived, the atmosphere was electric. I met quite a few people I had become acquainted with over the course of the weekend. The marathon route is one big hilly lap. It was a hot day but there was water/feed stations every 4 miles which should be good enough. I had a simple plan in mind; run easy, walk the hills, finish the race… nothing dramatic.
The race started on time and we looped around the streets of Tenby before heading out to the hills of Pembrokeshire. There was a great atmosphere and support all along as we snaked around the streets of Tenby. The aid stations were well stocked and having fresh orange slices was an added bonus. I had reached the half way mark (13.1 miles) in 1:50 hours. The wall of noise that greeted us marathon runners as we reached the half way mark will remain with me forever. As mentioned earlier, the half-marathon starts at 13.1 miles at 11:00 am. At this point the 100's of half marathon runners were lined on the right side ready to start their run in 10 minutes time. As we ran alongside them, they were cheering us on, along with drums and band lined up on left side … The noise was insane. I met Justin who had dropped to half-marathon. A quick high-five and on I go.
It was the same at 30k mark, 10k runners were lined up on either side. Most of them were elite runners donning either England or Welsh jersey as this was an England athletics and Welsh athletics age group qualifier. Edwina was also scheduled to run the 10k with England AG athletes, but had to pull out as she was not well.
The red-carpet finish at Tenby did not disappoint. People lined up on both sides egging you on to the finish. All in all a great marathon, stunning views, great support… another sub-4 marathon ticked off.
The Medal Ceremony
The weekend is brought to the close with the very special 4th medal ceremony. After three days of endurance, fun and emotion, athletes who complete all three full events get to walk the red carpet to collect the 4th medal – LCW finishers medal. We all have to wear the LCW finishers polo shirt and have all our medals on display for the final event. A great way to sign off from Tenby.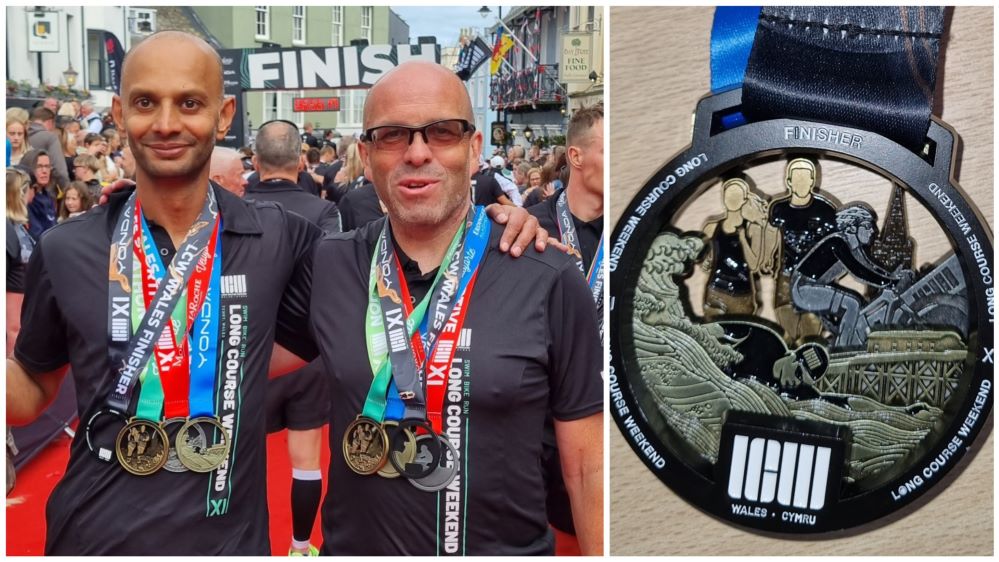 LCW has been an event which has scared me and fascinated me at the same time. Doing one event a day looks easy on paper, but statistics tell a different story; 1/3 of the athletes DNF the full LCW. If you don't train well its brutal. I had this on my bucket list since 2019 but I also had a lot of self-doubt; would I survive the swim, would I survive the sea, would I hit the wall in the marathon. Building up the swim fitness and doing the Serpentine swim gave me a lot of swim confidence. Doing a 50k ultra after two back to back marathons reassured me that I would not hit the wall. Lots of people to thank on my journey to successfully completing my LCW, but I am not going to name individual names. Tri2O club and its members have helped, inspired and challenged me to take on challenges I never knew were possible.
---
Winter Run competition 2021-22
Well done to everybody who put in an effort for the winter running series, be that for the competition of the social side!
However the results are now in for the competition!
Drum Roll Please…
  Name                    Points
Christopher Webber         595

Andrew Webber            585

Edwina McDowall           575

Sally Waterman             555

Geoff Barlow               500

Nora Holford               495

Anthony Hayes             415

Liz Ganpatsingh            390

Sean Stewart               380

Roger Ganpatsingh         315
---
JC Runs / Mental Strength for Athletes
During July we ran a fascinating Mental Strength for Athletes course led by JC runs. We had a super group of 13 Tri2O'ers participating either virtually on Zoom every Thursday evening or catching up via Zoom recordings in their personal time. Each session had a great build, from session 1 goals, knowing your why and dreaming big to session 2, mental resilience and accountability, session 3 getting to grips with visualisation to session 4 bringing it all together. I personally found his models, tools, and techniques great to highlight different opportunities to build a sense of clarity and purpose to training and racing. Great feedback from one of our Tri2O'ers …. "I really enjoyed the 4-week course, it showed us that the mind can be our friend and our biggest enemy. Mental strength training will now become part of my overall training." If you are curious to learn more, check out https://jcruns.com/. Finally, I am happy to organise another course, if you are interested ping me a message and I will look at options for the winter!
Happy running!
Edwina
---
Dates for your diary
---
We would love to hear from you
The next newsletter will be in Oct 2022, please send your contribution to info@tri2o.club before 10th Oct 2022.