Newsletter – Dec 2019
Chairman's Update
Dear Tri2O'ers,
I hope you have enjoyed some festive cheer & are finding some time over the holidays to plan races / events for 2020!
We have had a great 2019 as a club with some fantastic achievements from club members in many multi-sport events & it was a privilege to present the winners of our club awards at our Tri2O dinner on the 23rd November. A massive thank you to our Social Secretary Tasha for making the awards night such a fun and enjoyable evening.
I would also like to thank all members of the Tri2O committee for their commitment to the club throughout last year & to those joining our new committee roles, we really do have a super group of committed members in our club.
Alongside this, it is great to see our communications "department" keeping everyone updated with news & events. Do keep a lookout for some further interesting & exciting seminars / workshops being organised for the New Year all designed to help us with our own Triathlon journey!
Please put the 13th of September in your diaries as this is the date for our very own 2020 Reading Triathlon and the proceeds of this event keeps our club running smoothly, therefore your help & support will be greatly appreciated..
If you wish to contact myself or any committee member please do, we are always happy to help.
May I wish you a healthy & prosperous 2020 & thank you all for making Tri2O such a wonderful, friendly & inspiring Triathlon Club.
Best wishes
Mike Nash
---
Tri2O Award Winners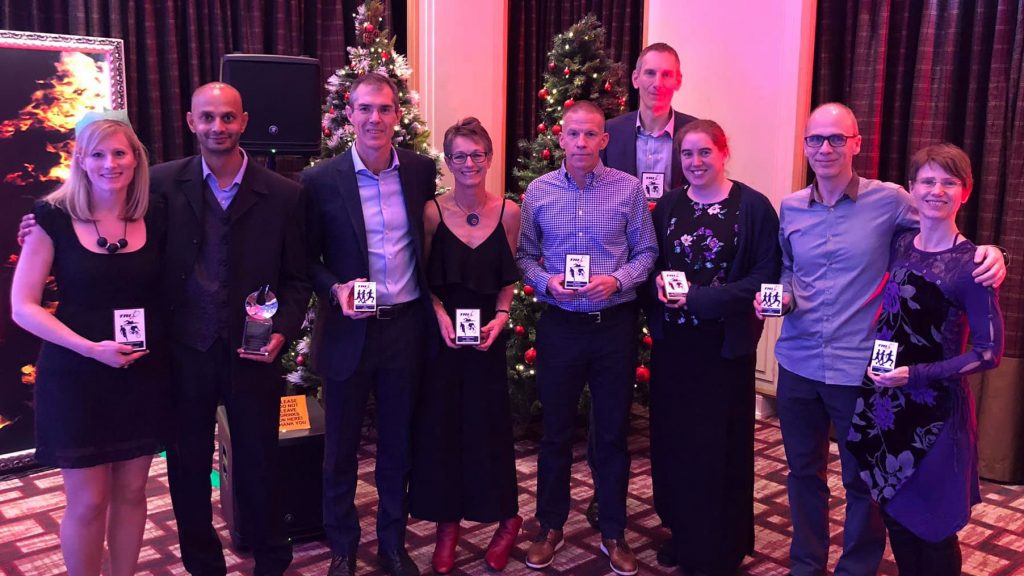 The well deserved winners are:
Winter Running competition
1st. Sean Stewart
2nd. Heather Phillips
3rd. Anthony Hayes
Toughest female :  Sally Waterman – For persevering with competition at a high level despite worsening lymphoedema to be 3rd Brit at the 2019 Sprint Duathlon World Championships, securing an automatic place for 2020
Toughest male : Martin Jeffery – For completing the Coast to Coast Dragon Duathlon in Wales: 254k cycling with 3200m of climbing & 31k running with 2900m of climbing, in 10th place (only 32/50 people finished)
Most improved female : Cliodhna Kennedy – For improving her stamina and tolerance of cold water to complete the 45k Breca SwimRun: 9 runs (38k) & 9 swims (7k) across the four Lakes, up and down the fells between
Most improved male : Paul Burrows – For dramatically improving his bike and run times to give himself a chance of qualifying for the ITU World Championships in 2020 at triathlon and bikeathlon
Best female multi-sport performance : Clare Fox – 3rd place overall at the Savage Series, 6 very tough races over 3 weekends in Wales, a sprint on Saturday and (long) standard distance on Sunday
Best male multi-sport performance : Nick Silcox – AG win at Outlaw Half in Nottingham
Henderson Personality of the Year : Sunil Fernandes – For his enthusiasm and willingness to help with a smile on his face and tirelessly encouraging members to participate in Club events and arranging the Club's mass volunteer debut at Prospect parkrun
---
Membership Update
Since the last newsletter, we have a lot of new members. We welcome the following:
Ben Cartledge
Chloe Chan
Ben duBernard
Nicola Gillard
Clive Goodwill
Leanne James
Ellie Kenrick
Jed Kenrick
Rory William
We hope you are enjoying being part of the club!
---
Meet your Committee
Following the AGM on 23rd Nov, the following have been elected on Tri2O Triathlon Club Committee.
Main Committee Members
Chairman – chairman@tri2o.club  – Mike Nash
Secretary – secretary@tri2o.club – Sally Waterman              
Treasurer – treasurer@tri2o.club – Stuart Jay              
Head Coach – coaching@tri2o.club – Sean Stewart
Communications Officer – info@tri2o.club – Sunil Fernandes
Social Secretary – social@tri2o.club – Tasha Skidmore
Club Captain – clubcaptain@tri2o.club – Phillip Wood
Subcommittees
Communications Committee
Communications Officer – info@tri2o.club – Sunil Fernandes
Membership Secretary – membership@tri2o.club – Nicky Rumsey
Webmaster – webmaster@tri2o.club – VACANT
Social Media Officer – media@tri2o.club – Justin Watkins
Kit Officer – kit@tri2o.club – Heather Phillips
Coaching Committee
Head Coach – coaching@tri2o.club – Sean Stewart
Swim Officer – swim@tri2o.club – Susan Martin
Bike Officer – bike@tri2o.club – Simon Barbour
Run Officer – run@tri2o.club – Edwina McDowall
Activities Coordinator – workshop@tri2o.club – Susan Martin (interim)
Welfare Officer – welfare@tri2o.club – Cliodhna Kennedy
Reading Triathlon Committee
Race Director – events@tri2o.club – Pete Gough
Reading Tri Team Coordinator – Georgia Jackson
Reading Tri Team Coordinator – Jamie Shillam
Reading Tri Marketing Coordinator – Neil Harris
---
Tri2O Winter Running Competition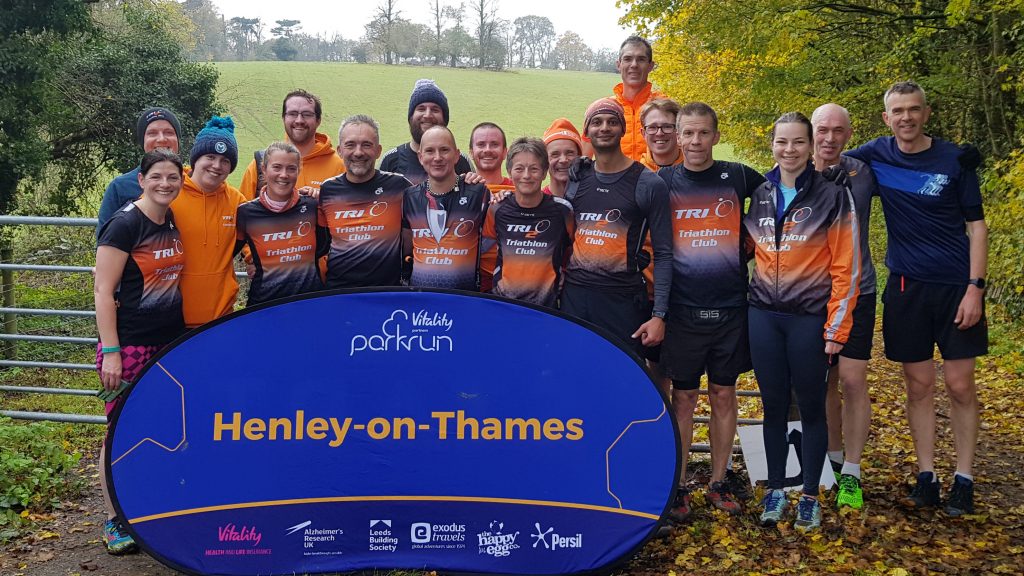 The Tri2O Winter Running competition is well and truly underway and the top 5 spots are very hotly contested.  Click here for full results of the Tri2O Winter Running competition.
Here is the schedule of the remaining events in the competition. 
---
Prospect parkrun takeover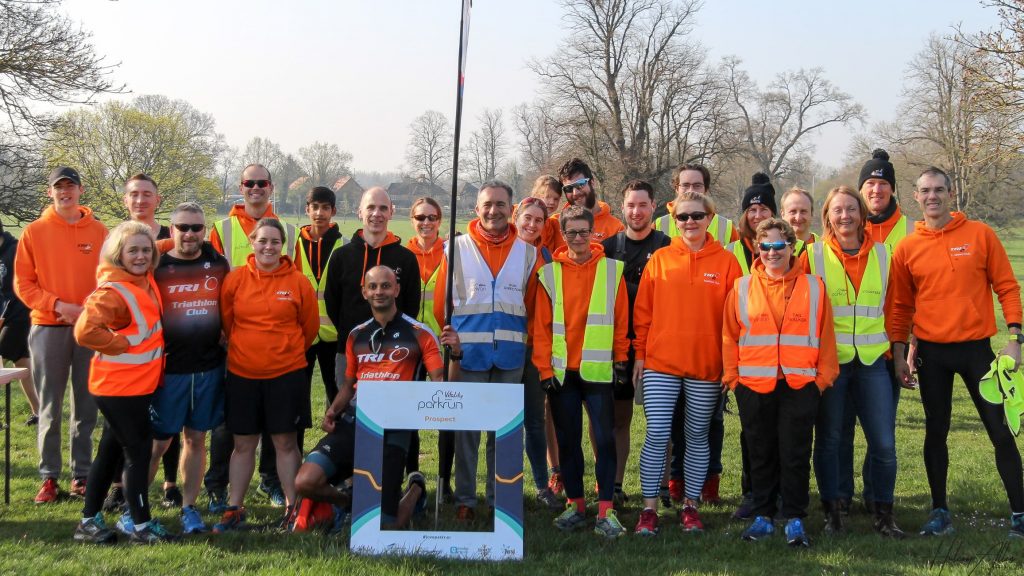 After a successful  takeover of prospect parkrun in March 2019, we have decided to make it an annual event. 
Save the date – 28th March 2020 – Tri2O Prospect parkrun takeover.
The take over involves us providing volunteers for all the jobs that make parkrun work every week. We would also like to get as many Tri2O members as possible to run. So if you haven't done parkrun before this is your chance to take part in a free 5k run at Prospect park.
And yes, there will be cake 🙂
---
Your contribution…
We would love to hear from you particularly if you have taken on a new challenge or are new to Triathlon.
The next newsletter will be Feb 2020, please send your contribution to info@tri2o.club before 15th Feb 2020.