Newsletter Dec 2022
Chairman's Update
Dear Tri2O'ers
A warm festive welcome to your final Tri2O newsletter of 2022 and another inspirational read, thanks to our "editor in chief" Sunil Fernandes for pulling it together.
Sharing of stories is so important and very inspirational, we have three crackers this time round….
Theresa Robbins

giving us a wonderful insight into her epic Ironman 70.3 World Championship Final in Utah! plus….

Martin Cook

who has kindly supplied another great narrative of his latest World Champs qualifier with some super tips for the veterans amongst us.

Martin Jeffery sharing his experience representing Team GB at the World Championships in Abu Dhabi.
If you have a triathlon story to tell big or small please do share it with your club mates in a future newsletter.
It was great to have a well attended AGM last month, thank you for those who attended and for those of you who could not, the presentation and draft minutes can be found on the member area of our website HERE.
In addition to my recent email, I would like to extend a very warm welcome to those members who have kindly stepped forward to fill the vacant committee roles and a massive thank you to all outgoing committee members.
The date for our Annual Awards Presentation will be announced soon by our new Social Secretary Clare Hawthorn. In the meantime you will have received an email asking for your Nominations for specific Club Awards, please do take some time to submit your nominations for your worthy winners, these will then "go to the vote" of all members.
We can then celebrate and recognise the winners for their achievements along with the winners of our 2022 Club Championship categories early next year, looking forward to seeing you there.
I sincerely hope that you have had a fun and enjoyable year as a member of the "Orange Army" whether joining in every event and training session or just watching from the sidelines, feel free to contact myself or any of the committee if you have any feedback.
Tri2O is a great group of people, and although we are here to get the most from our own multi-sport adventures, it is even more rewarding to cheer on and support others on their journeys, thanks to you all for a super year.
Wishing you and your families a wonderful festive season and a healthy and prosperous 2023.
Best wishes
Mike Nash
Chairman
---
Membership Update
Hi all

Firstly, a big thank you to Nicky for her work as Membership Secretary. She has handed over the reins to me, and we're all praying for a smooth transition. If you hear of membership things not working as they should, please let me know and I can then work out what I am doing wrong!
We would like to welcome the following new members who have joined since the last newsletter in October
Adam Redpath
Ben Duggan
Hannah Evans
Kieron Cartledge
Matthew Brazier
Paul Glover
Simon Williamson
Tammy Clark
Tom McClelland
We hope you enjoy training and being part of the team.
Please don't forget to sign up to your sessions on Stack TeamApp in advance and join the club Facebook group. You will have had a welcome email with the links – please let me know if you did not receive this.
Also as a wider reminder, our membership year has now changed to start in April – if you previously were a member last December, your membership for 2022 was changed to reflect this at the time of renewal, so you will not see another renewal email until March 2023.
Anthony Dench
Membership Secretary
---
Ironman 70.3 World Championships, St George, Utah, USA – 28th October 2022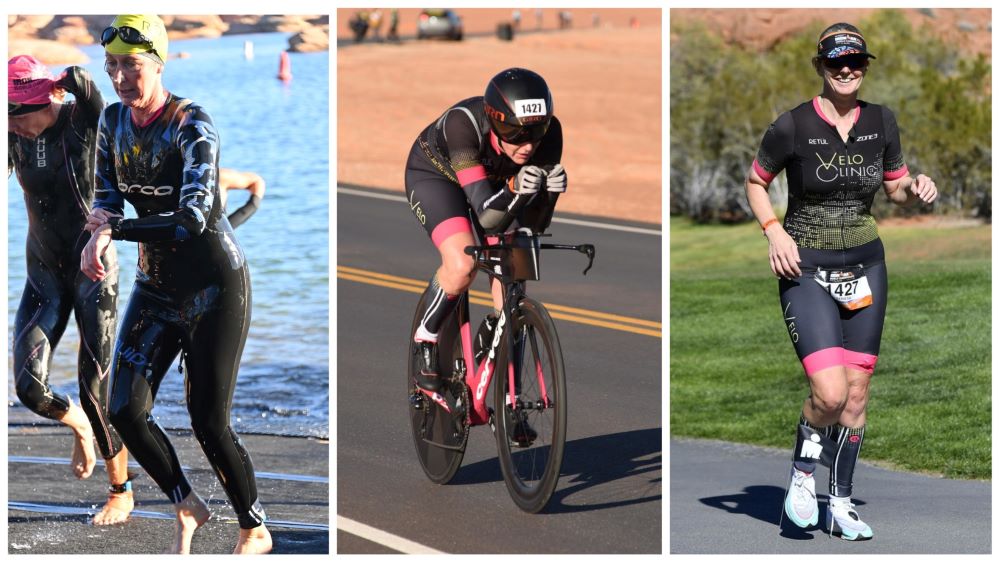 by Teresa Robbins
My journey to the Ironman World Championships has been much longer than I ever expected, but I can honestly say despite a number of challenges it was well worth the wait.
I entered Ironman 70.3 in Vichy, France in 2019 as a relative triathlon novice. I'd only done a couple of sprints and one standard distance before but knew from my pure running days that longer distance events suit me better. So, I thought, what the hell, let's give it a go and signed up. To my complete surprise I came 4th in my age category and managed to get a slot for the World Championships on roll down at that race in August 2019, my first attempt at the distance.
I qualified for Ironman 70.3 World Championships in New Zealand in 2020 as an F45-49. Well, we all know how 2020 turned out and New Zealand was the hardest possible place to travel to, so the race was promptly cancelled. Ironman confirmed that all qualified athletes would be deferred to 2021 race, but the race would be in St George, Utah. I was excited to have a date and something to look forward to. However, in September 2021 most of the world and including all of Europe were not able to travel to the USA, so once again, Ironman confirmed athletes from these countries would be deferred to again St George in 2022, but this time in late October. To have 3 years of excitement, tears, uncertainty, and disruption, on 23rd October I was finally very excited to be on a plane to the USA to race with the best in the world, but now as a F50-54.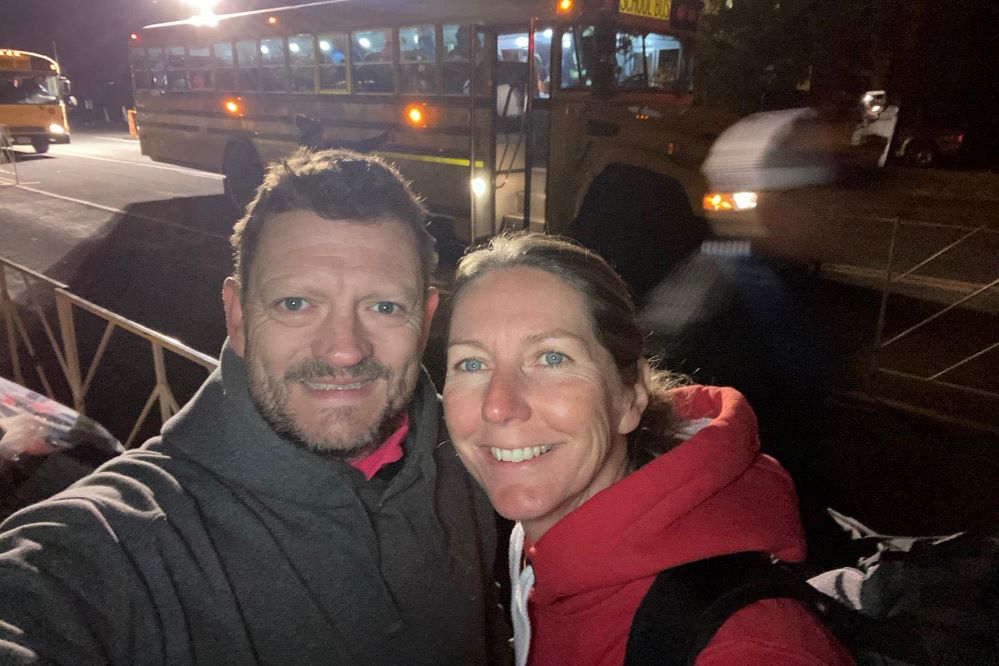 Accompanied by Andy my partner (and the best support you could wish for), we arrived very late (or early morning) after a missed connection flight, into Las Vegas and drive the 2 hours to St George in the dark. I knew the area was spectacular but had no idea until we woke the next more just how stunning it was. For those who have never been to a world championship previously, Ironman pretty much take over the town for the entire week. The women's race is held on the Friday and the men's on the Saturday and there is an entire schedule for the week. Andy and I took full advantage of this. The first thing we did was visit the Athlete village, literally a huge IM store, leading brands tents, registration, IM club area, banners for photo opportunities, a stage and more. We also signed up to the 4.5k fun run which for $20 gave a good quality t-shirt, great medal and a flavour of the IM 'show' later in the week. We took advantage of official practice swims on the swim course, which stood me in good stead come race day for swim familiarity. We also attended and participated in the parade of nations and 'Olympics' style kick-off to the main events. We were also lucky enough to chat to and see the top 12 professional triathletes at the World Championships, including Gustav Iden, Lucy Charles-Barclay, Sam Long, Kristian Blummenfelt et al.
Then as quick as a flash, it was race day.
The race is a split transition, so transport out to the lake and T1 was via a free bus shuttle. The buses were the yellow school buses I'd only ever seen on TV, I was so excited to have a ride in one I think it helped my race nerves. What had thrown everyone was the unexpected and unseasonably cold weather at night and early morning. The typical night/morning temperatures should have been around 15 degrees, rising to high 20's degrees in the afternoon, however a couple of days before race day a cold front moved in and whilst the lake temperature on race day was around 17 degrees, the air temperature was 3 degrees out of the water. Waiting to start I saw some things I'd never seen before, people in hotel dressing gowns over their wetsuits, bobble hats, coats….you name it people had engineered ways to stay warm. This was to also affect the clothing choice of many people in T1. If you watched any of women's race live, you will have seen the professionals putting on jackets, gloves and hats in T1. Lucy Charles-Barclay arguably the favourite to win that day later reviled she had worn a black bin liner under her trisuit for the entire race! After some conversation with a few people including Callum Hughes my coach, I settled on summer weight arm warmers and calf guards which I wore in the swim with my trisuit, light running gloves and a gilet which I put on in T1.
Back to the swim….. the race was in waves by age group. My wave started at 8:40 and was one of the later waves, but not last. As I waited in the pen, I took it all in. I'm here, I'm finally here! I'd not had the best prep leading up to the race. Back in late August after a longer run, I'd started to get some pain in my left lower leg. I'd pretty much stopped running entirely to try to let it recover. The only real running I'd done in 12 weeks was at the ETU Middle distance on 24th September where I ran/walked the race. I believed I was suffering from an inflamed tendon, but following that race I'd been advised to get an Xray. This I did just 2 weeks before travelling to St George and had learned I actually had been carrying a stress fracture in my left fibula, which was well on the way to healing, but still clear on an Xray. I was given a boot to wear and advised no running until no pain. I was gutted to learn this news, but right away ruled out not travelling to St George. I knew I could swim and ride without pain, so at the very least I could do that and stop. All I could think was I've waited over 3 years of this moment, continued to train really hard, knew I was a better athlete than in 2019, so I had to go no matter what.
I'm quite an emotional person, so with this additional challenge in recent months, standing in my wetsuit waiting to start was a pretty special moment to actually be there. I'd tested my leg in the few days before race day (including that fun run which I ran/walked very easy), so had decided I would start the run and see how things were. So in this moment I hoped my dreams of finishing a World Championships would come true.
Into the water I went, more confident than I'd ever started a triathlon swim before. It was a swim out, right turn for 100m, and then swim back. It felt good, my goggles behaved, and I stayed pretty much with the pack. Swimming is my weakest discipline, which I work on. The exit ramp was in sight and the front swimmer from the wave behind just catching us. I stood up and looked at my Garmin, 40:XX…oh that's a personal worst, but it didn't phase me I just needed to push on in T1 and get out on that bike, my big strength. The exit ramp was about 50m and concrete slabs covered in the race carpet. Halfway up I stubbed my big toe and it hurt….A LOT! I ignored it and just ran into transition.
T1 was very long, about half a mile in all. There were 2,600 female athletes in this race which was the usual Ironman format of finding your red bag from a hook you'd racked it on. In the concern about my toe I couldn't find my bag. I thought someone had taken mine by mistake. I found a marshal who got me thinking straight – I'd actually been looking in the wrong place. Bag now located I took it to start adding in my layers, something quite new for me as I usually don't even put socks on in T1. I took a moment to look at my toe and nothing, no marks or damage at all. I put on socks and shoes and ran the long stretch to my bike, grabbed it and ran to the mount line. I was off.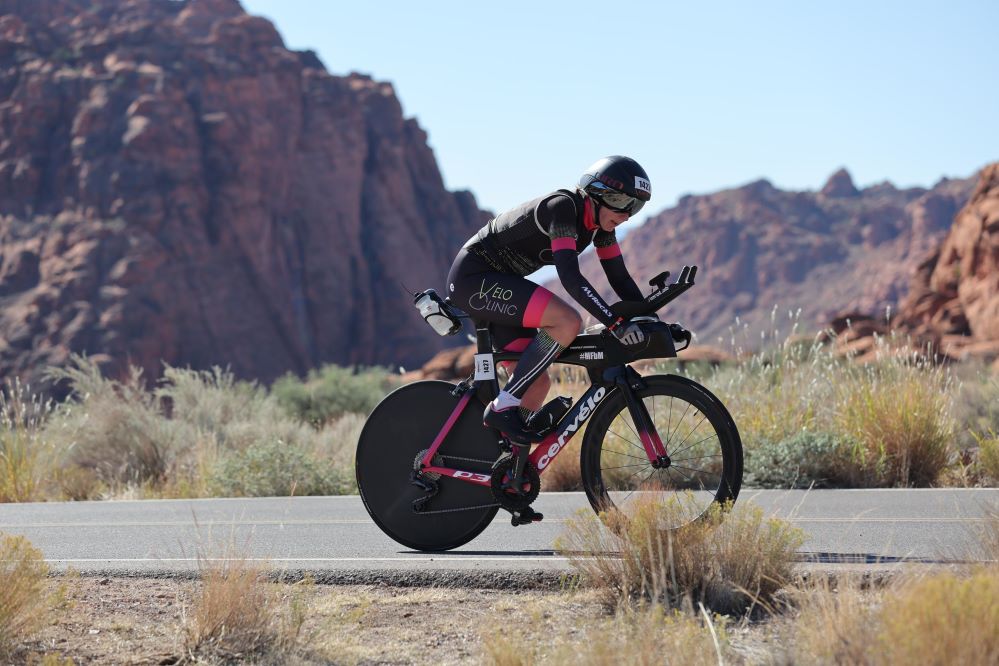 The bike, my favourite part, my confident place 😊 I mounted and was off. Although cold my choice of clothing was right. The first 2 miles was alongside the lake, flat and great tarmac. I got into my groove and started to pass people including an ambulance and an athlete being taken away (I was later to find out she had collapsed due to low body temperature and broken her collar bone). The majority of the next 35 miles was on rolling dual carriageway. I was passing people, lots of people. I can't tell you how surprised I was, this was a World Championships and I was passing in the early stages 8-10 people a minute. Some people looked freezing cold, others had 2 jackets and winter bib tights on, others in sleeveless trisuits. It was such an unusual mix I don't think I will see again in a race. All was going really well and I was loving it all. I kept reminding myself to look around. The scenery in St George and most of Southern Utah is red rock mountains. The colour of this you can only appreciate by being there, it's just stunning. Andy describes it as something like you'd see in a theme park and he's about right.
All was going great until about 35 miles in when my chain dropped and got jammed tight between my pedal and frame going up a hill. I stopped and tried to remove it gently which I quickly realised wouldn't work, so gave it one big pull to free it and put it back on and carried on. The next 5 miles was another flat out and back section, to me like a time trial – something I've done lots of in lockdown as this was the most readily available racing in 2020/21. Then at mile 42 it was time for the hill, the famous Snow Canyon, an ever increasing degree of steep for about 6 miles topping out at 14 percent at the top. I'd done a lot of hills this year, but it's still not my forte and I was being passed in the section by others. I just focussed on getting to the top as the last 6 miles was a fast descent on a wide dual carriageway back into town, something I was confident in riding. I'd started to notice my big toe hurting on the climb and wondered if my stubbed toe was something more worrying. The descent was so much fun, fast sweeping but not too steep. I headed back into town – a short section was past the start of the run course.
Into T2. As it's a World Championships, Ironman put on bike catchers. Your bike it taken from you just past the dismount line and racked for you. All I needed to do was find my bag, take of my helmet and extra clothes and put on my shoes. All good and pretty quick and out onto the run.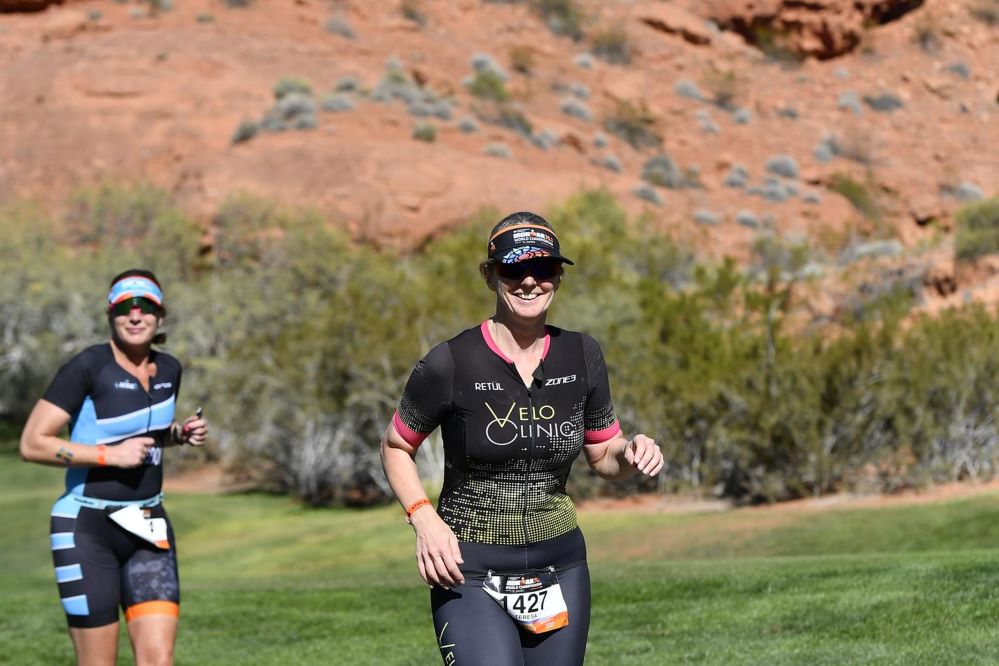 The run was 2 laps, 2.5 miles uphill, run about a mile around a rolling golf course, run down back into town, a 1 mile loop in town which is also mostly up or down, then repeat again. It was on the first uphill section I realised quite quickly I'd probably broken my big toe. I'd put some paracetamol in my T2 bag with my gels in case it helped with my fractured leg, so I quickly took these not even thinking about my leg but instead to help the pain in my toe. I ran and just kept running, only walking for aid stations, which I often do to ensure I get enough water in. The temperature was now 22-23 degrees so hydration was important. Onto lap 2 and I quickly calculated my run time if I ran the next lap the same, then it occurred to me I'd sneak under 6 hours total, not a time I'd hoped for in those 3 years, but something I'd be proud of all things considered. So up I went up that hill again, it was more painful uphill than down and the second lap was more painful than the first, but at least I knew the course and knew this was the last time uphill. The last little loop in town and I'm done. Passing that 'to the finish' split was a great sight, down the red (actually quite black) carpet and to the finish. I was overcome with emotion, in pain, but not my usual collapse on the floor which told me I have more for the future!
At the finish line you get a personal helper, they put a towel round your shoulders, make sure you are ok, get water, a cap, t-shirt, HUGE medal and a photo of course, and don't leave you until you are safely in the feed area. The poor lady I got had to put up with about 5 hugs from me, emotional but happy hugs, I will remember her for sure 😊
I'm not one for eating much at the finish line, so I hobbled my way through to find Andy….what a moment, both in tears of joy, of disbelief I'd actually finally done it 😊. Once the emotions were under control I sat down to take a look at my foot, took off my sock. Wow, my big toe was already dark red and the medic confirmed this was almost certainly broken. Later that day it turned completely black and back home and an Xray confirmed I'd broken my big toe by the top joint. Goodness knows how I'd run with that, but honestly passion, patience and hard work drove me to that finish line and got me that medal.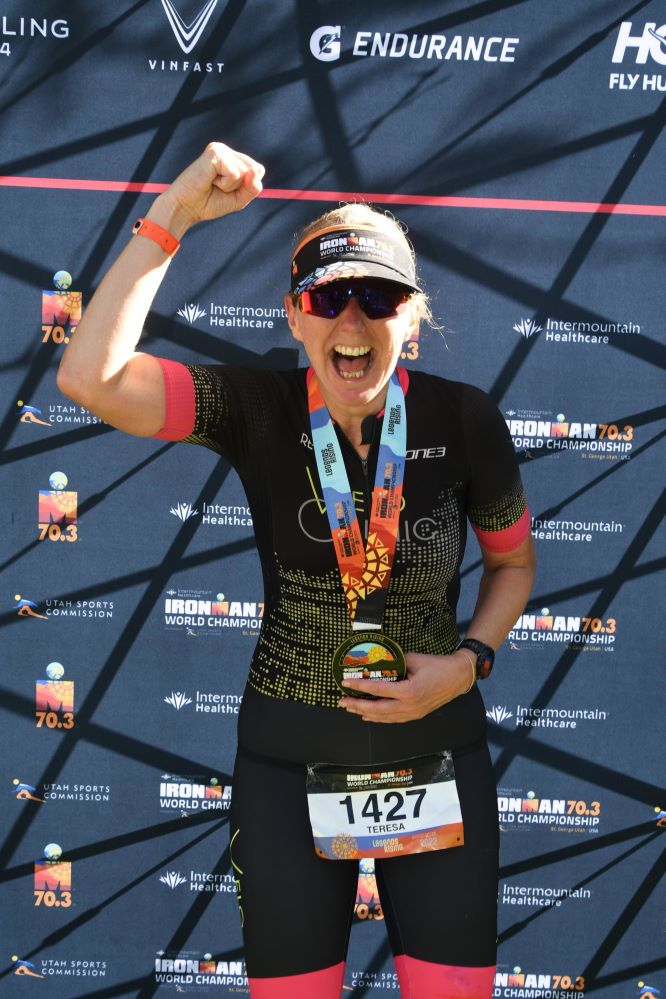 Results clearly were not going to be my main driver, but I'm so competitive and have been all my life, I honestly would have walked that run if I'd had to. My swim was mid pack, my bike I overtook 100 people in my category to come off the bike in 27th and finished 74th out of 237 women in a time of 5:56:49. I'll take that 😊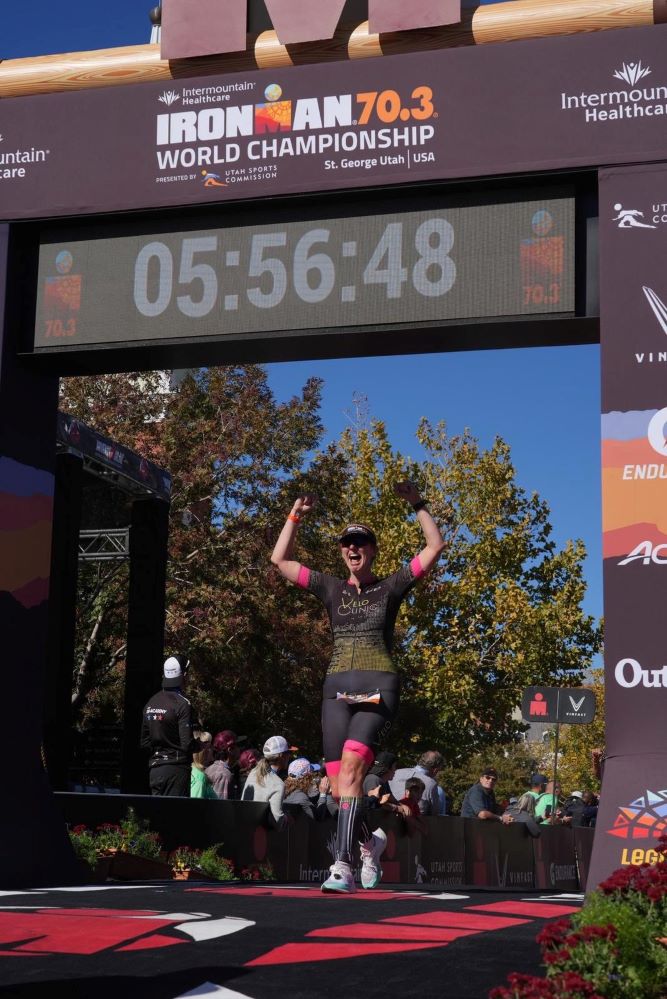 If you ever get the chance to go to an Ironman World Championship event, do it! It's not cheap, but honestly, they make the whole experience something very special and you feel it. Worth every penny for the memories and experience.
I for one will be back for more with targets I can hopefully realise.
---
Meet your Social Secretary
Hello everyone! I am taking over the reigns from Tasha as the new club Social Secretary – a hard act to follow but given I also work with Tasha she can't escape me asking lots of questions and suggesting ideas on the social side!
I joined the club during lockdown in 2020 and have loved everything about it. I am not one for fast times or winning my age group, more of a make sure you get round and ultimately have fun whilst doing it kind of girl (and of course I'll take those marginal improvements when I can get them). I have only done three triathlons to date, but couldn't have managed those without the support of the club, particularly my 2020 support crew who have shared so much knowledge and useful tips with me (who knew there was a difference between a swimming and surfing wetsuit?!)
Look out for more information in the new year for the social calendar for 2023. It will kick off with the clubs annual awards, and expect some more friendly competition with other local triathlon clubs. If anyone has any ideas or suggestions for social events please do not hesitate to get in touch and send an email to –
social@tri2o.club
I went into winter hibernation mode early this year after a bout of illness so am planning to be back at club training sessions in the new year and look forward to catching up with old members and meeting new members. Wishing everyone a Merry Christmas and a Happy New year (fingers crossed Santa brings that [insert piece of triathlon kit here] you are wishing for!)
Thanks
Clare Hawthorn
---
Ellesmere Olympic distance Triathlon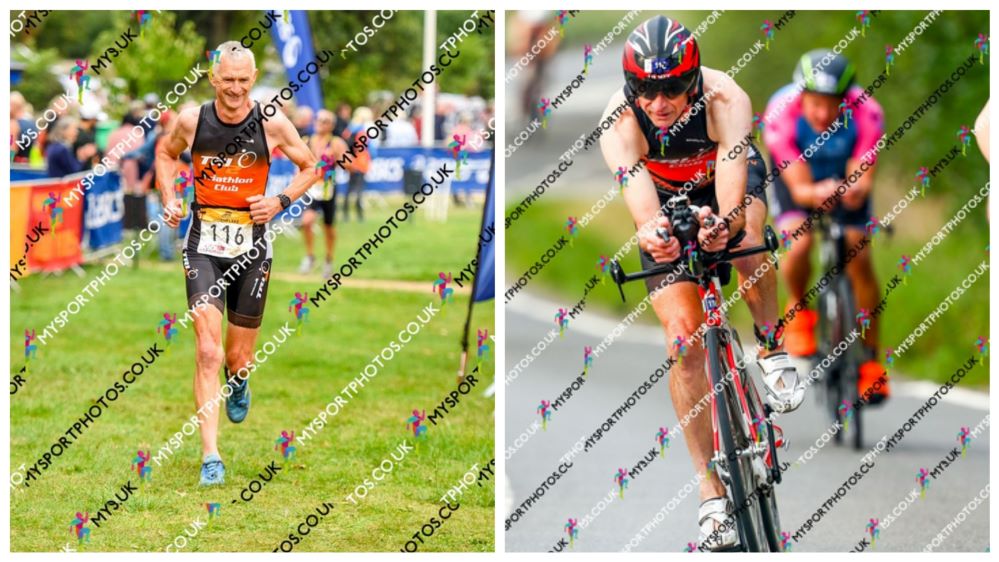 by Martin Cook
This was a qualifier for the world championships in 2023. In order to be competitive in the 65-69 age group you need to compete in the first year in which you are eligible as performance drops off exponentially once you hit this level of experience/maturity/decrepidness (take your pick). This is glaringly obvious in this years' Abu Dhabi results where the first 8 were all born in 1957.
I'd done one tri in 2021 and none in 2022 prior to Ellesmere. I'd spent the summer cycling and only cycling in order to avoid a dnf on London-Edinburgh-London. I'd done some running early in the year but had hardly swum at all (would have been not at all if it were not for accompanying Erik on some of his 60 at 60 3k swims) so I was on a bit of a wing and prayer really.
I registered on the Saturday ready for a 7.40 start on the Sunday. Weather forecast was good.
We parked at the local bowls club which has to be pre-booked. Only 5 minutes walk away from transition so I'd recommend it if you're going to enter this event.
The transition area was good. Nice firm grass area.
It's a lake swim, one lap. The water was a reasonable temperature and I set off hoping to maybe get under 28 minutes given my lack of swim training. I was surprised to get out in 26.30 so was very pleased with myself. I subsequently noted that my Garmin said it was only 1,364m so more like the 28 minutes for 1500m, although I prefer to be deluded into thinking that Garmins are crap and that it really was 1500m and I don't need to train in the pool. But at least it wasn't the disaster that I feared.
Onto the bike which, given my training should have been very, very good. It was pretty good at 34.6kph. There were a number of annoying people who seemed to draft for a while and then slingshot past me then slow down. I swore at them a lot. It's an undulating course with no big climbs.
The run was pretty grim due to my lack of training. Two laps out and back, mostly on a hard surface with some ups and downs. Nice to see Martin Jeffery every 10 minutes or so to say hello as we crossed. I took just over 46 minutes which with no run training to speak of wasn't too bad.
I was 3rd in the 60-64 age group but, more importantly, 1st in the 65-69 qualifying results so I'm off to Pontevedra next September to do battle with the other people born in 1958.
---
World Championships – Abu Dhabi – Standard Distance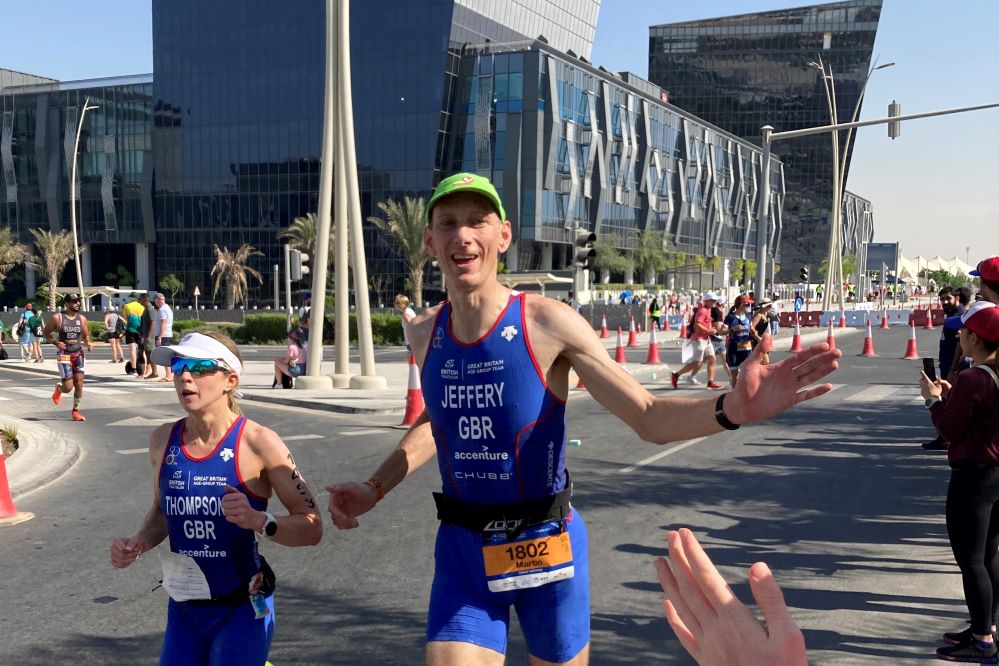 by Martin Jeffery
Well, it seems like a long time ago, but back in August 2021, I raced a very wet London Tri. Much to my surprise I managed to qualify for the World Champs, Standard Distance Triathlon. At the time I didn't know where it was going to be held, but Abu Dhabi came up. Somewhere I'd never been before & an opportunity for some winter sun!
I've been coached by Jennie for a few years now & she kept me on my toes for the year. I raced the European champs in Poland in May (a bit underwhelming) another qualifier in the summer & plenty of hard turbos & short sharp running intervals. I'm not sure you can prepare for 30 degree heat when it's 10 degrees or less in the UK but here was my best effort. Hard turbo, no fan, shut the garage door & leave your T-Shirt on, that left a suitably impressive puddle on the floor! I was in pretty good swim & bike shape but running had tailed off a bit due to work & family commitments.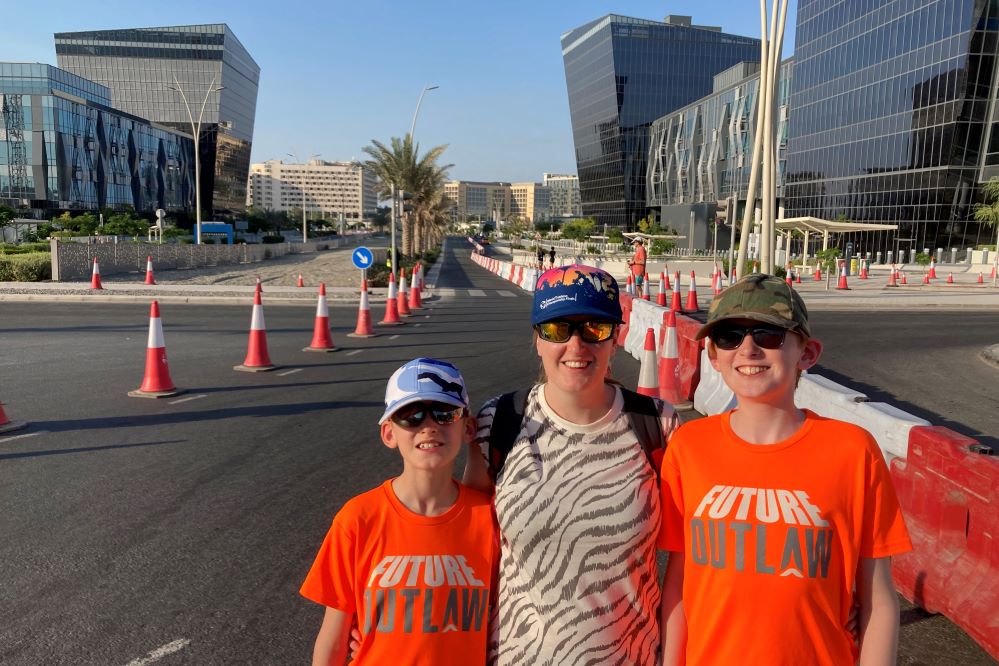 Wendy & I decided this would be a family affair, so we asked for (& got) approved time off from the schools! We flew out overnight Tuesday, arriving Weds AM. Fortunately, our rooms were ready so we could catch up on a bit of sleep. We stayed at the Warner Brothers Hilton, so also had access to the three theme parks on Yas Island, Ferrari World, WB Studio & a massive water park. The second two walking distance from our hotel. The water park was excellent! The worlds fastest rollercoaster, in Ferrari World, 0 – 240kph in 4.9 seconds, has a strict 1.95m max height, at 2m I couldn't sneak on but the family "enjoyed" it.
Thursday was registration & the opening parade of Nations, Friday Bike racking & Saturday the race. Friday also saw the elite women go round, with Flora Duffy showing her class & GTB coming home second. The men's elite went out on Saturday & a surprise win for Leo Bergere & a 4th for Alex Yee, who could quite pull it back on the run to take the overall win.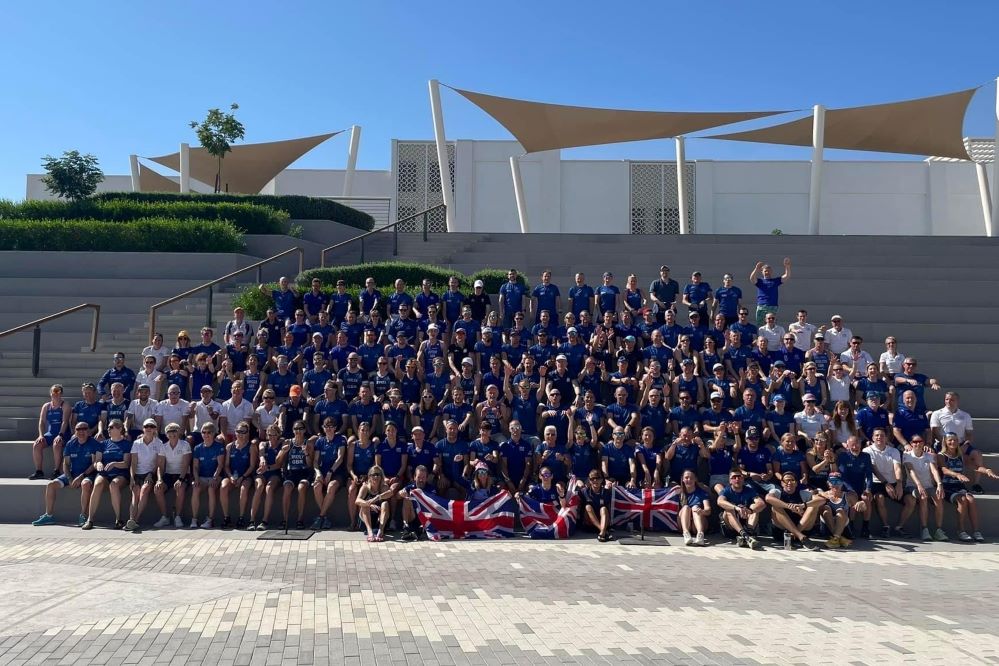 I said Poland was a little underwhelming, this was the opposite. Fantastically well organised, great atmosphere, great weather & a real team GB feel to the whole affair.
For the record I came in 17th out of 54 in my age group, 50-54 & was 6th Brit home. Swim 25:44, Bike 59:52 & Run 47:49. 19th fastest for the swim, 15th on the bike but 27th on the run. A bit more run training may have helped push me up a place or two but I'm a big lad & never do too well when it's hot. It was 29 degrees in the water, so a non-wetsuit swim. Saw a couple of Jelly fish but not close enough to be a problem. Stayed with the pack for about two thirds of one big lap. The bike was great, mostly fast & flat, two laps, with a few hairpins around the start finish area to keep things interesting. Bike was 39km but even so, very happy to duck under the hour. I knew the run was going to be tough & 30 degree heat didn't help. The elites got ice packs but we only got sponges! A two lap run meant seeing family & plenty of GB supporters twice. I started running around 4:30 per km but the last two km were hard & I drifted out to 5mins.
To come in the top 20 was a fantastic result & one I was very proud of. It's not every day you can say you've represented your country!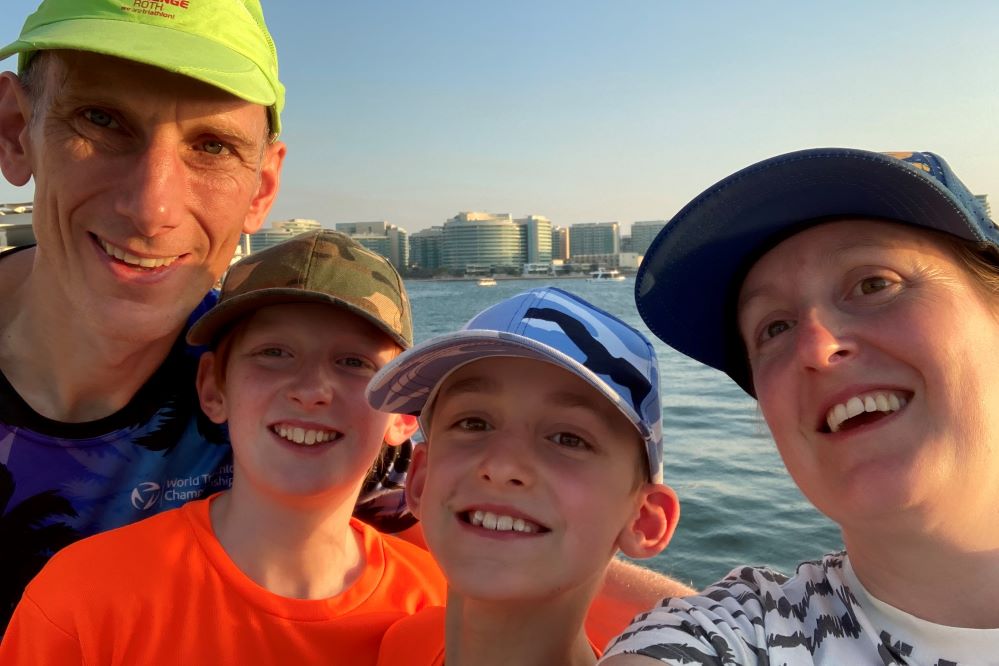 Overall a fantastic weeks holiday, with a triathlon thrown in. The Arabs do do hospitality very well but a bit like Stella Artois – reassuringly expensive!
---
What else do you want from your Club?
As raised at the recent AGM the Committee welcomes ideas on how we can reinvest any surplus funds to provide more benefits for our members – after all the club is run by members for members!
If you have any suggestions, please email our Chairman Mike Nash in the first instance to share / discuss your idea chairman@tri2o.club
To enable the committee to evaluate your suggestion in a fair and consistent way you will be asked to provide some information. We have developed a simple template form for you to complete helping you cover the key points including costs, timings etc.
The only criteria we ask is that your suggestion is "relevant" to the members of the club.
---
Club Charity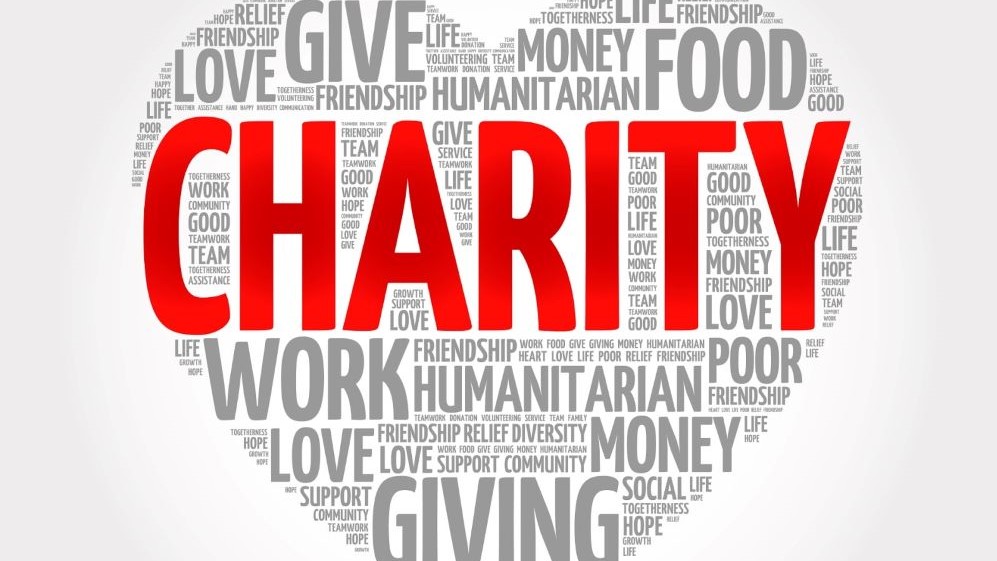 The Club is proud to each year donate money collected at Reading Tri, and a proportion of surplus funds from the event (usually 10%), to charity. Donations have in the past been made to the Triathlon Trust, the official charity of the BTF, via the Just Giving Katie's Legacy page set-up in memory of Katie Henderson. The Triathlon Trust was set up to inspire children and families to become more active. However, the charity's funds have not been deployed since the start of covid so, as mentioned at our AGM, the committee has decided to donate the money collected in 2022 to a different charity. We are therefore asking you for suggestions for alternative charities which have a similar aim, ideally one that is local to Reading. If there is a charity that you would like us to consider please email chairman@tri2o.club. If there is no clear consensus we will ask you to vote for your preferred charity from those suggested.
---
We would love to hear from you
The next newsletter will be in Feb 2023, please send your contribution to info@tri2o.club before 10th Feb 2023.